Parking
SFMTA: Better Parking Behavior One Reason for Drop in Citations
11:11 AM PST on January 6, 2011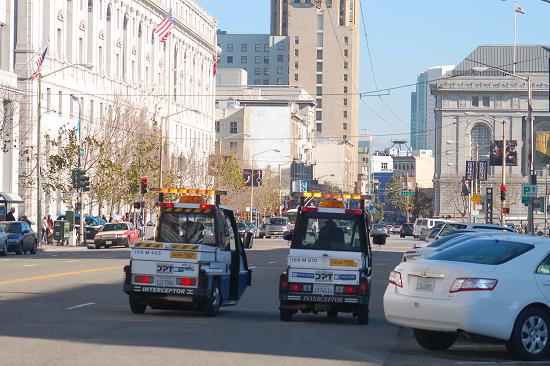 The recent decline in revenue from parking citations brought on a discussion at Tuesday's SFMTA Board of Directors meeting about the city's budget policy on parking. In her latest budget presentation, SFMTA CFO Sonali Bose cited the economy and a reduction in street sweeping but noted that one reason for the drop in ticketing is actually a trend of better driver compliance resulting from factors such as increasing fines and ease of payment brought on by credit card-accessible SFPark meters.
Deficit aside, that's the kind of trend Bose and some directors want to encourage. "Our policy goal is to actually have people pay the meter rather than having a citation," she said. In fact, Bose expects to see some of the $7.3 million citation revenue deficit compensated by a rise in meter revenue: "We're not seeing the negative variance on the meter side."
The SFMTA will still be deploying more Parking Control Officers, but Director Cheryl Brinkman suggested changes in parking pricing in order to close the gap while encouraging the good behavior. "We do need to look at parking as a system and really figure out what's going on. If people want to avoid citations, then they might have to accept the fact that we need to expand meter operations and maybe increase meter prices," she said. "They can't have it both ways."
To that end, Brinkman clarified that a more efficient parking system should be less punitive and ultimately make life easier for those who need to drive as well as everyone else. "Personally, I'd like to see the citation charges go down and hours that you can park free decrease. That seems to make more sense - that spot is there, that meter is there - I'd rather have people pay to park at that spot than try to game the system and maybe end up with a ticket," she said.
"The tickets are expensive, so I can completely see people's pain when they make a mistake and get back to their meter a little late," added Brinkman.
While there wasn't any disagreement expressed against expanding metered parking, Board Chair Tom Nolan and Malcolm Heinicke were sure to dispel any "war on drivers" often presented in media coverage. "I think there's a perception out there...that when we say we're going to make the system more efficient, we're just going to issue more tickets. If there's efficiency, it might actually benefit some drivers when you add up the costs," said Heinicke.
Fifty percent of the reduction in issued parking fines is said to be a result of reduced street sweeping, something Heinicke said he hasn't been able to get an answer about over the years. "We've eliminated a service of cleaning the street in a manner that actually costs the city, as a whole, money," he said.
Although Director Bruce Oka noted his own observations of more careful parking behavior and would like to see high fines become unnecessary, he expressed a less tolerant view of poor parking behavior. "It continues to fascinate me the number of people that complain to me about parking citations that are for people blocking the whole sidewalk, parking in red zones, and this kind of thing," he said.
"Inevitably, if you don't want to pay the parking tickets, don't park illegally."
Aaron was the editor of Streetsblog San Francisco from January 2012 until October 2015. He joined Streetsblog in 2010 after studying rhetoric and political communication at SF State University and spending a semester in Denmark.
Stay in touch
Sign up for our free newsletter