Hayes Valley
Two-Way Hayes Street Proposal Wins Approval at SFMTA Hearing
6:06 PM PST on January 21, 2011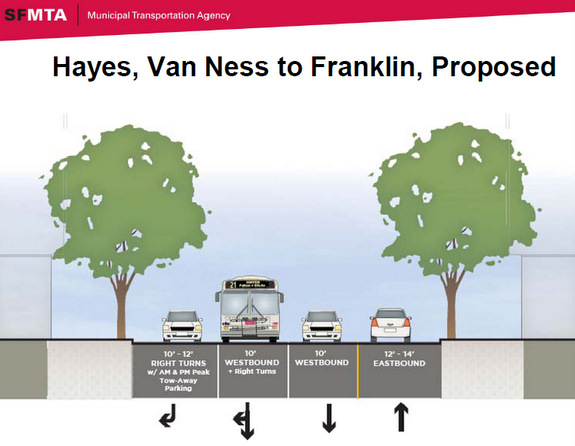 A plan to restore two-way traffic on several blocks of Hayes and Fell Streets in Hayes Valley that were converted to one-way streets in the 1950s was approved at an SFMTA hearing today following a strong show of support from residents, merchants and neighborhood associations. It now goes to the SFMTA Board for approval.
The proposal [pdf] follows the spirit of the Market-Octavia Plan, which recommends converting Hayes Street to "a two-way local street, which is best suited to its commercial nature and role as the heart of Hayes Valley."
It would affect Hayes Street from Van Ness to Gough and Fell Street from Van Ness to Franklin, which residents described as multi-lane, one-way arterials that "inundate" the commercial district with "walls of cars."
"We want our streets to be safer, calmer, and less like freeways. These changes would be a big move in that direction," said one 15-year resident who described how he's forced to "zigzag" down Hayes Street to avoid dangerous crossings.
Noise, air pollution, and the threats imposed by motor vehicle traffic have long made the neighborhood uninviting and dangerous for walking, cycling, and shopping. Closed crosswalks and double-vehicle turn lanes create difficulty for many in crossing the street safely.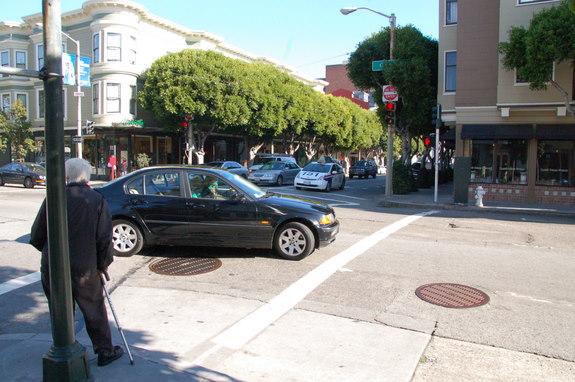 The plan would help bring more foot traffic to businesses, help slow down car traffic and "create a place where people who are using the neighborhood itself can actually get around," he added.
Several Hayes Valley merchants as well as the local arts and theater district voiced broad support for the long-awaited changes and stressed the need for further measures to reduce car traffic and improving the pedestrian experience on a wider scale.
"We very much support this project, but we don't think it goes far enough," said one speaker, on behalf of SF Jazz, a new neighborhood cultural center. "We think there are a lot of other improvements that could be made" for the levels of pedestrian traffic the center hopes to attract, she said.
Jim Haas, the coordinator of the Civic Center Stakeholders Group, said the city should address the underlying issues that drive motor traffic through the neighborhood. "Where does this traffic come from, and is there anything we can do to reduce it from coming into the area?"
SFMTA Acting Lead of the Transportation Engineering Group Ricardo Olea said that a San Francisco County Transportation Authority traffic study and the Eastern Neighborhoods plan hope to offer some new data about traffic flows from the Octavia-Market and South of Market areas.
Olea also noted that despite the new two-way travel lanes, a re-routing of the inbound 21-Hayes is not yet being considered due to the funds needed to move overhead wires as well as potential traffic impacts that would require study. The proposal does include the removal of the outbound 21 stop at Hayes and Franklin in order to improve travel times on the bus line.
The need for convenient loading zones at the affected theater and art centers, not included in the proposal, was another concern voiced among multiple speakers representing those interests. The plan currently designates those potential areas as either metered parking or tow-away zones.
Olea said another proposal for the restoration of two-way vehicle lanes on Haight Street between Gough and Market is expected to get a public hearing soon.
Aaron was the editor of Streetsblog San Francisco from January 2012 until October 2015. He joined Streetsblog in 2010 after studying rhetoric and political communication at SF State University and spending a semester in Denmark.
Stay in touch
Sign up for our free newsletter