CCDC
Board of Supes Resolution Urges Free Muni Passes for Low-Income Youth
1:49 PM PST on January 27, 2011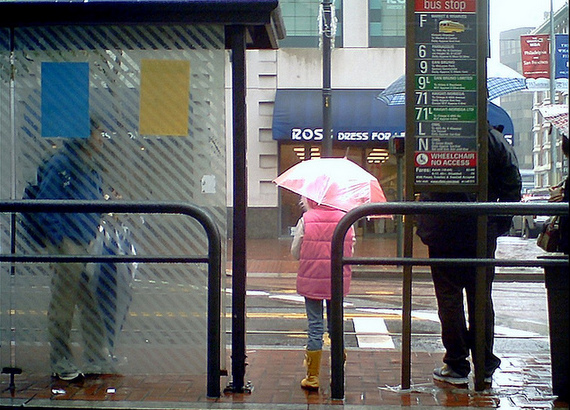 A growing number of low-income youth who depend on public transit in San Francisco are finding it harder to afford the trip to class, but a resolution introduced by Supervisor David Campos this week could pave the way toward providing free Muni passes for the rest of the school year to thousands of students who are regular Muni riders.
"For many poor families in San Francisco, public transportation is actually the only option," said Mattias Mormino, the project coordinator at the Single-Room Occupancy (SRO) Families United Collaborative, a community-based organization that partners with the San Francisco Unified School District (SFUSD) to provide transportation for homeless and displaced students. "It's not like they can choose to leave the car in the garage."
A survey [pdf] of SFUSD high school students showed nearly 70 percent commute by public transportation while the number of students who come from families with incomes low enough to qualify for free or discounted lunches is up to 61 percent this year.
Despite those numbers, last May the SFMTA Board  voted to increase the price of Youth Muni Fast Passes from $10 to $20. Recently, the SFUSD Board cut fifty percent of the district's school buses, eliminating another transportation option for many students. As more families face economic hardships and federally-supported student transportation programs are cut, Mormino says the number of families struggling to afford transporting their children to school is growing by the month.
"Transit cost does impact low-income families in the city economically," said Tan Chow, a parent who lives in North Beach public housing with his wife and daughter, who he walks to her first-grade class at Yick Wo Elementary School in Russian Hill.
"My wife and I share one Clipper, and I have to say, we always debate in Chinatown about whether we should pay $0.75 for the ride or force our daughter to walk," he said.
Chow described another parent who is only able to take her daughter to school on the bus during the turn of the month grace period when they are able to borrow an unneeded Fast Pass from other parents. During the rest of the month, they walk across Russian Hill.
"The previous month's Fast Pass is a well sought-after thing for parents in public school," said Chow.
To address the issue, San Francisco Youth Commission Chair Leah LaCroix pushed a resolution [pdf] sponsored by Supervisor Ross Mirkarimi last January that urged the SFMTA to create a Youth Lifeline Discount Fast Pass program, which the Board of Supervisors passed unanimously. That led the SFMTA Board of Directors to earmark $1.4 million in fiscal year 2010-2011 to provide 12,000 of the monthly passes to low-income SFUSD students at a discounted $10 rate.
However, challenges in information disclosure, determining staffing needs, and secure payment collection at schools have thus far left the passes undistributed and the money unspent. Without an easy solution in sight, "people from the community said, 'why not just give them away for free?" said Mormino.
Youth Commissioners LaCroix and Happy Yang proposed a new resolution [doc] introduced by Campos and five co-sponsors at Tuesday's Board of Supervisors meeting that calls for the SFMTA to use the money to provide free Lifeline Youth Muni Fast Passes to qualifying students for the remaining three months of the school year.
"This is a step in making sure that public transportation is accessible to students in our public school system," said Campos, adding that he and other supervisors would like to see San Francisco follow in the footsteps of cities like New York, which provides free transit for its public school students.
"This is a step in making sure that public transportation is
accessible to students in our public school system."
Doing away with fee collection altogether would cut most of the administrative costs and allow more of the budgeted funds to go towards providing desperately needed transportation for disadvantaged students, said Mormino. It would also allow schools to distribute the passes sooner and the SFMTA to use the funds by their July fiscal year deadline.
"I feel really excited that the issue of transportation, especially in these hard times for low-income families, is put front and center," he said.
While the numbers still have to be worked out, the program would benefit at least 10,000 students, according to Deland Chan, Senior Planner at the Chinatown Community Development Center, which helps distribute the roughly 2,000 passes provided by federal funds from the 1987 Mckinney-Vento Act aimed at assisting transitional homeless youth.
With "Chinatown being one of the transit-dependent neighborhoods in the city, with a large population of low-income families living in SROs, we completely support the creation of the Youth Lifeline Pass," said Chan, although the $1.4 million still won't be enough to serve all of the eligible students in the school district.
"The SFMTA is facing a budget deficit, but this money will directly benefit the city's most vulnerable youth and thus will be well spent," she said. "When implemented, the Youth Lifeline Pass will be an opportunity to collect data that can support the creation of a free lifeline pass - looking at truancy rates and other beneficial factors."
A coalition of organizations including the SRO Families Collaborative and the Youth Commission have been advocating for free public transportation for all youth for some time. One leading member in that campaign has been POWER, an organization that works to empower disadvantaged communities and sees free public transit for youth as a "natural extension of the Youth Lifeline Pass," according to Chan.
She said the SFMTA Board could take action on this week's resolution as early as March. That's welcome news to LaCroix, a recent high-school graduate herself.
"Friends of mine are saying the bus is getting too expensive - it's a reality, young people having to hop on the back of the bus and not pay. My friends tell me they do that, and I encourage them not to," she said. "But this is real for a lot of families in San Francisco."
Aaron was the editor of Streetsblog San Francisco from January 2012 until October 2015. He joined Streetsblog in 2010 after studying rhetoric and political communication at SF State University and spending a semester in Denmark.
Stay in touch
Sign up for our free newsletter