Bike Lanes
Laguna Honda Separated Bikeway, Raised Crosswalk Installed on West Side
4:44 PM PST on February 14, 2011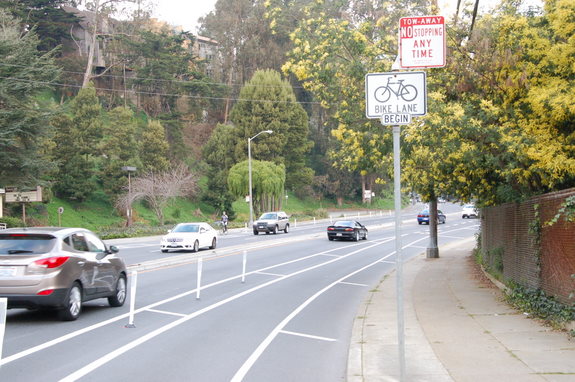 The SFMTA installed separation improvements on the Laguna Honda Boulevard bike lanes and added a raised pedestrian crossing on St. Francis Circle last week, tacking on a pair of safety features for vulnerable street users in two western neighborhoods of San Francisco that are notorious for high volume, high-speed car traffic.
The bike lanes on Laguna Honda Boulevard have continued to receive treatments since the lifting of the bike injunction that go beyond what the original Bike Plan called for. A buffer zone reinforced with soft-hit posts last week provides the physical separation needed to create a more inviting cycle track for travelers on bike.  Walkers will also benefit from reduced roadway width for motor vehicles that should slow traffic.
"This facility will enhance access to the Forest Hill Muni station and is especially appropriate given the speed differential between people riding their bikes uphill and cars driving on Laguna Honda," the SFMTA Bicycle Program said on its Facebook page. The road serves as a major north-south link between San Francisco's western neighborhoods via the west side of Mount Sutro.
"The completion of the soutbound bike lane and installation of soft-hit posts is transformative as well as safe," said Jason Henderson, who commutes on the road by bike to his job at San Francisco State University (SFSU) as an Associate Professor of Geography. "The build-out of bicycle lanes on the west side of San Francisco is critical for reducing the traffic impacts of SFSU."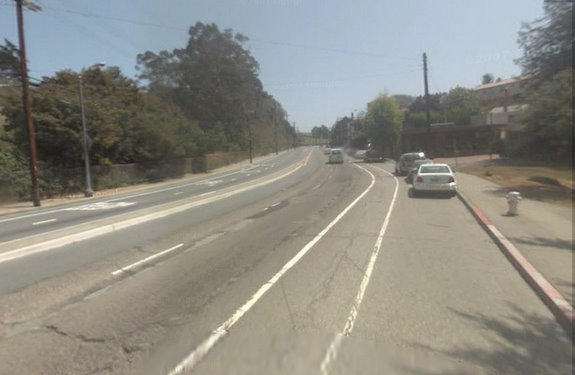 The previously narrow bike lane appears to have been re-striped into a cross-hatched buffer area, helping to relieve riders of the stress from passing 40 mph motor traffic by placing them in a newly marked curbside area formerly used for car parking. The new design also provides greater visibility and room for drivers to more safely cross the bike lane while entering driveways on the high-speed road.
Since last year the SFMTA has implemented a number of improvements aimed at calming traffic on Laguna Honda, including the reduction of travel lanes on the speedier downhill side of the road near Forest Hill Station, as well as the contiguous 7th Avenue section in the north, where riders must still pedal alongside speeding cars in a standard unprotected 5-foot lane.
The SFMTA hopes to install six additional cycle track projects over the next year and a half including the connecting Portola Drive as well as Alemany Boulevard in the city's south end, Cargo Way and Innes Avenue in Hunter's Point, Great Highway along Ocean Beach, and John Muir Drive around Lake Merced, according to a press release.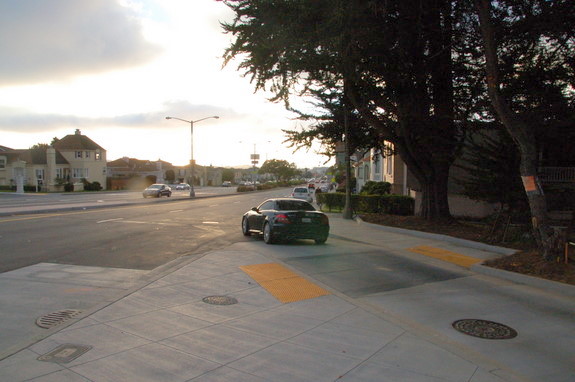 A newly installed raised crosswalk at St. Francis Circle is also helping pedestrians cross a slip-turn lane where West Portal Avenue meets Sloat Boulevard in the city's southwestern Parkside neighborhood. It's the area's second raised crosswalk seen implemented in recent months after the nearby Stonestown Galleria saw one added across 20th Avenue.
The improvement connects a Muni island to a Sloat Boulevard walkway as the latest work in the SFMTA's St. Francis Circle Rail Replacement Project. Raised crossings have been shown to increase pedestrian safety and should improve access to major transit stops at the intersection for riders of the K, M, and 23 Muni lines by slowing car traffic and increasing driver yielding to pedestrian right of way.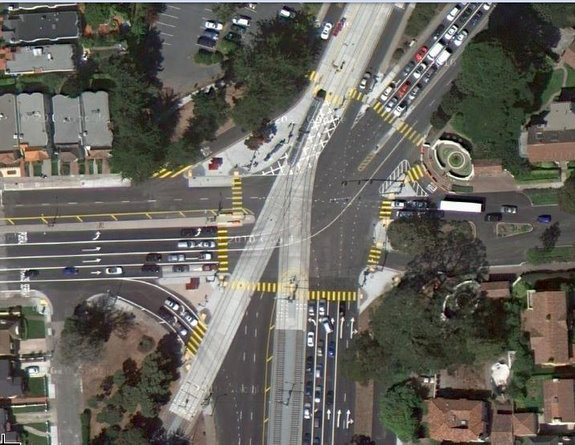 The mammoth five-way St. Francis Circle intersection has a reputation as an intimidating place for travelers of all means as it meets the transit-heavy West Portal Avenue with the multi-lane motor thoroughfares of Junipero Serra and Sloat Boulevards as well as Portola and St. Francis Drives. It lies just east of the neglected intersection of 19th Avenue and Sloat where pedestrian crashes remain the third-highest in the city.
The mostly completed St. Francis Circle Project includes other improvements that seek to benefit all road users with new rail tracks, pavement, "traffic signals, improved lighting, improved low-level Muni boarding islands featuring easy access platforms for customers with disabilities, improved pedestrian islands for added customer safety, new crosswalks and smoother sidewalk surfaces," and "updated curb ramps," according to the website. Further scheduled work on the project is yet to be announced.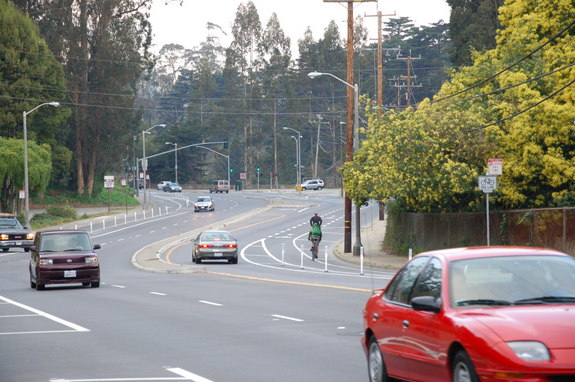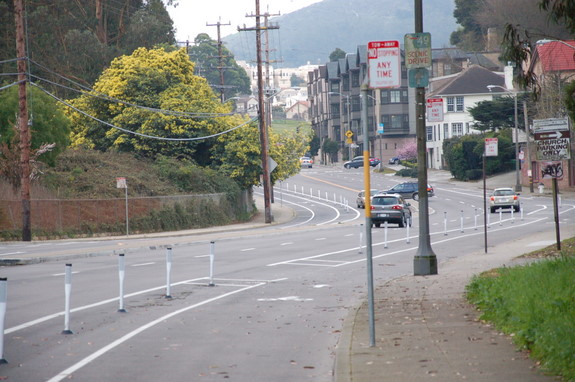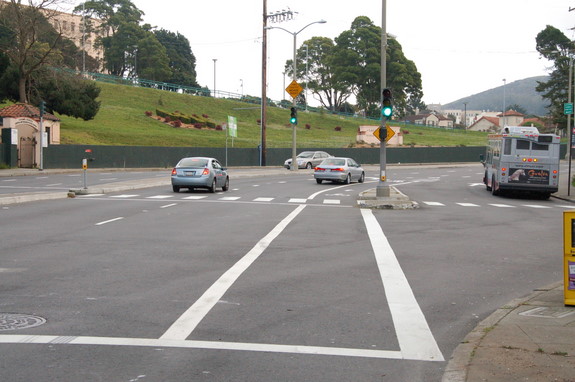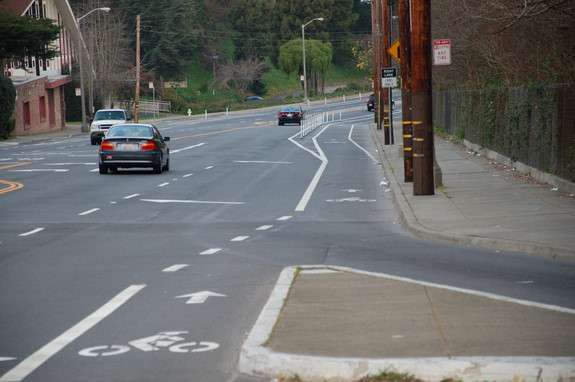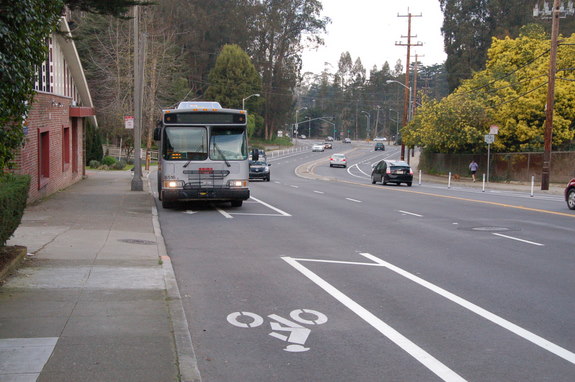 Thanks to Streetsblog commenter Nick for the tip on the crosswalk upgrade.
Aaron was the editor of Streetsblog San Francisco from January 2012 until October 2015. He joined Streetsblog in 2010 after studying rhetoric and political communication at SF State University and spending a semester in Denmark.
Stay in touch
Sign up for our free newsletter