MTC
Bay Area Governments Begin Developing Regional Smart Growth Plan
5:58 PM PDT on March 16, 2011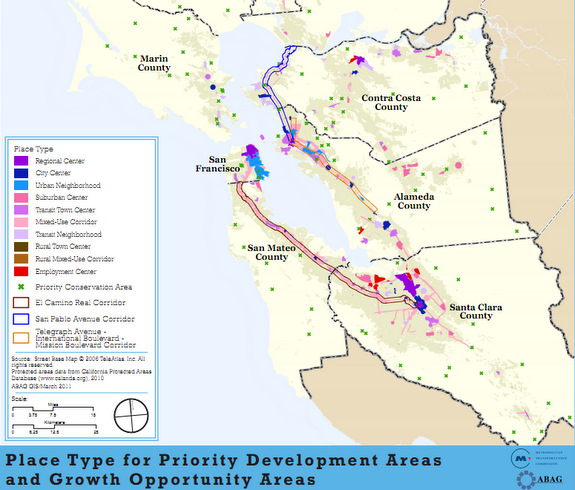 Local governments in the Bay Area have begun a coordinated regional effort to shift toward more sustainable urban planning mandated by the state's landmark anti-sprawl bill, SB 375, which set ambitious targets for reducing greenhouse gas emissions (GHG) and called for better integration of land use and transportation planning.
Last week, the Metropolitan Transportation Commission (MTC) released its Initial Vision Scenario, which lays out preliminary strategies to accommodate population growth in the region over the next 25 years while achieving a 15 percent GHG reduction.
"The Initial Vision Scenario is a tool to advance dialogue among the Bay Area's regional agencies," said Ezra Rapport, executive director of the Association of Bay Area Governments (ABAG). "Through this collaborative planning effort to strengthen the character and qualities of our neighborhoods and communities, we can tackle the region's population growth with a mix of housing, while preserving open spaces, protecting our economy, and getting residents where they need to go."
The overview marks the first stepping stone in developing a Sustainable Communities Strategy, also known as Plan Bay Area, aimed at mitigating the impacts of a potential regional increase of 2 million residents. By directing new housing and job development into walkable, transit-accessible areas, the Initial Vision Scenario projects 97 percent of development could be absorbed within the current urban footprint but would still fall 3 percent short of the mandated 15 percent target.
"This initial scenario is a good start, but we also need to do more to reach our goals," said Stuart Cohen, executive director of TransForm, the transit and smart-growth advocacy group. The plan is expected to advance into a more detailed strategic scenario before an MTC vote in July, and advocates are pressing officials to produce the most effective plan possible.
"We want to see the most successful strategies replicated at a regional scale. Critically, we need to do much more with innovate demand management and pricing incentives to help reach the targets," said Cohen. "The lowest-hanging fruit is going to be what we've been neglecting – which is how we actually reduce demand on our transportation system and make it much easier to avoid trips or make shorter trips."
A number of promising programs have already been developed at a local level that could "provide a bigger bang for the buck than just adding supply," he said.
For one, the SFMTA's Transit Effectiveness Project is "a perfect example of something that can reduce operating costs per mile while expanding ridership," noted Cohen. He also praised city initiatives taken in downtown Berkeley to expand access to transit passes and implement demand-based parking pricing by working with employers.
"Without having to invest in lots of infrastructure, we can make much better use of what we already have, bringing more people onto transit and reducing costs for Bay Area residents," he said.
Stephanie Reyes, policy director at the Greenbelt Alliance, says that "cities have really stepped up to the plate" despite the current economic realities. "We're trying to accomplish a lot as a region," she said. "It will be absolutely essential that we invest our limited regional transportation dollars in ways that will help us achieve our goals."
As the plan develops, it will aim to take into account economic and market factors that the Initial Vision Scenario does not. "We do need to be realistic with our limited resources and think about what constraints we have," said Reyes. "We need to redirect our resources to places that are growing sustainably."
The benefits of expanding the regional bicycle network should not be underestimated, noted Cohen. Although the MTC previously estimated it would only yield a 20 percent increase in ridership, "What we're seeing in places like Portland is that as soon as you get to a point of having a network that people are comfortable on, you start to get exponential increases," he said.
Cohen said the Initial Vision Scenario falls short of accurately evaluating the benefits of smaller-scale pedestrian and bicycle improvements. "By getting the modeling [of those improvements] right, not only are we more likely to predict that we will achieve the targets, but it will shift investments in a way that do reach those targets."
In particular, he said improved services that benefit low-income communities, such as Safe Routes to School, should be a top priority. "There is a host of programs that can achieve health, equity and environmental outcomes, and we're going to be pressing for those."
Aaron was the editor of Streetsblog San Francisco from January 2012 until October 2015. He joined Streetsblog in 2010 after studying rhetoric and political communication at SF State University and spending a semester in Denmark.
Stay in touch
Sign up for our free newsletter