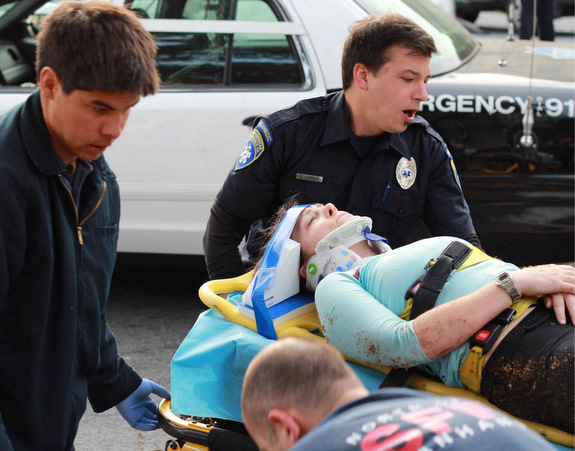 Two to three people are hit by cars every day on San Francisco's dangerously motorized streets, and researchers are beginning to paint a clearer picture of the economic toll. The more than 800 pedestrian crashes a year are racking up a $76 million bill for injuries, reports the Pedestrian Safety Advisory Committee (PSAC), and advocates say it's imperative the city invest in preventative measures.
"It has a huge impact on the economic stability of our residents," said PSAC member Dahianna Lopez of the San Francisco Injury Center, who highlighted that pedestrian injuries in the city cost $15 million per year in medical treatment alone and comprise a quarter of all traumatic injuries. Professionals from the Department of Public Health (DPH) and the University of California, San Francisco presented their findings to city supervisors at two hearings on pedestrian safety this past week.
The statistics shed light on the staggering financial toll disproportionately born by the city's youngest, oldest, poorest, and disabled residents, who suffer the most severe injuries with the greatest frequency. On average, the price of admitting an injured pedestrian to the hospital is nearly $80,000, said Lopez, and 76 percent of that is paid for with public funds. The DPH also estimates at least 20 percent of pedestrian crashes go unreported to the police.
Pedestrian crashes are reported to be the most highly concentrated in District 6, including the South of Market (SoMa) and Tenderloin neighborhoods, where around 240 people were hit last year, including four killed, according to Walk SF. Last Thursday, D6 Supervisor Jane Kim held a hearing that drew more than 100 attendees, many of whom attested to poor safety conditions in the district. Many seniors and low-income residents pleaded for safer streets.
"I know if I can walk by [a crossing] every day and not realize it's a legal crosswalk, someone doing 45 or 50 in a car really won't be able to see it and won't stop for pedestrians," said Sylvester Guard, Jr. of the Central City SRO Collaborative, who organized fellow Sixth Street residents at community meetings to determine what they felt the greatest pedestrian safety needs were.
A number of community-based organizations, including the South of Market Community Action Network and the Community Tenants Association, helped organize the turnout at the hearings. Crosswalks with poor visibility, inadequate crossing times from traffic signals, and a lack of police enforcement against drivers were among the top issues voiced by residents.
The highest instances of pedestrian fatalities are reported to center around freeway ramps that spill the highest volumes of motor traffic onto wide, one-way arterial roads in the city's eastern neighborhoods. In SoMa, a growing residential population is walking in some of the city's the harshest conditions.
"This is a walking city," said Walk SF Executive Director Elizabeth Stampe. "But how do we call ourselves that when you're four times more likely to die when you're walking in this city than if you're driving? More walking shouldn't mean more dying."
"It should be clear that pedestrian improvements are a smart investment and a just investment," she said.
Physical safety improvements can be perceived as expensive, but they pale in comparison to the status quo, said SFMTA Deputy Director of Transportation Planning Tim Papandreou. The agency's available toolkit for safety improvements ranges from striping visible crosswalks at $10,000 a piece to reconfiguring an entire block of "complete streets" for $1 million.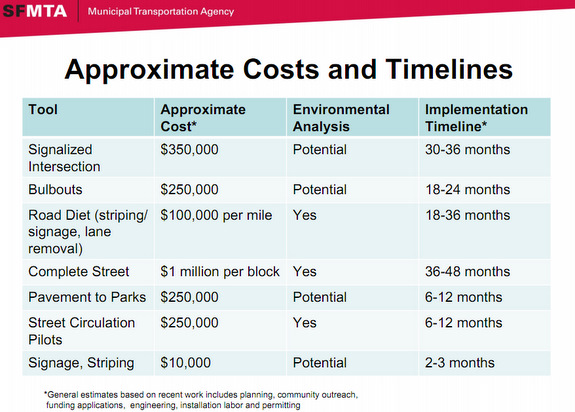 However, with less than $1 million in revenue available each year for pedestrian improvement projects, SFMTA staff claims obtaining funding is the biggest hurdle.
"It's literally about the funding," said Bridget Smith of the SFMTA's Sustainable Streets Division, who explained that many projects like 15 mph school zone pilots are waiting on grants to do study and implementation.
Although pedestrian safety efforts have historically lacked traction because of bureaucratic dysfunction, the SFMTA has been seen as the lead agency. However, time-consuming analysis and funding procedures encumber many of the agency's most important projects.
"Speed is so important in whether someone lives or dies when they're hit by a car," said Smith. "But the major capital improvements on [arterial roads] are just outside the budget of the funding we have available through sales tax dollars for traffic calming, generally."
"But when the city family can get together in certain locations, like we're doing on Cesar Chavez right now, where we have a major street reconstruction project, we have an opportunity to change streets in a dramatic way," she said.
Aaron was the editor of Streetsblog San Francisco from January 2012 until October 2015. He joined Streetsblog in 2010 after studying rhetoric and political communication at SF State University and spending a semester in Denmark.
Stay in touch
Sign up for our free newsletter