Bicycle Commuting
Bay Area Set for Its Biggest Bike to Work Day Yet
4:33 PM PDT on May 10, 2011
Bicycle coalitions around the Bay Area will be rolling out the red carpet for bike commuters for the 17th annual Bike to Work Day (BTWD) this Thursday with energizer stations, commuter convoys, after parties, and other fun events. As cycling continues to grow throughout the Bay Area, bicycle advocates and city officials are expecting it to be the biggest Bike to Work Day yet.
Here's a round-up of what's going on around the Bay on Bike to Work Day this Thursday, May 12: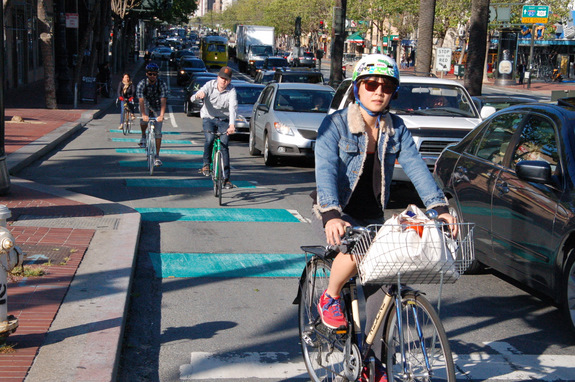 San Francisco
San Franciscans are already enjoying the slew of new green paint that's been laid down along Market Street from Octavia Boulevard to 8th Street over the past few weeks, as well as improvements to the Upper Market bike lanes.
"Along with all the new improvements on Market Street and neighborhoods throughout the city, we are seeing more people bicycling than ever before," said San Francisco Bicycle Coalition (SFBC) Executive Director Leah Shahum in a statement. "This Bike to Work Day is a welcome opportunity for even more people living and working in San Francisco to test-ride the joys of bicycling in our beautiful city."
The SFBC will have 25 energizer stations ready to meet riders along the city's major routes. Market Street, the Panhandle, Valencia, Polk, and Third Streets will all have stops for free coffee, snacks, and "bike doctors" at the ready to keep cycling travelers fresh.
Commuter convoys meeting at points throughout the city will also escort riders, including nearly every member of the Board of Supervisors who will be riding from their respective districts. Supervisors Ross Mirkarimi and Sean Elsbernd are the only two members who won't be pedaling to City Hall on Thursday.
The SFBC's Dress-Up Challenge will showcase how fashionable riding a bike in the city can be. The organization is accepting photo submissions of riders' snazziest work outfits to enter into a raffle at the Bike From Work Party and Fashion Show to take place in the evening.
East Bay
Oakland held the Bay Area's first Bike to Work Day in 1994, said East Bay Bicycle Coalition (EBBC) Executive Director Renee Rivera. Oakland City Council members will continue the tradition by pedaling to a pancake breakfast event at Oakland City Hall. The EBBC will provide all-day valet bike parking, bike safety checks, free goodies, and a raffle. Members of the San Leandro City Council will also take part in a ride.
110 energizer stations will be in place at popular bike junctions throughout Alameda and Contra Costa Counties. One of the busiest hubs will be Ashby BART, the station with the second highest number of bike commuters in the BART system, said Rivera. A new bike parking station is helping to accommodate the 12 percent of users who bike.
The EBBC will also be counting riders at other popular stationed routes such as MacArthur and City Center BART and Lake Merritt in Oakland as well as Sproul Plaza on the UC Berkeley Campus, said Rivera.
The EBBC's Bike Away From Work Party at 9th and Washington Streets in Old Oakland is expected to be the biggest in the Bay Area, said Rivera. It'll be jumping with live music, the Cyclecide bicycle rodeo, and an award show for the Bike Commuter of the Year and Bike-Friendly Business Awards for Alameda and Contra Costa Counties.
South Bay and the Peninsula
San Jose Mayor Chuck Reed will be biking with the thousands of others expected in Santa Clara in San Mateo Counties on Thursday, said Colin Heyne, communications and development manager for the Silicon Valley Bicycle Coalition.
With 70 energizer Stations in Santa Clara and 23 in San Mateo County, commuter convoys, and two Bike Away From Work Bashes set in San Jose and Palo Alto, the Peninsula and South Bay are set to see huge numbers this Bike to Work Day.
On May 3rd, bicycles beat both cars and light rail in the two-mile Clean Commute Challenge with San Jose Councilmember Sam Liccardo, Silicon Valley Leadership Group CEO Carl Guardino, and others. Yesterday, San Jose city officials, including Vice Mayor Madison Nguyen, took to the streets by two wheels for a City Hall press event.
North Bay
The Marin and Sonoma County Bicycle Coalitions will be ready with 17 energizer stations in Marin and at least two dozen more in Sonoma. Marin's BTWD After Party and Bike Expo will include Bike Commuter of the Year and Cal Park Tunnel awards, while Bike Home Celebrations can be found in several Sonoma County cities.
Over the past few years, not only are bicycle counts showing that more and more commuters are taking up cycling on Bike to Work Day, but newcomers can be seen making it a habit throughout the rest of the year in the Bay Area. East Bay cycling on Bike to Work Day has increased 250 percent over the last three years, said Rivera, and counts on San Francisco's Market Street showed 32 percent increase last year.
"San Franciscans are biking in record numbers," said Shahum. "This Bike to Work Day is a welcome opportunity for even more people living and working in San Francisco to test-ride the joys of bicycling in our beautiful city. It gives the entire community a chance to show our appreciation for people who bike."
Aaron was the editor of Streetsblog San Francisco from January 2012 until October 2015. He joined Streetsblog in 2010 after studying rhetoric and political communication at SF State University and spending a semester in Denmark.
Stay in touch
Sign up for our free newsletter