Bicycle Infrastructure
On Bike to Work Day, Electeds Unite in Support of Future Bikeways
12:58 PM PDT on May 12, 2011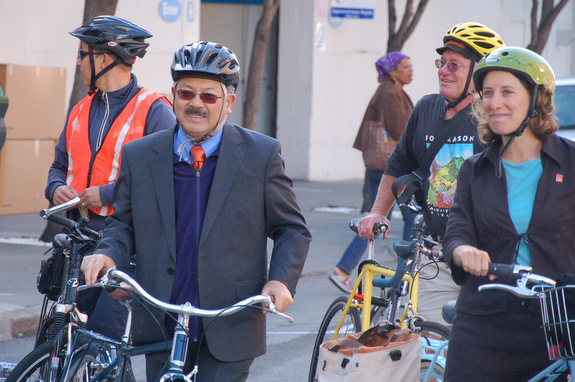 In the strongest showing of political support ever for bicycling in San Francisco, Mayor Ed Lee, ten of the eleven members of the Board of Supervisors, and a range of city officials pedaled to City Hall with advocates and thousands of commuters on the 17th Annual Bike to Work Day. Commuters pedaling along the city's most important route, Market Street, were greeted with new green paint and protected bike lanes thanks to SFMTA crews who have been racing to fill in the gaps.
"We have more to celebrate than ever before in the history of Bike to Work Day," said San Francisco Bicycle Coalition (SFBC) Executive Director Leah Shahum, "from the beautiful new green separated bikeways on Market Street, to dozens of new bike lanes in every neighborhood throughout the city, to hundreds of new bike racks, to dozens of new on-street bike parking corrals."
Riding in on some of the city's major routes, supervisors proclaimed their support for safer streets and expanding the city's bikeway network. Mayor Lee announced that a separated bikeway would be in place on John F. Kennedy Drive by the end of the year, filling a crucial segment on the popular Bay to Beach Connecting the City route being pushed by the SFBC.
"I want to see that 100 miles from the Bay to the ocean, north and south, painted by the year 2020 to see everybody ride the whole city and connect up either way using their bikes," said Mayor Lee, who rode to City Hall from Golden Gate Park via the Wiggle with Shahum, SFMTA Board Chair Tom Nolan, and a convoy of others.
Board of Supervisors President and mayoral candidate David Chiu cheered the city's continuing boom in cycling over the past few years.
"Fifteen years ago, I started to bike to work for the very first time, and I have to admit, it was a lonely experience," he said. "I don't feel alone anymore."
But, he said, if the city is to reach its declared goal of 20 percent bike trips by 2020, it needs to continue vastly improving its bicycle infrastructure.
"In order to do this, we need to imagine. We have to imagine separated bike lanes, finally getting enough bike parking for all of us, finally having bike signals. We have to imagine safe enough conditions for our eight-year-olds and our eighty-year-olds."
While some supervisors are known to ride a bike and have publicly backed the SFBC's efforts, today's experience was something new for at least four of them.
"This is my first Bike to Work Day," said Supervisor Jane Kim, who cycled for the first time in her district, which includes notoriously dangerous streets in the Tenderloin and South of Market areas.
"I got to feel how unsafe it was to trucks and cars kind of trying to jostle around you, and I definitely want to work towards getting bike lanes that would make someone like me feeling safe enough to ride to work," she said.
"Improving the infrastructure of our bike lanes, whether it be for the America's Cup or our daily lives here in San Francisco, is so critical to our future," said D2 Supervisor Mark Farrell. "I simply look forward to working with everyone here to make that a daily part of our reality."
The Civic Center area was booming with bike traffic during the morning commute, and Market Street was dominated by bicycles. Commuters filled the sidewalks at SFBC energizer stations, including a very popular one at Market and 12th Streets.
"We all know there was a 58 percent increase in bicycling in San Francisco over the last four years," said SFMTA Board Director Cheryl Brinkman. "That's an impressive number, but it's even more impressive if you put it in context."
"Could we have handled a 58 percent increase in Muni riders at rush hour? You'd never get on a bus or train. Could we have handled a 58 percent increase in car traffic at rush hour? It'd be terminal gridlock, no one would be going anywhere."
"We have some ambitious goals, but I know we can do it."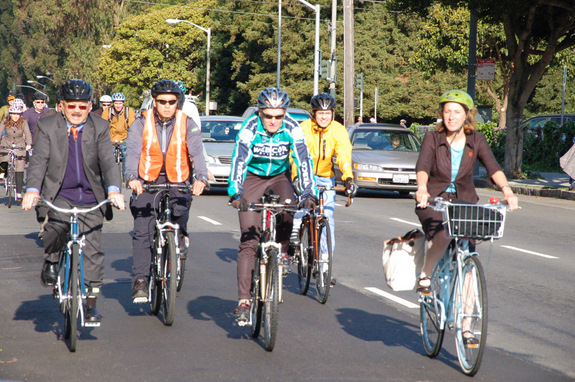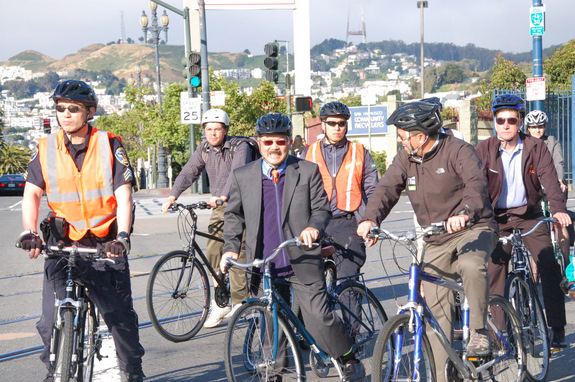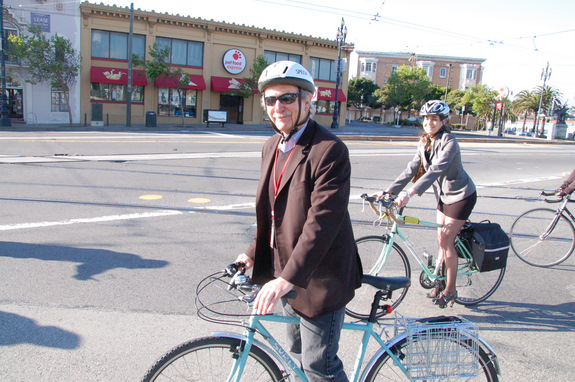 Aaron was the editor of Streetsblog San Francisco from January 2012 until October 2015. He joined Streetsblog in 2010 after studying rhetoric and political communication at SF State University and spending a semester in Denmark.
Stay in touch
Sign up for our free newsletter