Fix Masonic
Masonic Ave. Boulevard Redesign Headed to SFMTA Board for Final Approval
3:47 PM PDT on May 13, 2011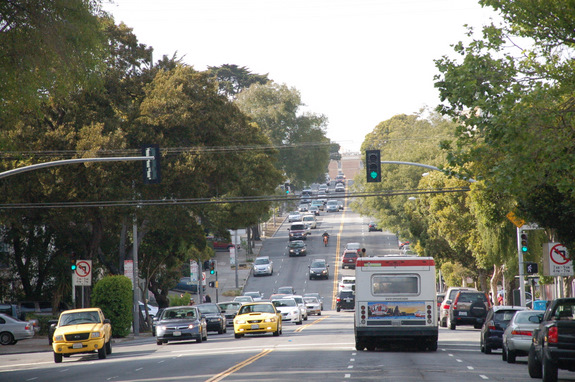 After a years-long community planning process, supporters of the "Boulevard" proposal to redesign Masonic Avenue left City Hall with a mix of excitement and relief today after SFMTA staff approved the plan, and sent it to the SFMTA Board of Directors for its final hurdle. The hearing, which largely determined how soon massive safety improvements could come to the notoriously dangerous road, turned out a strong show of support from neighbors and advocates.
"I'm thrilled," said Michael Helquist, writer of neighborhood livability blog Bike NoPa and advocate of the Boulevard proposal. "I am so excited we are moving forward after several years of working on this project."
In his presentation, SFMTA Project Director Javad Mirabdal cited a broad coalition of support for the project, including a vast majority of neighbors surveyed, as well as endorsements from Supervisors Eric Mar and Ross Mirkarimi, SF Police Department (SFPD) Park Station Captain Denis O'Leary, and San Francisco Mayor Ed Lee, who told Streetsblog yesterday that he would talk to the SFMTA about ways to speed up funding for the project.
"Javad made a signature design here that I think is going to be looked at by cities across the U.S. and around the world as transformative," said Fix Masonic founder Mark Christiansen.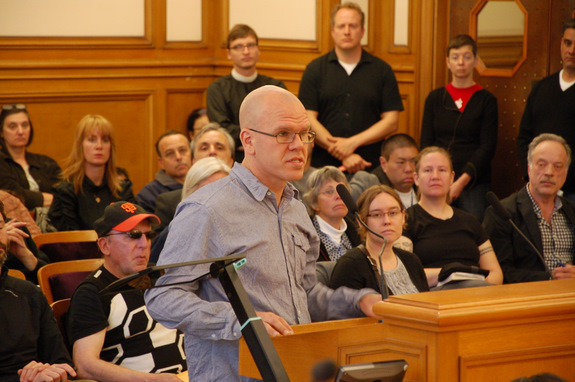 "I'm really excited that our children will have a safer street to cross," said Herb Bool, a teacher at San Francisco Day School at Golden Gate and Masonic Avenues, who frequently crosses the street, sometimes with dozens of children under his watch. "It's the most dangerous thing I've ever done."
The hearing also drew attendance from a range of city staffers, including officials from the SFMTA, the SF Planning Department, and the Mayor's Office.
Construction is projected to begin in no less than two years and the SFMTA hasn't identified funding yet. Advocates, neighbors and elected officials such as Supervisor Ross Mirkarimi have said they would like to find a way to expedite the funding process to relieve the street of dangerous conditions as soon as possible.
Calls for temporary measures to alleviate the continuing high rate of injuries and deaths on the corridor have also been strongly voiced by neighbors. However, although some action has been taken, Christiansen says effective solutions in the interim are hard to find.
"The character of the street is defined by the psychology of being on the street," said Christiansen. "It's a pretty wide open street right now in its fundamental design and it seems to promote a mentality of car dominance that is difficult to overcome through any of the means that are currently being proposed to mitigate that."
"More law enforcement certainly helps, but we don't have the kind of staff on SFPD that they can easily just have around the clock writing tickets," he added.
Some proponents urged further measures to address issues not included in the proposal, including visibility issues at the Turk Street intersection and extending improvements all the way to Haight Street.
Even some of the few opponents who spoke praised the project's extensively inclusive community planning process as well as its potential to create a more people-friendly street. The few opposing arguments seemed limited to its replacement of car parking spaces.
"I appreciate those who opposed the Boulevard," said Helquist. "They gave considerate, respectful presentations, and I think it says a lot for us as a community and how we've dealt with this issue."
"It's important to remember that the foremost goal of a street is not the storage of private automobiles," pointed out Marc Caswell, a resident of Masonic. "Streets are intended first and foremost for the safe and convenient travel of people, whether that be by foot, by bike, by transit, or by car."
"When the opposition mostly lines up around parking spaces, my hope is that we're moving into an era where that is not the defining issue," said Christiansen. "It sounds as though it didn't become the defining one at this hearing."
Aaron was the editor of Streetsblog San Francisco from January 2012 until October 2015. He joined Streetsblog in 2010 after studying rhetoric and political communication at SF State University and spending a semester in Denmark.
Stay in touch
Sign up for our free newsletter