Muni
Two-Way Haight Street Project Would Speed Up 6, 71 Muni Bus Lines
12:50 PM PDT on June 21, 2011

Just about any of the roughly 20,000 regular Muni riders who take the 6 or 71 lines every day can tell you their bus can come to a crawl as they make the turns at Laguna Street. Decades ago, the easternmost block of Haight Street was turned into a one-way street in the opposite direction, forcing inbound buses onto a notoriously slow and unnecessary detour, often called the "dog leg".
"It's such an inefficient way of taking transit," said resident Katherine Roberts. "You just pray the N-Judah is running because those things are not gonna get you there on time. It's guaranteed that they're not."
But a project [pdf] to finally restore two-way bus operation all the way down Haight Street is in the works. Staff from the SF Municipal Transportation Agency (SFMTA) met with community members last night to refine their proposal, offering two overall design options and other questions to weigh in on.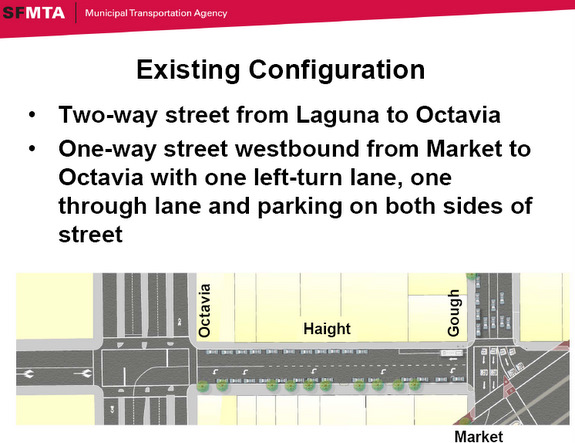 "We want to improve our [bus] travel times and our reliability," said Britt Thesen Tanner of the SFMTA Sustainable Streets Division. "Our running times just on the four blocks from Laguna to Market [and Van Ness] vary anywhere from 2 to 8 minutes. That's a 6-minute variation - that's an entire headway."
Allowing eastbound buses to connect to Market Street from Haight would mean making two fewer turns, traveling two fewer blocks, and making three fewer stops. New bus lanes would also free them up from car traffic turning onto Octavia Boulevard towards the Central Freeway. Tanner estimates the travel time could be reduced to a more reliable 3 to 4 minutes.
Attendees overwhelmingly supported the project, and most seemed to favor an option that would create a contra-flow bus-only lane, which would still keep cars from using the block eastbound. The other option would allow cars to travel and park on that side of the street.
The project could be the city's first to pilot a technique using red pavement to highlight the bus lanes, which Tanner noted has been used widely in cities like New York and London. It would also include pedestrian, landscaping and streetscape improvements at the hairy intersection of Haight, Gough, and Market streets.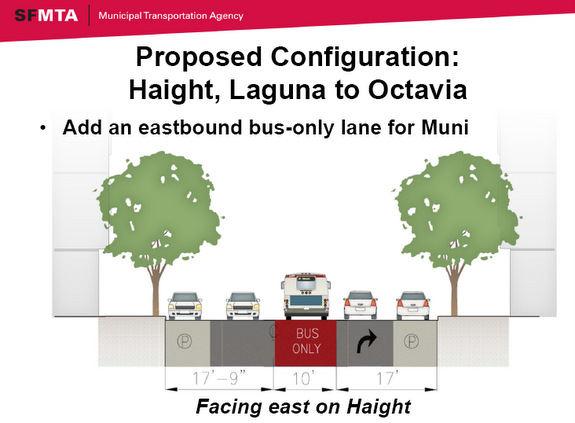 One question posed to attendees was where the new bus stop should be located on the block. In group discussions, one table generally favored a location closer to Octavia, while another liked having it near Market Street.
A loss of car parking wasn't a concern voiced by drivers since any spots removed by a bus-only lane would be replaced by the removal of three bus stops on Laguna and Page. The other option, which would keep those parking spots, would actually add ten spots to the neighborhood.
The idea of two-waying the last block of Haight Street was recommended in the 2003 Market-Octavia Neighborhood Plan as well as the SFMTA's Transit Effectiveness Project.
The project is expected to have a final public hearing and go to the SFMTA Board of Directors this fall, and if approved, construction would begin in 2014.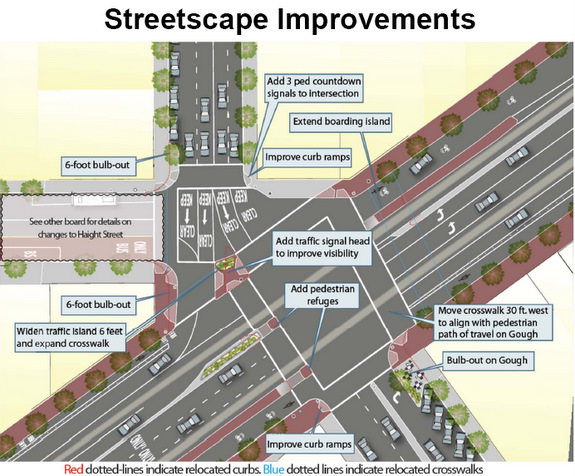 Aaron was the editor of Streetsblog San Francisco from January 2012 until October 2015. He joined Streetsblog in 2010 after studying rhetoric and political communication at SF State University and spending a semester in Denmark.
Stay in touch
Sign up for our free newsletter