Muni
SF Mayoral Candidates Need to Tackle Transportation Funding
3:50 PM PDT on August 10, 2011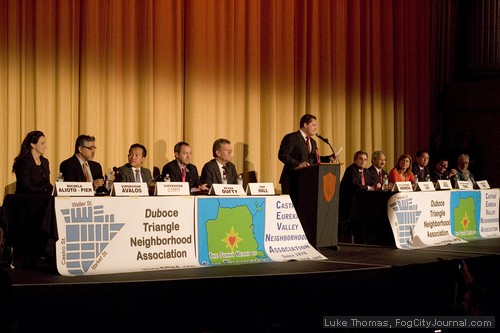 Monday night's first major mayoral debate contained more political theater than substance, and it's too bad, because the very first question posed to some of the candidates -- who gave no real answers to it -- was a critically important one. The moderator, with a list of questions compiled by the Castro/Eureka Valley and Duboce Triangle neighborhood associations, asked the following before a large crowd at the Castro Theatre:
The Market and Octavia area plan anticipates thousands of new housing units being developed in the Upper Market area over the next several years. Yet, our public transportation infrastructure frequently fails to meet even today's needs. So, do you support requiring appropriate improvements in transit capacity and service before new development entitlements can be granted, and why or why not?
It's complex, but it cuts to the heart of an issue that our city leaders haven't been good at tackling. Sure, every candidate says they want Muni to be on time, and that it's about time that happened, but those are easy platitudes. The real pressing question is: How do we pay for improved and expanded transit service? And why, in a Transit First city, are we approving new housing and commercial developments with added capacity for parking without adding transit capacity too? Those are the underlying issues behind the initial question given to 5 of the 10 mayoral candidates who were asked to take part in the forum.
None of the candidates who were asked to respond -- Michela Alioto-Pier, David Chiu, Tony Hall, Joanna Rees and Leland Yee -- addressed it in a substantive way.
"I would certainly like to know before we start some of these larger projects that we have an idea of how we're going to get people to and from them," said Alioto-Pier. Again, no real answer. But she admitted this much about her time on the Board of Supervisors: "We didn't pay as much attention to the types of impacts on our neighborhoods and our communities as perhaps was needed."
Chiu came the closest to directly responding, pointing out -- to applause -- that he is the only mayoral candidate who doesn't own a car, but his answer was vague.
"We need to make sure that our city is investing in appropriate transit infrastructure. I think what's appropriate is that we are paying as we go. If we are creating development, we need to make sure that there is transit and transit improvements related to that," said Chiu, who then used the remainder of his time to attack Mayor Ed Lee, like many of the other candidates did, for jumping into the race when he said he wouldn't.
Plenty of Ideas, Shortage of Political Will
The next mayor needs to figure out how to solve the SFMTA's structural deficit. If we're ever going to reach the on-time performance goals in the City Charter and achieve acceptable Muni reliability, quality and crowding standards, the SFMTA has estimated the agency needs to raise an additional $75 to $100 million a year. And that doesn't cover transit capacity around new development.
"What's very frustrating is that we're not anywhere near prepared to expand transit capacity. All we're doing is cutting right now, as a city," said Jason Henderson, an SF State geography professor who heads up the transportation and planning committee for the Hayes Valley Neighborhood Association.
"Then," he continued, "we're letting these developments come in with parking, and it's just perpetuating the vicious cycle because then you're going to have people that are going to come in when the transit system's bad, and they're going to drive, and believe that they have to have their parking space because the transit system is not able to provide the adequate capacity."
Development impact fees don't solve the problem on their own, but there are funding ideas aplenty. Just not politically popular ones. SFMTA staff and a variety of revenue committees over the last few years have offered several proposals (some old, some new), and some would require state legislation and take a few years to implement. They include congestion pricing, a transit assessment district, extended parking meter hours, a transportation utility fee, a vehicle impact mitigation fee, and many more. For a detailed list, check out this presentation the SFMTA gave in February [pdf].
Everyone agrees we need better transit service and the city has recognized this for decades under many mayors without a concrete solution. The mayoral candidates need to start talking specifics about how we're going to fund Muni, and for that matter, how we pay for future pedestrian safety and bikeway improvements, or we'll never see the kind of Transit First city we deserve.
In the coming weeks, we'll be interviewing the top mayoral candidates on transportation and land use issues, and we'll put this question to them, pressing for a detailed answer.
Bryan Goebel is a reporter at KQED Public Radio in San Francisco. A veteran journalist and writer, he helped launch Streetsblog SF in 2009 and served as editor for three years. He lives car-free in the Castro District.
Stay in touch
Sign up for our free newsletter