Bicycle Parking
Why the SFMTA Doesn't Install Short-Term Residential Bike Parking
5:13 PM PDT on August 16, 2011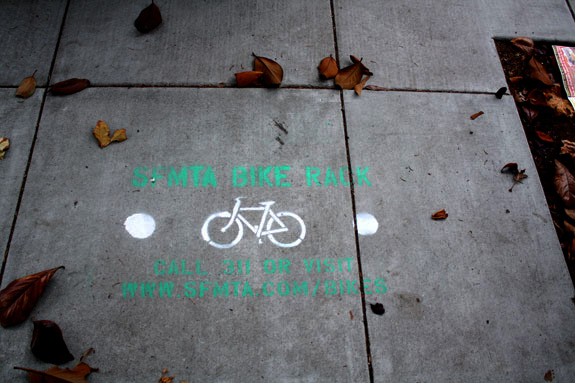 Earlier this year, I hired one of my favorite bike courier companies to deliver an urgent parcel. When the messenger arrived at my door to pick it up (I work from home), he complained about the lack of bike parking in the neighborhood. He knew who I was and asked, bluntly: "Why doesn't Streetsblog have bike parking?"
It's a good question. I told him I'm working on it. What I've come to learn since is there is a long-standing informal SFMTA policy against installing bike racks in front of residential buildings for short-term parking. I live in a large apartment building in a dense neighborhood on Sutter Street, so a bike rack outside my building would potentially get used by a lot of short-term visitors.
Here's how SFMTA spokesperson Paul Rose explained the policy: "Since we can't put bike parking where everyone wants it, we strive to prioritize locations that'll be used by as many as possible. And the commercial mixed-use locations will have a lot more visitors, so the bike racks there are going to have a lot more use."
"When racks are installed in front of residential buildings," he continued, "there's no specific way to know if they'll be used by visitors to the building, or long-term parking for the building's residents."
Businesses are a priority, and any merchant can request a bike rack on the sidewalk, or even a bike corral. In a Streetsblog story on San Francisco's bike rack bonanza last year, the SFMTA was also urged to target major destinations, such as parks, libraries, museums, and major transit stops.
Since the bike injunction was partially lifted in November of 2009, the SFMTA has installed more than 700 bike racks at a cost of $380,000.
Generally speaking, public bike racks aren't installed on private property. In San Francisco, bike parking is required on all new commercial and residential developments, and major renovations. If you want secure bike parking in your apartment building, you have to take it up with your landlord. Or if you live close to a business, you could get that merchant to request a bike rack.
Oakland's short-term bike parking policy is similar to the SFMTA's, and bike racks are also concentrated in commercial districts. In Portland, however, the city does install bike racks for short-term parking in front of residential buildings.
"We only install city bike racks at locations where there is a short-term bike parking need – this can include multi-family dwellings (i.e. apartment buildings rather than single family residential areas) because you will see a visitor bike parking demand," said Sarah Figliozzi, a bicycle program specialist at the Portland Department of Transportation.
The SFMTA has actually installed a few residential bike racks, but it's not a wide practice. What do you think? Have you requested a residential bike rack for short-term parking? Should the city change its policy?
Bryan Goebel is a reporter at KQED Public Radio in San Francisco. A veteran journalist and writer, he helped launch Streetsblog SF in 2009 and served as editor for three years. He lives car-free in the Castro District.
Stay in touch
Sign up for our free newsletter