Bicycle Safety
City Planner Hurt by Driver Making Illegal Right Turn at Market and Octavia
3:39 PM PDT on August 25, 2011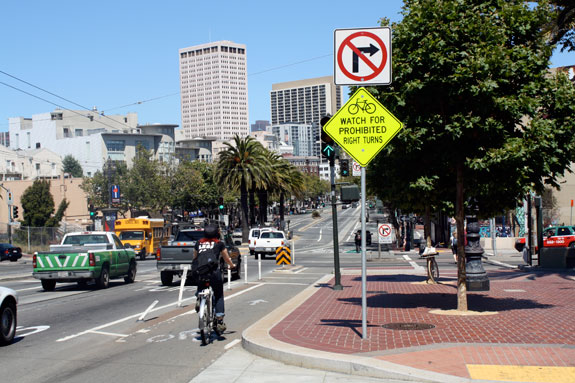 John Billovits is all too familiar with the perils of one of the city's most hazardous intersections for bicyclists. For the past decade, he has traveled through the Market and Octavia intersection on his daily bicycle commute. As a senior planner at the San Francisco Planning Department, Billovits was also the project manager for the Market and Octavia Neighborhood Plan, and fought against building the Central Freeway touchdown on Market Street.
Right turns for eastbound drivers on Market Street are prohibited at Octavia because they present a danger to bicyclists and pedestrians. Allowing the right turn would also create a huge traffic queue on Market Street, causing congestion on the city's most important transit and bicycle corridor. Billovits outlined the case for banning the right turn in this 2003 memo [pdf].
Drivers who have made the illegal sudden turn south onto the freeway, where there is a bike lane and pedestrian crossing, have caused numerous right-hook collisions over the years, leaving dozens of people hurt. Two people, a pedestrian and a bicyclist, have died from injuries suffered in collisions caused by drivers at the intersection.
Yesterday, Billovits became the latest victim. As he was pedaling his Bianchi Volpe through the intersection around 9:25 a.m., on his way to work at the Planning Department, a German tourist behind the wheel of a rental car made the dreaded right turn and sent the 49-year-old flying.
"I just kind of plowed right into it, and bounced off the car, flew over it, and landed on the concrete, kind of head first, on the other side," a shaken Billovits told Streetsblog, just hours after being released from the hospital yesterday. "I had a helmet on, which is a sturdy helmet, and so it felt pretty good. I just kind of crumpled over to the side, and it happened really quick."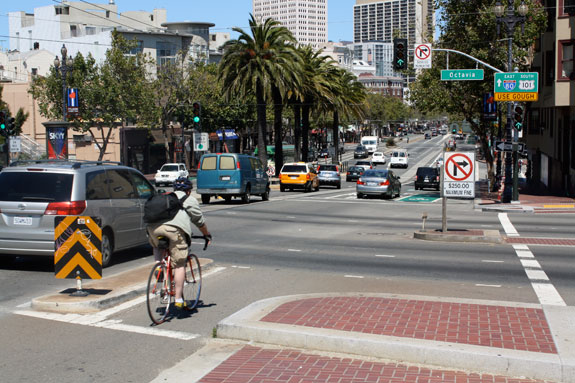 Lax Enforcement
As this latest case illustrates, drivers routinely get away with causing collisions and injuring bicyclists and pedestrians at Market and Octavia without so much as a slap on the wrist.
On the engineering front, the SFMTA has tried a number of fixes, and the latest -- a concrete median with signage and soft-hit posts -- has certainly improved the situation, but not enough, said Leah Shahum, the executive director of the San Francisco Bicycle Coalition.
"We call on the SF Police Department to step up enforcement at this known problem area, and we urge the city to add camera enforcement at Market-Octavia to better deter drivers from behaving illegally on San Francisco's busiest bicycle and transit route," she said.
Last September, then-Governor Arnold Schwarzenegger vetoed a bill by Assemblymember Tom Ammiano, AB 2729, that would have allowed the SFMTA to install an automated traffic enforcement system at Market and Octavia to photograph infractions and issue citations to drivers who make the illegal right turn. In his short veto message, Schwarzenegger said current law already allows the city do it.
Earlier this year, Ammiano sent a letter [pdf] to the state Attorney General's Office requesting a legal opinion on the issue. Eight months later, Ammiano has still not gotten a response, said Quintin Mecke, the state legislator's communications director. A phone call to the press office of California Attorney General Kamala Harris, the former San Francisco District Attorney, was not returned.
"It is frustrating that after many months, we are still waiting on an opinion from the Attorney General's Office as to how best to do this," said Shahum. "We hope this unfortunate incident will spur state and local leaders to act with more urgency to improve safety on San Francisco's streets."
From Billovits' perspective, there shouldn't be any turn movements at all at Market and Octavia because "there's just too much going on." It's a case he made 11 years ago.
"I wanted to get rid of both the turning movements, the right hand off and the right hand on," he said, before reflecting on yesterday's collision that left him injured. "It's just so ironic after all the stuff we've been through with that, to be lying there and lying under the (no right turn) sign, more or less."
Bryan Goebel is a reporter at KQED Public Radio in San Francisco. A veteran journalist and writer, he helped launch Streetsblog SF in 2009 and served as editor for three years. He lives car-free in the Castro District.
Stay in touch
Sign up for our free newsletter