Berlin
Berlin's Striking Cycling Renaissance
3:36 PM PDT on October 13, 2011
Berlin is a hugely under-appreciated cycling city. Often overshadowed by the accomplishments of Amsterdam and Copenhagen, over the past two decades Berlin has quietly experienced what is perhaps the most striking cycling renaissance in the world. On any given day, more trips are now made by bicycle in Berlin than any other European city.
Berlin does not fit the mold of a typical bicycling paradise. The metropolis of 3.5 million people is as populous and expansive as Los Angeles. In contrast to Amsterdam and Copenhagen, Berlin boasts abundant road supply, minimal traffic congestion, and an extensive Metro system. Summers are hot and humid and winters are long and cold. In the capital of the nation that produced Mercedes, Volkswagen, BMW, and autobahns, one would not expect bicycling to flourish; yet, since German reunification in 1990, Berlin has undergone a cycling revolution.
According to Berlin's 2010 Mobility Report, Berliners made approximately 1.4 million trips by bicycle every day in 2008, amounting to 13 percent of all trips citywide (and 14 percent of commute trips). This figure has more than doubled since 1990, yet it is likely already outdated, given rising gas prices ($8/gallon in Berlin) and an aggressive city initiative to raise cycling mode share to 15 percent by 2015.
While mode share figures are an imperfect measure of cycling rates, they allow for rough comparisons between cities. In Amsterdam and Copenhagen, about 35 percent of all trips are made by bicycle. In Portland, cycling captures 6-8 percent of commute trips, the largest total of any major American city. For a city the scale of Berlin, 13 percent mode-share is substantial -- especially considering 30 percent of trips are already made by walking and 26 percent by public transportation.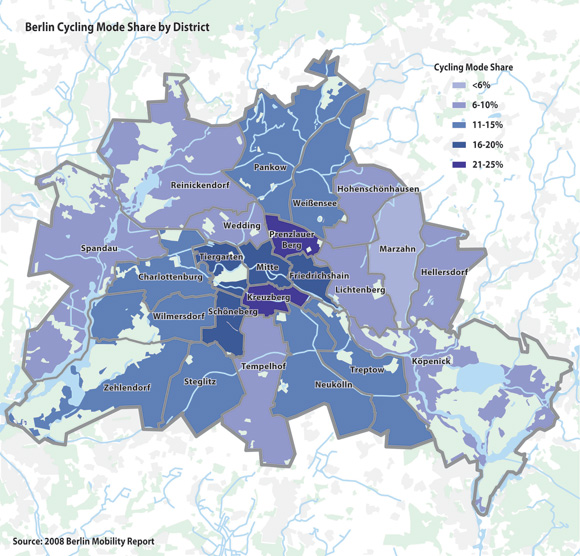 The accomplishments of Berlin are even more outstanding at a district level. Substantially larger than Amsterdam (population 780,000), Copenhagen (541,000), and Portland (583,000), Berlin encompasses a wide range of neighborhood types, from dense urban to single family suburban. Outlying suburban districts like Spandau or Steglitz resemble Portland or Boulder, with bicycle trips composing around 6-12 percent of all trips.  Meanwhile, in Berlin's dense urban core of Mitte, Tiergarten, Kreuzberg, Prenzlauer Berg, Schöneberg, and Fredrichshain—an area of 695,000 people with a population density 50 percent higher than San Francisco—bicycling comprises an outstanding 20 percent of all trips.
Berlin owes its success to equal parts bicycle culture and infrastructure. Bicycling education begins at an early age—every Berliner must pass a bicycle safety course in elementary school. This early education campaign feeds into what appears to be a surprisingly orderly movement of traffic—bicyclists tend to obey traffic laws and motorists tend to look out for bicyclists. Demographically, Berlin is Germany's largest college town—it has three major universities and 135,000 college students, in addition to hundreds of thousands of 20-somethings who flock to Berlin from throughout Europe after graduating. Yet bicycling is not restricted to young urbanites. The ubiquitous grade-separated cycle tracks, bicycle boulevards, and other facilities make cycling attractive to schoolchildren and the elderly alike.
The recent snowball effect, however, has been the product of good long-range planning. Upon reunification, Berlin took a proactive stance to accommodate future growth in bicycling rather than simply meeting present demand. The city made a sustained long-term commitment to bicycling, currently investing approximately €5 million ($7 million) annually into bicycle infrastructure and programs. Whereas cities like San Francisco or Seattle seem to constantly be playing catch-up to bicycling demand, Berlin planned for success even when the demand was not there. The "if you build it, they will come" adage seems to ring true.
It is worth noting that Berlin still has plenty of room for improvement. Post-WWII redevelopment created many high-speed boulevards and mega-apartment complexes that eroded the livability of many neighborhoods of the city (especially in East Berlin). While the city has demonstrated a strong commitment toward encouraging bicycling citywide, these areas in particular have lagged behind in becoming bicycle-friendly. However, if there's one constant in Berlin, it's change: Its cityscape and culture are among the most dynamic in the world, and the city seems to reinvent itself every couple of years. With the rate of bicycle ownership (721 per 1,000 people) now more than twice the rate of car ownership (324 per 1,000 people), the role of bicycling in Berlin shows no signs of diminishing; further growth seems inevitable.
What is occurring in Berlin gives hope to metropolises across the world. Twenty years ago, Berlin faced the same challenges that countless cities face today: Bicycling was an afterthought, a niche transportation mode reserved for students and hipsters. However, the city's sustained, long-term commitment to the 5 E's of bicycling—Engineering, Education, Encouragement, Enforcement, and Evaluation & Planning—has today produced a renaissance that's pushed cycling into the mainstream. While New York, Chicago, or Los Angeles are too big to be the next Amsterdam or Copenhagen, they could be the next Berlin.
Daniel Jacobson is a senior at Stanford University studying urban planning. He studied abroad in Berlin for three months earlier this year.  His work is available at www.danielaaronjacobson.com.
Stay in touch
Sign up for our free newsletter