Mayor Ed Lee
Where Has Mayor Lee Been on Muni Questionnaires?
11:21 AM PST on November 7, 2011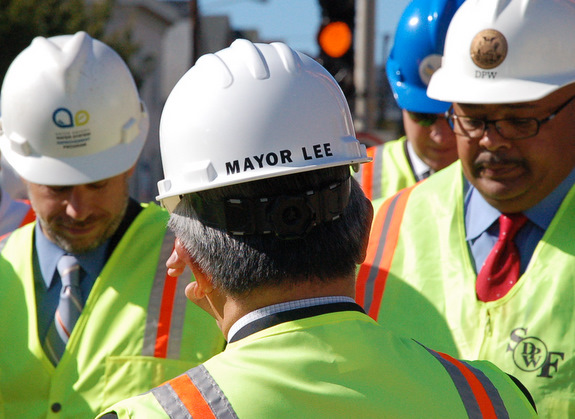 With election day less than 24 hours away, it's safe to say all the San Francisco mayoral candidate questionnaires are in.
But when Streetsblog recently posted excerpts from responses to the SF Transit Riders Union (SFTRU) mayoral candidate survey, readers pointed out a notable no-show. Mayor Ed Lee hadn't filled out a survey, nor did he come to speak personally at the August SFTRU forum with five of the other top candidates. SF Public Press reporter Jerold Chinn said Lee also did not respond to repeated requests to be interviewed as part of his series on Muni issues.
We followed up with Lee's campaign and asked about the lack of a response from the mayor to the SFTRU survey. Spokesperson Tony Winnicker sent this explanation:
First, I'm not aware that we received the Transit Riders questionnaire as we certainly would have responded. If we missed it that's an oversight. I do know on Aug 17 we received an invitation to a meeting on Aug 22 but Mayor Lee was unable to attend due to a conflict with an official event. Mayor Lee has attended many forums where Muni and the SFMTA are issues, but he has not been able to attend all of them due to his responsibilities as Mayor.
In general, Mayor Lee is committed to making the changes necessary to improve MUNI service and fully realize our City's Transit First Policy. He pushed hard for new leadership at SFMTA earlier this year that can bring a new vision, deep commitment and a can-do spirit to the agency that San Franciscans rely on every single day. Mayor Lee knows that for too many San Franciscans, getting around the City is all too often a frustrating experience. Muni riders deserve a system that's affordable, accessible and reliable.

SFMTA's new Director, Ed Reiskin is a highly effective and results-oriented leader who successfully oversaw the introduction of the City's innovative 311 Customer Service Center and led our Public Works Agencies to greater efficiency and responsiveness. MUNI has already implemented service enhancements and reduced wait times on several lines and the improvements will continue. Mayor Lee is very encouraged by the success of the N-Express Bus from the Outer Sunset, which has reduced congestion on the N-Judah.

In the next four years, Mayor Lee will partner with Ed Reiskin and the San Francisco Municipal Transportation Agency (SFMTA) to boost Muni's on-time performance and run it more efficiently with work rule reforms, new technologies and our Transit Effectiveness Project. We will invest in refurbishing tracks, buses and railcars. And we will expand the City's public transit system for the future, with express bus lanes on Geary and Van Ness and the construction of the Central Subway to link jobs and housing in SoMa and Mission Bay to neighborhoods north and south.
Has the mayor stood by his commitment to improving Muni this year? Or would another candidate be stronger? Everyone who's registered to vote in San Francisco can weigh in at the polls tomorrow.
Aaron was the editor of Streetsblog San Francisco from January 2012 until October 2015. He joined Streetsblog in 2010 after studying rhetoric and political communication at SF State University and spending a semester in Denmark.
Stay in touch
Sign up for our free newsletter