Bicycle Infrastructure
Nightmare on Oak Street: Couple Harassed While Biking, Blamed By SFPD
2:55 PM PDT on March 13, 2012
On their ride home from a Valentine's Day dinner, Ian Long and Johanna Weaver were harassed by an angry driver and allegedly threatened by a police officer who didn't want to hear their story.
Long and Weaver were riding in the right-hand lane of Oak Street along the popular Wiggle bike route around 8 p.m. on February 14, when they say a Toyota Prius driver approached from behind and began honking before swerving in front of Weaver first and then Long. After the driver and the couple all turned right onto Scott Street (following the topography of the Wiggle), the two say the driver slammed on his brakes and forced Long to crash into the back of the car, causing injuries to his hands. The driver stayed at the scene, though Long said he was initially unresponsive to his questions.
The two officers who responded weren't much more helpful, according to Long, Weaver, and at least two other witnesses. According to a video interview with the couple and Long's roommate, who drove to the scene, San Francisco Northern District Police Officers Joshua Olson and Melvin Maunu interviewed the driver, but seemed reluctant to take testimony from the victims and other witnesses.
Long said that as he attempted to explain his side of the story, Olson interrupted him and threatened to throw him in jail "for vandalizing the vehicle," even as Long's finger bled "quite profusely."
In fact, Long said he feared the officer would have arrested him had he not accepted medical attention from paramedics.
SFPD Northern Station Captain Ann Mannix says that although she hasn't spoken with the officers about the incident, the story in the police report is very different. "This is a case of one side having a completely different view from the other side," she said.
Mannix doesn't contest that the driver "behaved badly" on Oak Street, but she said the police report claims that Long appeared to follow the driver onto Scott and continue the confrontation. She said the driver claimed that Long "intentionally hit the car," adding that "following too closely" is a traffic violation. Both the driver and Weaver, who said she saw the crash from behind, called the police.
But because the officers arrived late, Mannix said "tensions were pretty heated" when they got there. The crash happened in SFPD's Park District, but officers from that station were tied up for unknown reasons, so Olson and Maunu were dispatched from the neighboring Northern District.
Alex Page was riding on Scott Street when he saw the crash, and he confirmed Long and Weaver's description of events. "Investigation," Page said, is "too generous a word" to describe Olson's efforts to interview witnesses. Page said the officer told him, "'I don't care what you have to say.'"
"He came in with serious bias, and even commanded his partner to cease taking the statement of the victim (the bicyclist) and considered the driver the victim of vandalism after about 10 seconds on the scene and speaking to zero witnesses, only the driver," Page told Streetsblog.
However, the report, which cites a witness identified as a bicyclist, says eight or nine bicyclists surrounding the car were "yelling and banging on" it. Long and Weaver said they were only there to prevent the driver from fleeing the scene.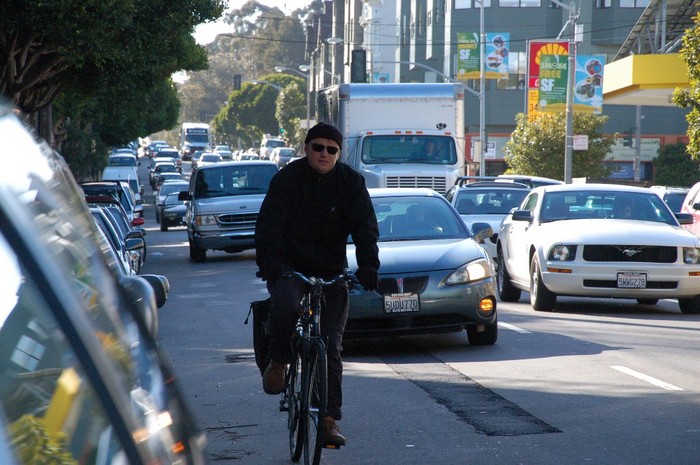 Weaver said Officer Maunu seemed more willing than Olson to listen to her statement. But in the middle of doing so, Maunu apparently told Weaver the officers needed to move their police cruiser out of the way of moving traffic before completing the statement and providing her a case identification number. The officers sat in the vehicle for about a minute before driving away.
"I was kind of in disbelief," said Weaver.
Looking at the police reports, Mannix said the officers "felt they had enough information to complete a report, and that's why they left, I would assume. I don't know if they were called away to something else."
Long said Olson "should have been impartial and tried to get the facts about the case and he definitely did not, and behaved in a manner not befitting a public servant at all." A police lieutenant apparently told him there wouldn't be an investigation because "there's too much information on both sides for them to do anything," and that it would be only be considered a "traffic incident."
The reports of the officers' behavior in the incident are in line with the general perception that bias against cyclists is entrenched among some SFPD officers. Reports of officers unfairly blaming, targeting, and even yelling at people on bikes aren't uncommon.
"Too often we hear of incidents on the road in which people bicycling are harassed or even hit by motorists and then, making matters worse, the incidents are not treated seriously by the police," said Leah Shahum, executive director of the San Francisco Bicycle Coalition. "We hope to have commitment from the SF Police Department that their officers will not discount incidents in which people bicycling are physically harassed by motorists, as this is a serious problem that should be enforced fully."
"The police department that's put in place to make sure that the law is served, and that justice is done -- that is partially their responsibility -- have basically failed in assessing the situation correctly in a way that would provide some sort of legal recourse," said Long. He plans to file a complaint once he receives the police report.
Mannix said the reason the officers may have seemed reluctant to take witness statements was that "police don't handle people very excitedly trying to tell them their stories very well."
"When you get there, you try to determine what happened," said Mannix. "It's kind of difficult when people are yelling at you. Rightfully so, these people were mad -- they'd been fighting with each other, the cops took a long time to get there, I don't blame them for being mad."
"So we go in and we try to find out what happened -- is it a traffic accident? Is it a vandalism?" said Mannix. "Both sides said absolutely the opposite happened."
Long and Weaver said they don't know much about the driver, and that he didn't provide his insurance information, though they do know his license plate number. Long's roommate, Ryan Gantz, said he heard the driver mention that he would "drop any charges."
Long said he won't take legal action against the driver because he can't afford to hire an attorney. But the incident reminded him of the Los Angeles driver who slammed on his brakes in front of two men on bicycles, seriously injuring both. That driver was sentenced to five years in jail for aggravated assault.
As indicated by many road signs posted in San Francisco, under California vehicle code 21202 bicycle riders are allowed the full use of any lane that can't be safely shared side-by-side with another vehicle, especially to avoid hazards like opening car doors. Drivers are expected to pass in another lane as they would any other vehicle. But many SFPD officers share Mannix's interpretation of the law, which says that bicyclists like Long and Weaver should ride "to the extreme right, or the extreme left."
Los Angeles and Berkeley have adopted anti-harassment laws to allow bicyclists greater legal recourse against harassment and to promote awareness of bicyclists' right to use the road. The SFBC is considering whether to push for a similar law in San Francisco.
The whole conflict on Oak could have been avoided, Long believes, if the street had a protected bike lane like the one planned for that section of Oak and its one-way counterpart, Fell. Come next winter, the project is expected to fill in a crucial three-block link on the Wiggle route, which is otherwise comparatively calm and serves as the flattest, most direct connection for bike commuters in the area between the city's east and west neighborhoods.
"If you look at this from the motorist's view, he was upset because we were taking up space that he thought was rightfully his," said Long. "The fact that he had little regard for my life or Johanna's life, and also for the law, would not actually have really mattered [with a protected bike lane] in this situation because we wouldn't have been vying for the same space on the street."
Still, he said "it's frustrating to see that there is someone out there who has such disregard for other people who, definitely on a bike, [are] not nearly as protected as him in his car."
Thanks to Janel Sterbentz, who is filming a documentary making the case for the Fell and Oak bikeways, for the video.
Aaron was the editor of Streetsblog San Francisco from January 2012 until October 2015. He joined Streetsblog in 2010 after studying rhetoric and political communication at SF State University and spending a semester in Denmark.
Stay in touch
Sign up for our free newsletter