Bicycle Commuting
How Long Did This Driver Park in a Bike Lane? A Case Study
4:31 PM PDT on July 17, 2012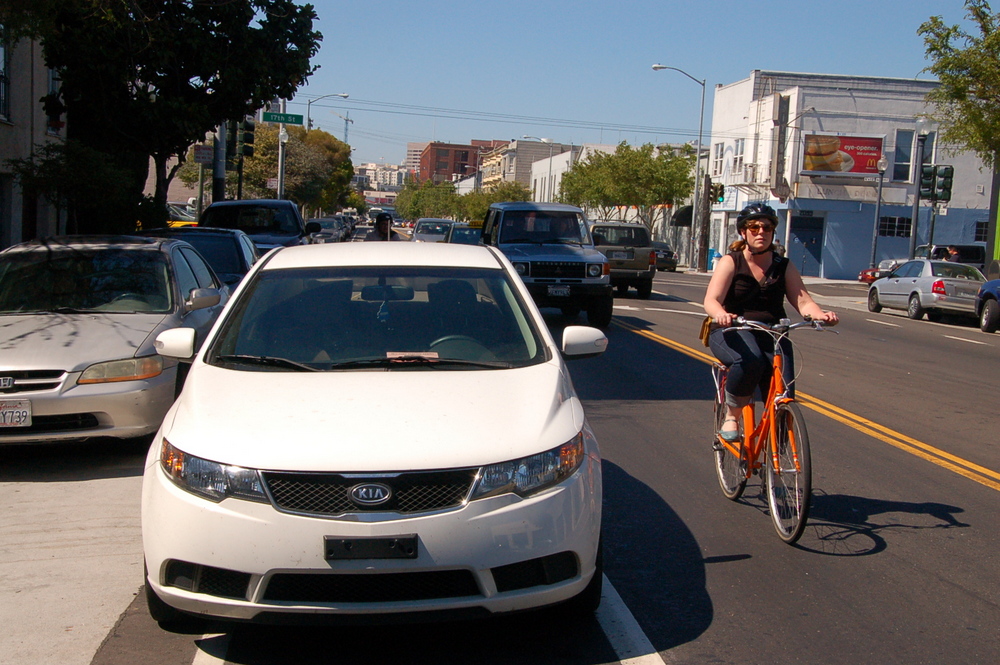 Contrary to what the name implies, bike lanes in San Francisco have cars in them all the time. Presumably, a car left with blinking hazard lights on means the driver is just "running in for a minute," as if to minimize the impact of endangering people on bicycles.
Maybe, after biking into traffic around one of these blinking cars, you've wondered how long the scofflaw driver actually leaves the vehicle there, but you never have time to actually wait and see. Personally, being a (perhaps naïve) optimist when it comes to human decency, I'd expect the car to be gone within a few minutes.
Well, recently I found some free time to do an unplanned, unscientific experiment to see how long a driver would leave his car blocking the bike lane on Folsom at 17th Street.
Of course, no generalizations can be drawn from a single random bike lane blocker. But in this one case, here's the short answer: The driver left 20 minutes after I arrived, and only when a parking control officer arrived to issue a ticket.
Allow me to start from the beginning. At first, I'd only stopped in front of the car to take some stock photos of people on bikes being forced into motor traffic -- always useful to have on hand for a potential Streetsblog story highlighting such issues. However, after about 10 minutes it struck me that the driver had been gone for quite a while (who knows how long he'd been there before I arrived?), so I decided to call the violation in to the SFMTA's parking and traffic hotline.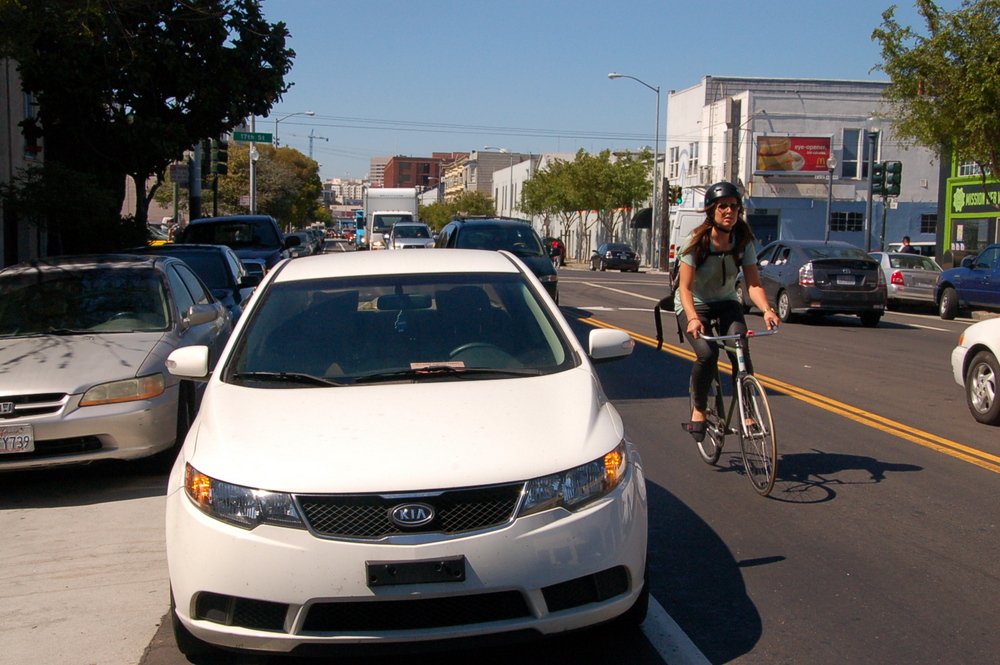 To give the driver a chance to leave, I first peered into the adjacent cafe to check for anyone who looked concerned about the stranger taking pictures of his or her car.
Seeing no such body language, I called the car in and, out of persistent curiosity, waited some more. In about 10 minutes, a PCO pulled up behind the car. Like magic, someone came out of the cafe to pull his car away before the officer could hand him a ticket.
The officer, however, had already input the man's license plate number, printed out the ticket, and told me it would be mailed to his address (the fine is $113, if you're wondering). Something else she noted: Her database categorized the driver under "scofflaw" status (yes, that was the actual term), meaning he'd already committed five or more parking violations.
Again, there's no telling how many drivers stay parked in bike lanes that long, at least not without a lot more observation. But I think it's worth sharing this random example. It certainly changed my assumptions about how long someone might blatantly block the tiny strip of "dedicated" street space for bicycle traffic.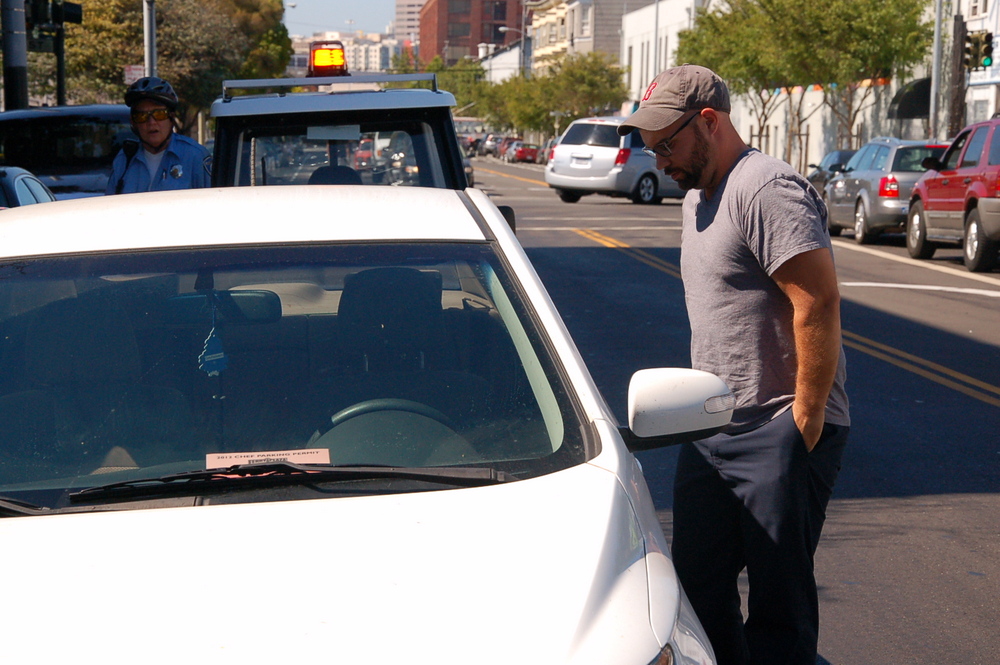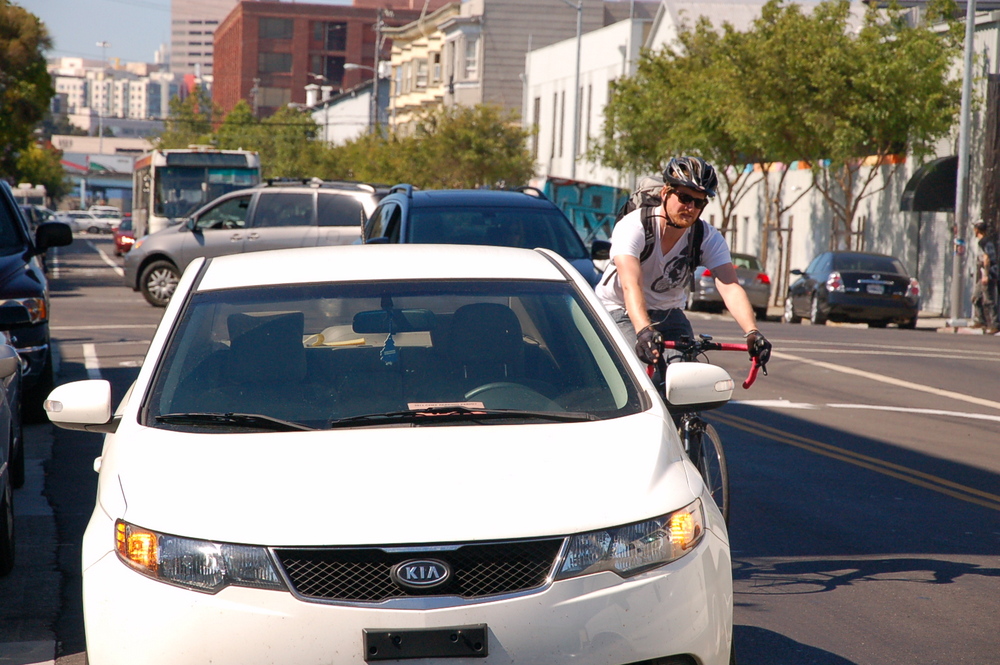 Aaron was the editor of Streetsblog San Francisco from January 2012 until October 2015. He joined Streetsblog in 2010 after studying rhetoric and political communication at SF State University and spending a semester in Denmark.
Stay in touch
Sign up for our free newsletter