Bicycle Commuting
Three-Foot Bike Passing Bill Passes CA Assembly, Needs Gov's Signature
2:19 PM PDT on August 28, 2012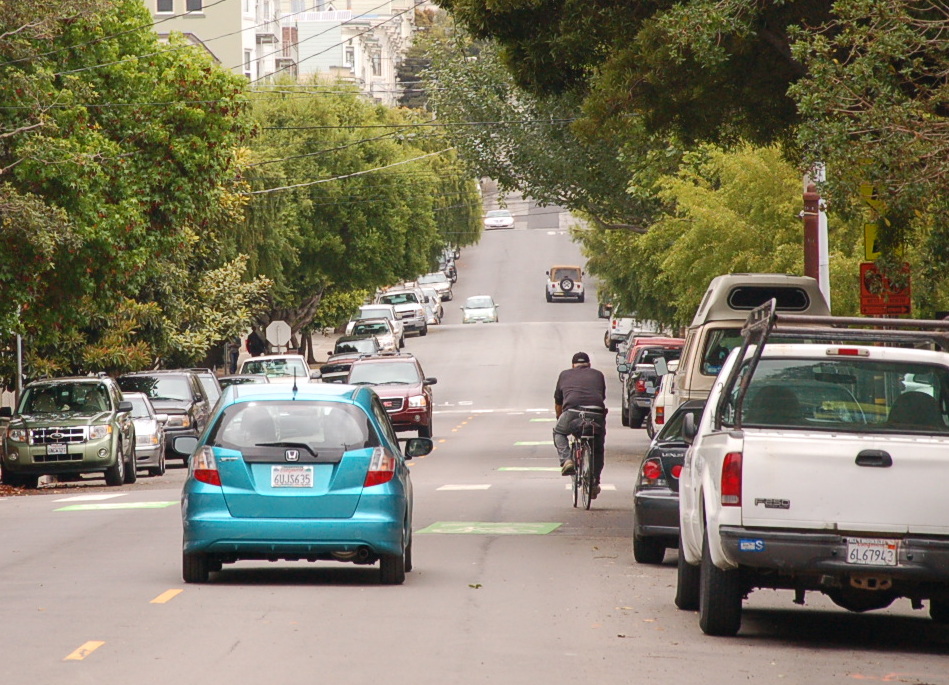 The California State Assembly passed a bill yesterday that would require motorists to provide three feet of space when passing bicyclists. SB 1464, which passed with a 50-16 vote, is expected to be signed by Governor Jerry Brown in September following a "largely procedural" approval by the State Senate, which already passed the bill in May, according to the California Bicycle Coalition.
Thousands of supporters wrote their Assembly members in recent weeks to urge a "yes" vote in a campaign spearheaded by TransForm and the CBC. The bill, according to the CBC, has "none of the organized opposition that fought SB 910," the 3-foot passing bill that was vetoed by Brown last year. At the time, Brown said he was responding complaints from the California Highway Patrol and the American Automobile Association over a provision that would have required drivers to slow down to 15 MPH to pass if providing three feet was unfeasible. Instead, SB 1464 would require drivers in that situation to "slow down to a speed that is reasonable and prudent given traffic and roadway conditions and only pass when it's safe to do so."
The debate in the Assembly yesterday offered a glimpse of certain legislators' views on cycling.
"This is a common sense approach to safety for bicyclists," said Assembly Member Steven Bradford, a Democrat who represents the 51st District in Los Angeles. "Where it is unsafe to move over three feet, drivers have the discretion of just slowing down and passing a bicyclist."
Three Assembly members spoke in opposition to the bill, all Republicans. Assembly Member Diane Harkey, representing the 73rd District in Orange County, eschewed the responsibilities of drivers to watch out for vulnerable street users and said more of the onus should be placed on bicyclists.
The bill, said Harkey, "Allows for lawsuits on motorists who are trying to do the right thing, but for some reason or another, a cyclist comes up behind, maybe in a blind corner, and the cyclist thinks he has the right-of-way and maybe is going full speed ahead, and knows that he's got the law on his side, however, he may not have the poundage on his side."
"Just because you have the right-of-way, doesn't mean that you will survive or live," added Harkey. "The cycling has gotten a little bit out of control. They are not cars."
Assembly Member Chris Norby, who represents the 72nd District in LA, said he rides a bike to the Capitol in Sacramento, but argued that it isn't always practical for drivers to provide three feet to pass a bicyclist in congested traffic. However, while the law would not change the existing requirement for drivers to pass only when it's safe, it would allow them to cross double-yellow lines when doing so.
Following the opponents' comments, Assembly Member Bradford said, "Some of the arguments you've heard against [the bill] are just illogical."
D-1 Assembly Member Wesley Chesbro argued for the bill, saying that setting a three-foot passing standard would "provide law enforcement with a clear standard on which to operate," and that the ambiguity of the current requirement for passing at a "safe distance" is "dangerous to bicycle riders."
Chesbro noted that Doug Rosoff, a psychiatrist in Ukiah (which is in his district), was killed by a dump truck driver on Saturday while bicycling. "If that truck had adhered to the three-foot rule, Doug would be with us here today," he said.
Democrat Gilbert Cedillo of LA's 45th District said the bill "doesn't go far enough," arguing that California should aim to make bicycling as safe and normal as it is in Denmark, which he visited recently. "A bike lane there is as big as any car lane that we have. And that is really where we need to get to," he said.
"In a vehicle, you're safe and protected -- on a bicycle, you're not, and we have to figure out a way to share our highways as they exist today."
Aaron was the editor of Streetsblog San Francisco from January 2012 until October 2015. He joined Streetsblog in 2010 after studying rhetoric and political communication at SF State University and spending a semester in Denmark.
Read More:
Stay in touch
Sign up for our free newsletter