Bicycling
How Have Attitudes Toward Critical Mass Changed? Just Read the Papers
5:10 PM PDT on October 2, 2012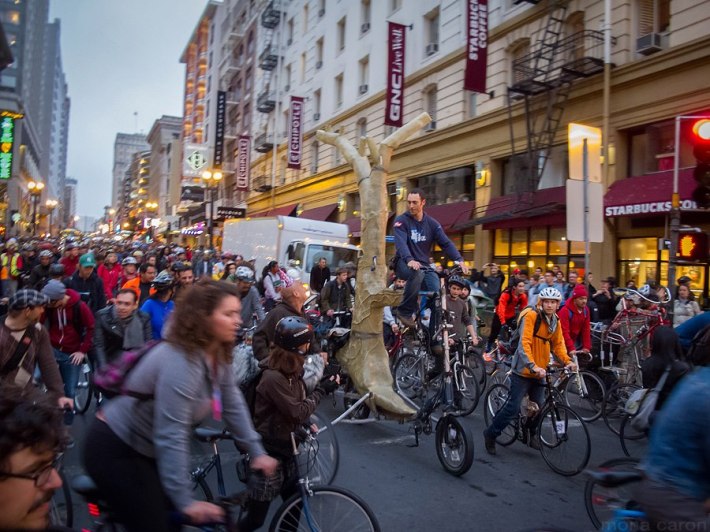 Last week, press outlets in the Bay Area and beyond hyped the occasion of the 20th anniversary of Critical Mass. Of course, it turned out to be one of the biggest rides ever (likely with the help of the media attention itself).
Looking back, it's clear that local attitudes toward Critical Mass -- from the media, the public, and politicians -- have undergone quite an evolution. It's important to point out that it's these perspectives that seem to have changed, not necessarily Critical Mass. The ride itself feels as much like a convivial and liberating transformation of public space (which does tend to draw a few aggressive types) as I imagine it did on most of the hundreds of rides that took place over the past 20 years. (I'm not quite old enough to speak to that firsthand.)
Bay Area papers and news stations were buzzing with anticipation of the ride last week, for the most part in a balanced, if not quite positive, way. Perhaps the most pleasantly shocking embrace of Critical Mass in recent history came from last week's staff editorial in SF Examiner, in which the paper declared:
...At its core, Critical Mass is a political statement about the roads we all pay for and how they should be used. And in spite of the occasional inconvenience that accompanies Critical Mass, it has been very effective as a political movement... Whether you love or hate the Critical Mass rides — and, at times, both attitudes have been appropriate — they have pushed urban cycling issues into the mainstream in San Francisco and around the world.
Granted, the change of ownership at the Examiner has brought a series of progressive editorials this year on issues concerning sustainable transportation and livable streets. But just compare this angle with some of the coverage from the Chronicle and the Examiner in July of 1997. Those pieces were geared to toe the line for then-Mayor Willie Brown's unsuccessful attempts to co-opt, then declare war on, Critical Mass, which led to a fierce backlash from riders and supporters of the movement. (This history was recounted in a Streetsblog piece from Critical Mass co-founder Chris Carlsson and in Ted White's 1999 documentary, "We Are Traffic.")
In one notable piece from that time, the Examiner wrote what begins like a press release amplifying Brown's calls to "confiscate [riders'] bicycles." Brown, the paper wrote, "applauded motorists, who he believed generally held their cool under extreme provocation" (although a Chronicle article published the previous day listed reports of conflicts that indicated otherwise). Oddly enough, then-SFPD Chief Fred Lau noted in the article that "there was never any violence or assaultive behavior" before Brown's attempted intervention.
The backlash against the crackdown has actually led some to credit Brown with driving one of the biggest surges in Critical Mass attendance, SF Bicycle Coalition membership, and the strength of the bike movement as a whole.
Part of Brown's mistake in trying to control or eliminate Critical Mass was that he tried to "negotiate" with representatives of the SFBC, as if they somehow had control over Critical Mass, which is an amorphous gathering of people riding bikes -- not an organization.
While Critical Mass has never been officially tied to the SFBC, executive director Leah Shahum said, "There's no doubt we've all come a long way, and Critical Mass had its role in the early days. Twenty years ago, maybe Critical Mass had a louder voice because there were fewer such channels and event happenings around bicycling. Today, there are so many different options for people to get involved in some way, which is great for everybody."
There are no clear numbers on the turnout for last week's anniversary ride, which even included international visitors, but based on press reports and my own observations it's safe to say that at least several thousand people participated. There were apparently a few scenes of minor aggression from drivers, but nothing serious, especially given the ride's size. The rides just don't seem as controversial or unexpected these days, and with Critical Mass now in hundreds of cities, attitudes toward the event in its city of origin seem to have come a long way towards acceptance, if not embrace. Any normal Critical Mass ride these days is escorted by police officers who facilitate the ride and try to break up any conflicts, though they do also block attempts to take freeways or the Bay Bridge.
Noticeable in most of last week's media reports was a focus around the fun, the magnitude, and the various interpretations of the meaning of the movement, rather than sticking to the portrayal we've seen too often over the years of Critical Mass as a menacing disruption to the convenience of motorists, which, the audience is led to believe, is dominated by conflict and violence.
While recent reports of course touched upon the history of occasional conflicts, articles like the Chronicle's post-event coverage also described the ride's "calm and festive atmosphere." The Examiner, despite headlining the event as "polarizing," gave a voice to Carlsson's take on "the important political energy" that is created by "the mass seizure of city streets": "People in politics think it's irrelevant, but that anarchic philosophy brings a muscular presence to bike issues that would be ignored otherwise," Carlsson said.
In 2009, even an absurd report from CBS 5 reporter Joe Vazquez which fabricated the "unpaid monetary costs" of Critical Mass was supplemented with a sidebar piece where he described his experience riding it as "a celebration every bit as exhilarating as it is exasperating. A true San Francisco tradition," he called it. In the CBS broadcast preceding the ride last Friday, anchor Dana King reminded viewers of the report, which Vasquez said organizers "are still mad about," claiming they called it "irresponsible journalism to even challenge them on this." (Mysteriously, neither of Vazquez's pieces were anywhere to be found on the CBS website today.)
CBS apparently isn't the only outlet that still repeats misinformation bashing Critical Mass. Although ABC 7's report preceding the ride was mostly fair, reporter Carolyn Tyler did repeat an inflated number of 250 arrests reported by police at the July 1997 ride, even though that number was revealed soon after to only be 110, according to White's documentary. CBS's follow-up report leaned more toward the windshield perspective, focusing on the conflict and putting aside the story of the celebration itself. (For more reports, check out our headlines stacks from that week: 1, 2, 3, 4, 5, 6)
The long-standing question, which Brown so wrongheadedly tried to answer, is whether there's an end in sight for Critical Mass. The answer can perhaps be found in the cities where bicycling has been made so safe and normal, that residents may find the idea of Critical Mass pretty odd. In cities like Copenhagen and Amsterdam, where a majority of trips in the city centers are made by bike these days, holding an event that calls attention to the need for a place for bicycles on the streets could sound as silly as calling for a Critical Mass of cars -- something that already happens every single day. (I experienced the phenomenon of riding in a bike parade in Copenhagen during the Velo-City conference two years ago, which sort of simulated the strangeness of bringing Critical Mass there. The difference was exemplified by the fact that the parade either stayed on the wide, protected bike lanes or kept them clear for non-participating people on bikes to pass by.)
As San Francisco's streets are made safer with more traffic calming, comfortable bike lanes, and the increasing sense of safety in numbers, San Francisco does seem to be seeing that cultural shift toward the mainstreaming of bicycling -- slowly, but surely.
"I've really seen a significant lessening of tensions out there on the streets around bicycling issues," Shahum noted. "In the old days, it felt like bicycling was this 'other thing' that other people do. Today, most people in San Francisco bike themselves or are close to someone who bikes regularly."
Watch the 1999 documentary "We Are Traffic" right here.
Aaron was the editor of Streetsblog San Francisco from January 2012 until October 2015. He joined Streetsblog in 2010 after studying rhetoric and political communication at SF State University and spending a semester in Denmark.
Stay in touch
Sign up for our free newsletter