Bicycle Infrastructure
To Become a Great Biking City, SF Needs to Stop Crawling and Start Running
6:12 PM PST on November 9, 2012
Our Streetfilm from 2010 documented the experience of North American transportation officials and advocates in Copenhagen during the latest Velo-City conference.
San Francisco doesn't have to "reinvent the wheel" to become a bike-friendly place -- the city need look no further than peers like Copenhagen, widely considered one of the world's best cycling cities.
So said David Chiu, president of the SF Board of Supervisors, at a forum yesterday evening with the chief of Copenhagen's Bicycle Program, Andreas Røhl. "We know what needs to get done," said Chiu. "The answers are there -- from segregated cycle tracks, to bike signaling, to more bike parking, to more bike safety, to bike anti-theft measures, to more bike education -- these are the pillars of what have worked in other cities."
Since Copenhagen's political leadership began implementing measures like physically protected bike lanes and traffic-calmed streets in the 1970s, the amount of bicycling has steadily increased, and today it accounts for 36 percent of work trips in the metro area (and 50 percent within the city proper). Bicycling to virtually any destination is now so safe and convenient, the average citizen does it without thinking twice.
To reach that point, Copenhagen's leaders overcame many of the same barriers that San Francisco currently faces. Most importantly, they mustered the political will to remove traffic lanes and car parking to make way for safe bike lanes, and they made bike infrastructure a funding priority.
To make bicycling easy and comfortable enough for everyone, said Røhl, a city must provide continuous, safe bicycling conditions on every route -- "From point A to point B, even where it hurts."
"I think we have a little bit of a politically correct culture at this moment of a lot of elected officials who say the right things when it comes to our commitment towards biking, but I don't think we're pushing the edge." - Supervisor David Chiu
"You can do whatever good planning, but if there isn't that political will to make the tough decisions, it just isn't possible to provide the quality to make [bicycling] mainstream," said Røhl.
"Denmark is not fundamentally, quintessentially more of a biking place than we are," said Leah Shahum, executive director of the SF Bicycle Coalition. "It's not in their blood any more than it's in our blood. Rather, leaders in Denmark and other places have chosen to work hard, to make tough decisions, to push the needle to help places like Copenhagen become what is now, I consider, one of the best bicycling cities in the world."
"Here in San Francisco, we can make similar choices to push that needle as well," she said. "We can prioritize goals of accessibility, affordability, livability, health, sustainability, so that we can give, if not Copenhagen, definitely every other big city in America, a run for its money."
There are early signs of that political will in San Francisco. The city has an official goal to increase bicycling to 20 percent of all trips by 2020, which was set after the Board of Supervisors unanimously passed a resolution introduced by Chiu.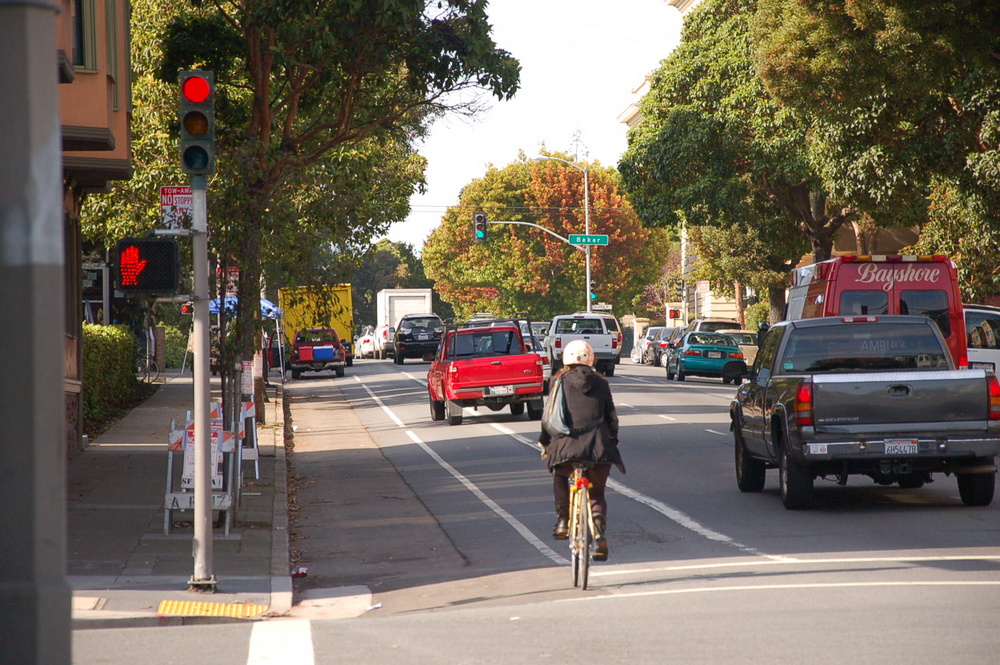 The SF Municipal Transportation Agency is currently constructing protected bike lanes on three blocks of Fell and Oak Streets to improve a crucial connection along a key route between the city's eastern and western neighborhoods. The SFMTA worked through the initial complaints about removing roughly 100 car parking spaces to make way for the bike lanes, though planners took more time than initially proposed to replace about half of those spaces on nearby streets. Following extensive outreach by the SFMTA and the SFBC, as well as community planning meetings, the project is now supported by the overwhelming majority of local residents.
Looking at the city's overall progress, however, lip service hasn't necessarily translated into action, said Chiu. "While we've made some great strides here, we are still, I think, babies crawling towards a goal," he said. "We need to be running, and hopefully some day, biking towards these goals."
"I think we have a little bit of a politically correct culture at this moment of a lot of elected officials who say the right things when it comes to our commitment towards biking, but I don't think we're pushing the edge."
In the SFMTA's next big move to expand bicycle infrastructure, the agency plans to adopt many of Copenhagen's lessons in its upcoming "Bicycle Strategy," expected to be released early next year. Few details are available, but agency staff says the document will put forward a connected network of bike-friendly streets where improvements like protected bike lanes and traffic calming will be prioritized. The Bicycle Strategy will also include blueprints for funding bike projects and a messaging campaign to encourage San Franciscans to get around by bike.
As important as protected bike lanes are, the "little things" that Copenhagen does to reward residents for bicycling go a long way too. For instance, bikeways have garbage cans with angled mouths alongside them, to allow cyclists to throw away trash without stopping their bike. Riders who are caught exhibiting good bicycling behavior are randomly rewarded with treats like, of course, a danish, in a campaign called "Good Bicycle Karma," which began last year. The city's written messages advertised to cyclists typically include the phrase, "Thanks for cycling."
That kind of positive messaging would "not cost anything at all for us to incorporate into our own communication," said Seleta Reynolds, an SFMTA bicycle planner who visited Copenhagen on an agency study trip funded by the Bikes Belong foundation.
Promoting the economic benefits of cycling compared to driving, said Røhl, is key to gaining support for cycling improvements. When savings like lower health care costs, less wear on roads, and reduced need to spend money on transit and car infrastructure are taken into account, he said, studies show Copenhagen actually gains $0.35 for every mile cycled, whereas driving costs $0.30 per mile (even more during rush hour, when accounting for added traffic delays). In all, Copenhagen spends about $25 per citizen on bicycling every year.
"For one mile of metro [rail], we can do a whole regional network of super cycle highways," said Røhl. "This is about putting what is expensive into context. We try to illustrate that."
In San Francisco, Chiu said bicycling is currently "close to the bottom" of the city's transportation funding priorities. "I have colleagues who will say, 'Yeah we need to be doing these things, but I'd like to fund A, B, and C first," he said, adding that he'd like to support a measure to fund bicycle improvements on next year's ballot.
Copenhagen spends about $25 per citizen on bicycling every year.
When it comes down to it, said Røhl, building bike infrastructure is not about money -- it's about politics. "It's about how you prioritize the means of transport in your city."
In Copenhagen, bicycle planners try to treat cycling not as an abnormal appendage to a street, but rather as "nothing special," he said. "If you treat it as nothing special, and just treat it as you treat cars or transit, then you deliver a pretty good quality. It's very much about making it fast and comfortable to get from point A to B."
"In the U.S., we treat bikes like either really fast pedestrians or really slow cars," said Reynolds. "I think that approach to design is almost like putting mountain bike wheels on a monster truck or something. It just doesn't work. And they have not taken that approach in Denmark -- they really design for the unique way that bicyclists get around."
Røhl, who is about midway along his week-long visit in San Francisco, said he was "relieved" to see that the city has bike routes to take cyclists around the hills and, in large part, avoid them. But to make routes like the Wiggle truly inviting, he said, the city must provide bike lanes similar to those in Copenhagen -- physically separated from motor traffic, not sandwiched between parked cars and moving cars.
"If the quality [of San Francisco's bike lanes] was even better," said Røhl, "and you had more corridors where you had high quality all the way, it gave me the impression that the city has a lot of potential for improving cycling and getting more people to cycle and start really reaping the benefits, whether it's economic or quality of life."
See Røhl in our recent Streetfilm from Vancouver, where he has been working as a bicycle planning consultant.
Aaron was the editor of Streetsblog San Francisco from January 2012 until October 2015. He joined Streetsblog in 2010 after studying rhetoric and political communication at SF State University and spending a semester in Denmark.
Read More:
Stay in touch
Sign up for our free newsletter