Parking
SFMTA Unveils Proposal to Curb Cruising for Parking in the NE Mission
4:16 PM PDT on March 18, 2013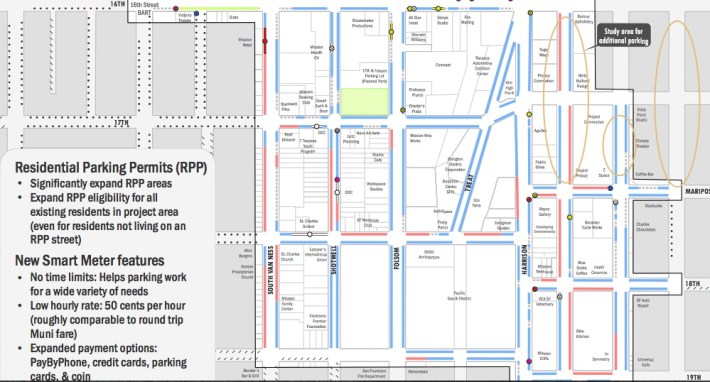 A draft of the SF Municipal Transportation Agency's hotly-debated plans to install parking meters and expand permit zones in the northeast Mission has been posted online ahead of a community meeting on Thursday, where agency officials will present it to residents.
Following months of data collection, planning, and community meetings, the SFMTA's map shows where the agency thinks meters and permits would be appropriate to ensure that enough parking spaces remain available to prevent drivers from needlessly circling the block.
According to the documents, all meters would start at a rate of 50 cents per hour and accept multiple forms of payment. Many would have no time limits. Some blocks would have residential parking permit restrictions, and all residents in the project's area would be eligible to buy a permit. Since the meters won't be part of the SFPark program, the SFMTA Board of Directors will consider a proposal tomorrow that would lower the current floor for non-SFPark meter rates outside of downtown from $1.00/hour to $0.25/hour.
Mario Tanev, who started the group sfMORE in support of the SFMTA's efforts to price parking according to demand, wrote in a blog post that "so far it looks like a very balanced proposal."
The plans do not include the provision proposed by Potrero Hill Boosters Association President Tony Kelly, who wrote in a Chronicle op-ed last week that RPP holders should be able to park at meters in the area for free.
The SFMTA responded to Kelly's proposal on an FAQ sheet [PDF]:
Allowing RPP-stickered vehicles to park at meters without paying would undermine the purpose and benefit to having meters, which is to provide some parking availability in commercial and mixed use areas. Meters are used in commercial and mixed use areas, and on-street parking in those areas needs to be available for deliveries, customers, and clients (rather than for storing cars for area residents). As in other parts of the city, when parking meters stop operating residents will be able to use those spaces at no cost. To address resident concerns, the proposal does significantly expand the amount of RPP in the area (on residential blocks) as well as expand eligibility so that even the few residents that live on a commercial or mixed use block that has meters (instead of RPP) can still obtain a RPP permit for the area.
Tanev called the statement "a reasonable response," though he suggested that the SFMTA consider tightening its regular 2-hour limit on RPP blocks for non-permit holders to ensure the parking spaces aren't used by short-term visitors. "What may end up happening is that shoppers who can't find parking on Mission will circle around trying to park at the RPP zone for free, if they can stay within the 2-hour limit," he wrote. "At the very least they should propose an RPP zone that does not allow ANY short term parking."
The questions that remain are whether anti-meter opposition at Thursday's meeting will remain just as fierce as it has been over the past year, and whether the SFMTA will move forward with implementing its plans to cut excess car traffic in the neighborhood in a steadfast manner.
Residents can submit comments on the SFMTA website and attend the community meeting on Thursday at 6:30 p.m. in the John O'Connell High School Auditorium at 2355 Folsom Street.
Aaron was the editor of Streetsblog San Francisco from January 2012 until October 2015. He joined Streetsblog in 2010 after studying rhetoric and political communication at SF State University and spending a semester in Denmark.
Stay in touch
Sign up for our free newsletter