Parking
SFMTA's NE Mission Parking Management Plan Rounding Into Form
3:30 PM PDT on March 26, 2013
Efforts to reduce traffic caused by drivers circling for parking in the northeast Mission took another step forward last week when the SF Municipal Transportation Agency presented its revised proposal for the expansion of parking meters and permit regulations. Opposition seems to have slightly dwindled compared to the first neighborhood meeting in November, though the SFMTA's presentation was still interrupted by shouts from audience members who seemed to feel that drivers shouldn't have to pay the going rate for limited street parking.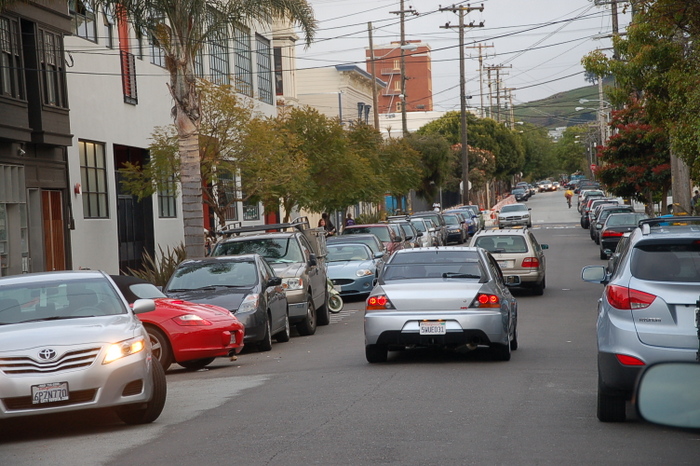 Under the SFMTA's new proposal, about half the area's currently unregulated parking spaces would be metered, with the other half subject to time restrictions for those without residential parking permits, said Jeff Tumlin, an SFMTA consultant with the transportation planning firm Nelson/Nygaard.
SFMTA planners have been tweaking the mosaic-like map of proposed parking regulations for months, using an unprecedented level of data collection and community input to tailor it to a neighborhood with a mix of residential, retail, and PDR (production, distribution, and repair) buildings that can make it hard for planners to determine where meters and permit restrictions are most appropriate.
But with growing parking demand, it's become increasingly clear that the status quo of free parking is exerting a high cost in transit delays, noise and air pollution, degraded conditions for walking and biking, and wasted time and fuel. According to the SFMTA, finding a parking spot in the area in the morning hours takes, on average, 27 minutes, or 3.3 miles of driving, with search times running as long as 50 minutes. In the afternoon, the average search time drops to just over 2 minutes. At any given time during business hours, one out of every four blocks reportedly has a double-parked vehicle on it.
"As we all know, the neighborhood is changing, and changing rapidly," said Tumlin. "As a result, the period of laissez-faire management doesn't work as well as it once did."
The proposed meters would start with a rate of 50 cents per hour (a full day of metered parking would cost just $4.50), and all meters could be paid by coin, credit card, phone, or an SFMTA debit card, all in advance of enforcement hours. Meanwhile, any resident within the project area would be eligible for a residential parking permit -- a departure from normal rules that only allow residents on RPP-designated blocks to acquire them. The price for a parking permit is $104 per year, or 28 cents per day.
While some attendees did offer some nuanced critiques of the proposal, many of the plan's staunch opponents seemed to simply dismiss the notion that charging for parking makes spots more readily available. When Tumlin said, "The data is really clear that in the neighborhood as a whole, there is a severe parking availability problem," a woman in the audience shouted in response, "That's not going to change."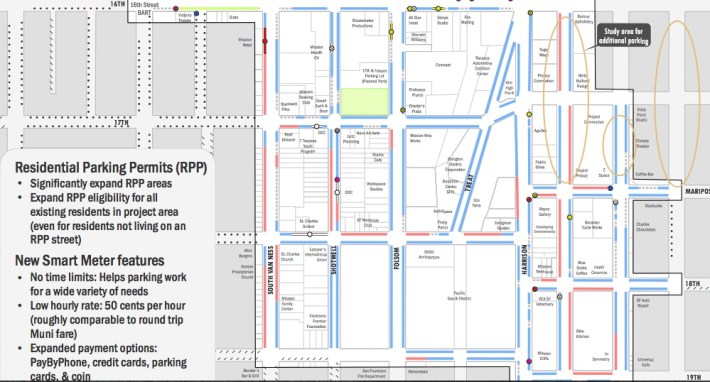 Yet the fact that parking prices affect behavior can be seen at work at the metered spots that already exist in the neighborhood. The problem is the current mismatch between the few metered spaces and the vast quantities of free, unrestricted parking. Priced at the city's conventional rate of $2 per hour -- which Tumlin said is "clearly too high"  for the neighborhood -- those parking spaces are often left empty as drivers opt to take their chances hunting for one of the free, unrestricted parking spaces throughout the neighborhood which make it a magnet for car storage.
Residents suggested the SFMTA's outreach efforts, which included mail surveys to every known resident and an extra community meeting in February devoted to collecting public input, were insufficient, and that the agency should have gone door-to-door. Many also seemed to distrustful of the SFMTA's motives, claiming that they would simply raise meter prices beyond the 50-cent rate in the near future to increase revenue. But Tumlin pointed out that since unused parking meters don't make the SFMTA any money, the agency has no incentive to charge more than the market rate.
"I know many of you have accused the MTA of only wanting to put in parking meters in order to make more money," he said, eliciting a roar of agreement. "The right price for parking is the lowest price at which a few spaces are always available. That not only creates convenience for people who need to drive, but it's also the price that makes the MTA the most money."
Still, said Tumlin, the SFMTA is looking to address complaints from business owners who claim that free parking is a necessity for employees who drive by analyzing "the legality and the effectiveness" of providing subsidized parking permits for employees at PDR businesses, which don't rely as heavily on parking turnover for customers as retail merchants do.
Under the proposal, eight hours of metered parking would only cost $4.00 -- the same as a round-trip Muni fare. "While 50 cents an hour is a new cost burden for employees, it's effectively the same cost burden that employees who don't drive to the neighborhood are currently bearing," said Tumlin. "So, while we want to be sensitive to the reality of incomes, we also want to be respectful for those who are already not driving and provide transportation services on an equal basis." To that end, he said the SFMTA is also exploring the creation of a "transportation benefit package" for low-income employees that would provide a choice between discounted parking and transit passes.
In addition, the SFMTA is looking to add loading zones for businesses while inviting them to request new bike corrals. The agency is also looking to create new on-street car-share parking spots to encourage reduced car ownership, and to increase the regular on-street parking supply by converting some parallel parking spaces to angled or perpendicular parking, even though this would only induce more driving. The SFMTA has already begun placing parking restrictions on large vehicles to discourage long-term parking in campers.
Although D9 Supervisor David Campos told the SF Examiner last week that the new meters would hurt PDR businesses, he told attendees at the meeting said that he was pleased to see the SFMTA refine the plan based on public input.
All of the proposals in the plan would be implemented in phases. The first phase, to be implemented once the plan is finalized in May, would include the expansion of an RPP zone across the neighborhood, adding some parking meters where businesses are asking for them and on blocks adjacent to the parking lot set to close this summer at 17th and Folsom Streets, and lowering prices on existing parking meters while upgrading them to accept multiple forms of payment.
Other parking meters would be installed in late fall or winter, and meters in front of PDR businesses would be installed along with the potential business parking permit program later on, but the timeline for that phase is yet to be determined. Residents can comment on the proposal before it goes up for approval by the SFMTA Board of Directors this Summer.
Read more from the meeting at Mission Local.
Aaron was the editor of Streetsblog San Francisco from January 2012 until October 2015. He joined Streetsblog in 2010 after studying rhetoric and political communication at SF State University and spending a semester in Denmark.
Stay in touch
Sign up for our free newsletter