Board of Supervisors
Mayor Lee on Walk to Work Day: We Won't Let Ped Strategy Sit on the Shelf
4:49 PM PDT on April 12, 2013
On Walk to Work Day, touted as the first official event of its kind in the nation, city officials strolled to a press conference on the steps of City Hall, where Mayor Ed Lee promised to implement the city's Pedestrian Strategy [PDF].
Since the Draft Pedestrian Strategy was released in January, providing a rough guide for how the city can re-engineer streets and target traffic enforcement to make walking safer in the coming years, street safety advocates have praised the city's vision, but have been concerned as to whether city leaders will take action to fund it.
"I'm going to see to it that we not have a [delay] where this stays on the shelf," Lee told a crowd of dozens of Walk to Work Day participants. "We're going to fund this thing."
Lee said one-third of the estimated funding needed has already been identified, and that he's confident the city will find the rest in the coming years. He also said the city plans to launch a website within the next two weeks where residents will be able to track the progress of implementation and "hold us accountable."
Walk SF is "excited to see" a revised section of the Pedestrian Strategy which more specifically lays out the amount of funding needed and potential sources the city could use to procure it, said executive director Elizabeth Stampe. Of the estimated $363 million needed to implement safety upgrades on priority streets by 2021, the city has a $215 million shortfall, according to the plan. In the coming months, a steering committee is expected to develop criteria for how to prioritize safety projects where they're needed most.
"It's up to the mayor and the supervisors to help direct funding to fixing the streets and saving lives," Stampe said.
So far, seven people have been killed by drivers on San Francisco streets this year. The latest victim was 60-year-old Becky Lee, who was hit and killed by a pickup truck driver Wednesday in a crosswalk at Judson Avenue and Edna Street, just east of City College's Ocean Campus, and about a block from the 280 freeway. Last year, 20 pedestrians were killed, according to SFPD.
"We shouldn't be losing 20 people a year. We shouldn't be losing anybody just to walk in the streets of San Francisco," said SFMTA Director of Transportation Ed Reiskin. "We should also be working to make it more enjoyable so that we can attract more people out of their cars and on to their feet, which will make San Francisco an even better place."
In his speech, SFPD Chief Greg Suhr pledged to focus the SFPD traffic company's enforcement efforts on the most dangerous behaviors and intersections, but spent about half of his time warning pedestrians to take care not to get run over by drivers.
"When you cross the street... you're vulnerable to somebody else not paying attention, and you can mitigate that by paying attention yourself," said Suhr. "Don't assume anything before you put yourself out into the street in San Francisco, and for god's sake, do not walk and text."
Suhr briefly mentioned that "drivers need to be aware," but apparently didn't see fit to call upon motorists to slow down or say, "For god's sake, do not drive and text."
Nearly every member of the Board of Supervisors walked to City Hall for the event, except D7 Supervisor Norman Yee and D6 Supervisor Jane Kim, whose aide stood in for the District 6 walk. D11 Supervisor John Avalos had planned to make the longest trek of them all at 5 miles, but Stampe said a family emergency prevented him from attending (his staff did make the walk).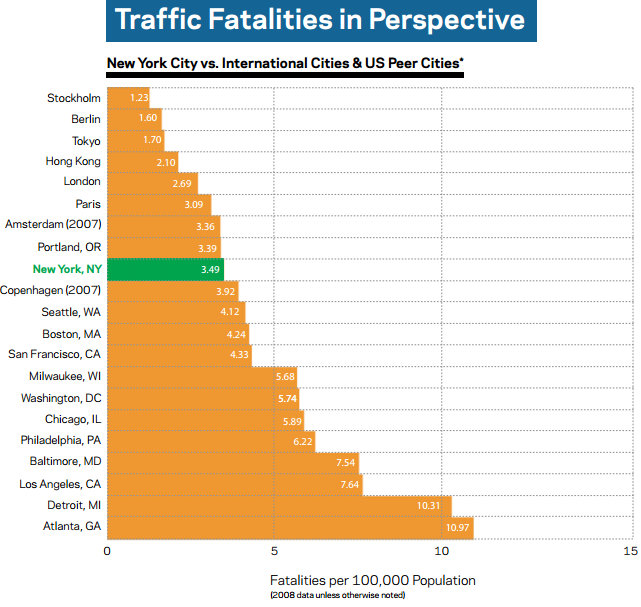 Some supervisors spoke, but they didn't say much about pushing for pedestrian safety funding in their roles on the SF County Transportation Authority Board. Supervisor Mark Farrell described how pleasant his group walk from District 2 to City Hall was, and D4 Supervisor Katy Tang, the board's newest member, only mentioned the importance of getting more exercise.
Supervisor David Chiu said SF should set a vision beyond the Pedestrian Strategy's goal of cutting injuries by 50 percent by 2020. "There are cities around the world that have a zero-tolerance goal when it comes to fatalities," he said. "We have to set it in our minds that some day -- some day, we will have years where no one gets killed on our streets."
"Promises can be easy to make, but hard to follow up on," said Thomas Rogers, a member of the SF Pedestrian Safety Advisory Committee. "It's gonna come down to those yearly funding decisions, those actual actions, not just goals."
Aaron was the editor of Streetsblog San Francisco from January 2012 until October 2015. He joined Streetsblog in 2010 after studying rhetoric and political communication at SF State University and spending a semester in Denmark.
Read More:
Stay in touch
Sign up for our free newsletter