Jane Kim
SFMTA Looks to Tame Sixth Street With Road Diet, Temporary Parklet
3:58 PM PDT on July 11, 2013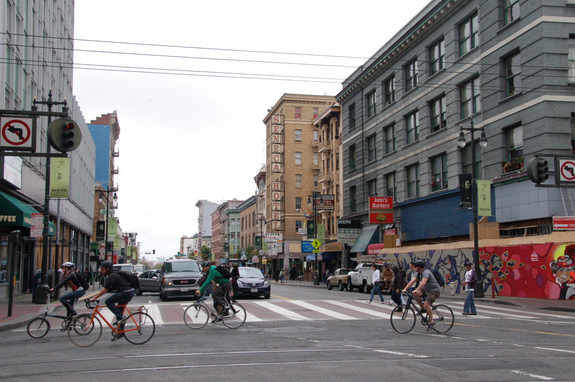 Sixth Street, which has one of the highest rates of pedestrian injuries in the city, could receive a road diet after the SFMTA analyzes the impacts of removing two of its four traffic lanes to improve safety.
In the meantime, the agency is planning a pilot project this fall on the street's northern end at Market Street, likely in the form of a parklet-style installation in the parking lanes, to test out "gateway" treatments to signal freeway-bound drivers to slow down.
"There's nothing telling you so much that you're entering someone's neighborhood," said Mike Sallaberry, a planner at the SFMTA's Livable Streets subdivision, at a community planning meeting yesterday. "It just looks like a continuation of a freeway that leads to another freeway. So maybe we can do something really soon that announces to people that, hey, you're coming into our front yard."
Though the SFMTA won't present proposals for the pilot until the next community meeting in the coming months, planners said it will likely occupy parking spaces for roughly two months on one or both sides of Sixth between Market and Stevenson Street, an alleyway. Sallaberry said the pilot would help inform the larger plan to redesign Sixth for the long term. In addition to calming traffic, removing two of the street's travel lanes will open up space for improvements like sidewalk expansions, bike lanes, and greenery.
"Lowering the speed saves lives," said SFMTA project manager Adam Gubser. In response to residents' calls for police to issue more tickets to drivers violating Sixth Street's 25 mph speed limit, Gubser said, "It is enforcement, but it's also engineering and education. We can't rely on one leg. The facility should be designed for the speed we want."
Walk SF Executive Director Elizabeth Stampe said "both the longer-term project and the pilot are opportunities to reclaim more of the street with much-needed expanded sidewalk space."
"A 'gateway,' perhaps with trees, lights, banners, etc., will help signal to drivers to slow down, that this is a street where people walk, a street to share," she said. "Better lighting and more visible mid-block crossings are also needed."
Stampe said she hopes to see some of the long-term improvements funded by the developers of the new Market Street Place mall being built between Fifth and Sixth Streets, "particularly improving the mid-block crossings, perhaps with new traffic signals."
"This will help mitigate the impact of even more cars coming to the 6th Street area to park at the new mall, and help to invite more people to walk by making conditions more safe and comfortable," she said.
D6 Supervisor Jane Kim said half of the $61,000 set aside for the pilot project will come from a chunk of a $100,000 a grant that each supervisor received in recent budget negotiations to use at their discretion. The other half, she said, will come from Mayor Ed Lee's office. "The Sixth Street corridor is a huge priority for our office," said Kim. "Sixth and Market, and Sixth and Howard, actually have the highest collisions of pedestrians and vehicles in San Francisco."
Planners said the project would not include any physical changes to reinforce the mandatory right turn for private autos from Market onto Sixth, which is violated by 70 percent of drivers, according to the SFMTA. Any such changes would fall under the purview of the Better Market Street project, they said.
In May, a one-day Park(ing) Day-style project was held in one of the parking lanes on Sixth at Market as a lead-up to the fall pilot. The event was organized by a coalition called Safer Sixth Street, comprised of Neighborland (an online platform for community organizing), SPUR, the SFMTA, Twitter, and a group called URBAN SPACEship. Check out a video of the event produced by Neighborland:
Aaron was the editor of Streetsblog San Francisco from January 2012 until October 2015. He joined Streetsblog in 2010 after studying rhetoric and political communication at SF State University and spending a semester in Denmark.
Stay in touch
Sign up for our free newsletter