Car-Free Parks
We Used to Expect Streets to Be as Safe as We Do Holly Park
4:16 PM PDT on September 12, 2013
Rarely does the death of someone struck by a motorist garner as much public outrage as the incident in Holly Park last week. Media around the world has covered the death of Christine Svanemyr, who was lying in the grass with her infant daughter and dog when she was run over by Thomas Burnoski, a Recreation and Parks Department employee.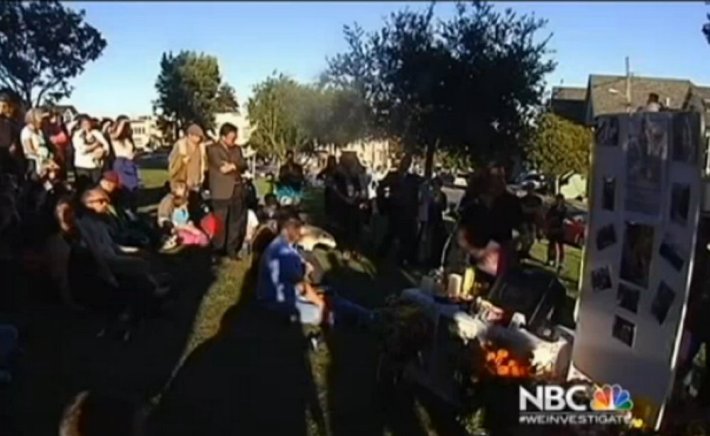 There are a number of reasons this incident has attracted so much attention from the media and elected officials like Mayor Ed Lee, who expressed shock and "demanded a thorough investigation," according to ABC 7. Supervisor David Campos has also called for a hearing to review policies around the use of city vehicles in parks.
For one, Burnoski fled the scene, only to be arrested by police soon after (he now faces vehicular manslaughter and felony hit-and-run charges). Burnoski was also a city employee who seems to have violated department policies in driving on the grass.
But what has outraged San Franciscans the most is that the death represents a violation of our deeply-held expectation of safety in a park -- one of the last public refuges from the dangers of the automobile.
Unlike parks, city streets have been ceded to the automobile as places where people outside cars are expected to be vigilant of reckless motorists. Of the nine or more pedestrians who have been killed by drivers on San Francisco's streets this year, only the drivers who were drunk or fled the scene have been charged, and the victims have received little attention compared to the Svanemyr case.
In one case, Sunnyside Elementary custodian Becky Lee was run over and killed in a crosswalk in April at Judson Avenue and Edna Street. Police deemed the death nothing more than an accident, even though the driver apparently violated Lee's right-of-way. There was no public outrage or calls for the review of policies governing the use of private automobiles on city streets.
It wasn't always this way. As Peter Norton chronicled in his book Fighting Traffic, streets in American cities were considered the realm of people, not automobiles, and each pedestrian death sparked outrage -- even violence. In an April article, 99% Invisible explains:
On the streets of early 20th Century America, nothing moved faster than 10 miles per hour. Responsible parents would tell their children, "Go outside, and play in the streets. All day."

And then the automobile happened. And then automobiles began killing thousands of children, every year.

Pedestrian deaths were considered public tragedies. Cities held parades and built monuments in memory of children who had been struck and killed by cars. Mothers of children killed in the streets were given a special white star to honor their loss.
The main cause for these deaths was that the rules of the street were vastly different than how they are today. A street functioned like a city park, or a pedestrian mall, where you could move in any direction without really thinking about it. The only moving hazards were animals and other people.

Turn-of-the-century footage from San Francisco's Market Street shows just how casually people strode into the street.
"We've become basically complacent and resigned to the way it is," said Jason Henderson, author of Street Fight: The Politics of Mobility in San Francisco. Today, he said, expecting danger from fast-moving drivers "is just 'common sense' -- right?"
Mikael Colville-Anderson, author of the blog Copenhagenize, describes the way modern society treats cars on city streets as "ignoring the bull in the China shop." But engineers and automotive interests also intentionally transformed streets to be more like places for "bulls," beginning in the 1920s and 30s with engineering, propaganda campaigns, and the criminalization of behaviors like "jaywalking." (For excerpts from Norton's book, including contemporary letters to the editor expressing outrage toward motorists, see this Copenhagenize post.)
In the early days of motorization, Golden Gate Park was the first place in the world to require licenses for automobile drivers, in 1900. The reason, says San Francisco historian Joel Pomerantz, was that the newfangled contraptions easily spooked the horses towing the carriages of the rich and famous, an often deadly situation. "As a consequence, there was utmost care taken to prevent fast driving. The licenses were to make sure that nobody drove more than 8 or 10 mph."
In retrospect, letting cars into the park at all seems like a mistake. Many San Franciscans have called for the restriction or prohibition of cars in Golden Gate Park. And the peace and quiet offered by the Sunday car-free hours on John F. Kennedy Drive, which have expanded into Saturdays in recent years, continues to be a wildly popular attraction four decades in.
After all, shouldn't residents at least have the respite of parks? And if we can eliminate the danger of traffic in parks, maybe we can also get to the point where neighborhood streets are no longer overrun by cars.
As Henderson pointed out, we've got a long way to go to reach that vision. "We're not going to get that until we engineer them and regulate them to that expectation," he said. "Right now, the issue of right-of-way favors the automobile and trucks. We do allow vehicles to go fast. It's weighted against the pedestrian and the bicyclist."
Aaron was the editor of Streetsblog San Francisco from January 2012 until October 2015. He joined Streetsblog in 2010 after studying rhetoric and political communication at SF State University and spending a semester in Denmark.
Stay in touch
Sign up for our free newsletter