Pedestrian Safety
Nicole Schneider to Succeed Elizabeth Stampe as Director of Walk SF
4:21 PM PDT on September 13, 2013
Walk SF's new executive director is Nicole Schneider, who will take the reins of San Francisco's pedestrian advocacy organization starting September 23. Schneider will fill the shoes of Elizabeth Stampe, who has left the position to take a maternity leave but promises to return to Walk SF in another capacity.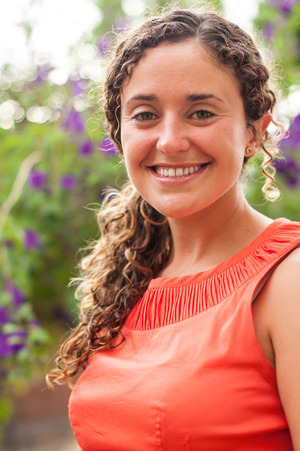 Schneider, who has an extensive background in urban planning and advocacy working to improve public health, said she's excited to take on the position. "I'm interested in creating environments, using policies and implementation strategies, and engaging communities to make San Francisco a more equitable place for people not only to walk, but to live," she told Streetsblog.
Schneider hails originally from Long Island, New York, and has lived in California for 12 years, first in downtown Los Angeles while studying at the University of Southern California, then moving to the Bay Area six years ago to study at UC Berkeley. Walk SF provided an overview of her background in its member newsletter last week:
Nicole comes to Walk San Francisco with a background in active transportation, urban planning, and public health. As an independent consultant, Nicole helped develop climate change adaptation plans for the San Francisco Department of Public Health's Program on Health, Equity and Sustainability, and provided bicycle and pedestrian planning services to the Alameda County Transportation Commission, where she worked with cities to implement complete streets strategies.

Prior to starting her own consulting business, Nicole worked at Prevention Institute, where she trained community groups across the U.S. in policy and media advocacy strategies to create healthy, equitable places.

Nicole earned a Masters of Public Health and Masters of City Planning from UC Berkeley.
At a meeting in July, the Board of Supervisors commended Stampe for her three-year tenure in leading Walk SF and her legacy of elevating pedestrian safety issues in the political landscape and successfully advocating for measures like the implementation of 15 mph school zones, the first program of its kind in the state. The board also commended the work of Manish Champsee, who also leaves his ten-year volunteer career at the organization, during which he served as Walk SF board president.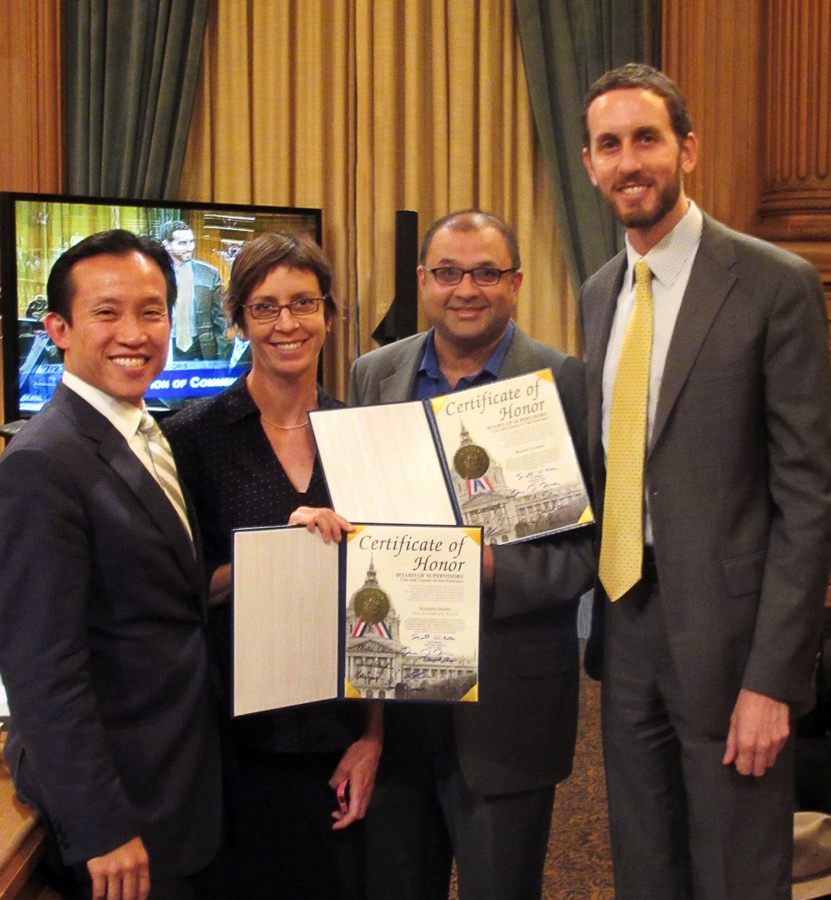 At the board meeting, Stampe and Champsee were praised by Supervisors Scott Wiener, David Campos, David Chiu, John Avalos, Norman Yee, Jane Kim, and Eric Mar.
"What I really respect about you, Elizabeth," Wiener told Stampe, "is that in addition to being a tenacious advocate for pedestrian safety, you really understand that you can't just view any mode of transportation in a vacuum, that for pedestrians to be safe, to have great streets to walk on, you really have to have great public transportation, you also have to have a bikeable city, safety for vehicle travel. I've seen time and time again that you've been willing to get involved in all sorts of different transit issues ... that support pedestrian safety, and I think that broad thinking about transportation is critical."
Chiu said Stampe has been "strong, passionate, and yet also sophisticated in understanding the challenges that our bureaucracies face and that we face from a public policy standpoint." Supervisors Avalos and Campos both said Stampe and Champsee have made them "better policymakers."
"I think it's fair to say you have both literally saved people's lives because of the work you do," said Campos.
Stampe, who plans to start raising her family in San Francisco soon, said, "I do intend to be walking quite a lot, probably with a stroller." When Stampe began the campaign for 15 mph school zones, Champsee joked, "We didn't know that she had an ulterior motive."
Champsee and Stampe thanked the supervisors for the swell in support for pedestrian safety they've seen on the board in recent years. "When I first got involved with Walk SF," said Champsee, "People would always ask me, 'What's motivating you to do this?' And I would always say that walking is something that everybody does, but nobody cares about."
"While I can still say that walking is something everybody does, I certainly cannot say it's something that nobody cares about."
Aaron was the editor of Streetsblog San Francisco from January 2012 until October 2015. He joined Streetsblog in 2010 after studying rhetoric and political communication at SF State University and spending a semester in Denmark.
Stay in touch
Sign up for our free newsletter