Bicycling
SFMTA to Widen Bike Lane, Remove Traffic Lane on Folsom in SoMa
5:35 PM PDT on October 1, 2013
The SFMTA will re-purpose a general traffic lane to widen and buffer the existing bike lane on Folsom Street between Fourth and 11th Streets by the end of the year, the agency announced today.
The pilot project, which comes about six weeks after 24-year-old Amelie Le Moullac was killed on her bike by a truck driver at Folsom and Sixth Streets, will upgrade the current narrow bike lane to a buffered bike lane, apparently similar to a project implemented on Eighth Street last July, when that street was repaved.
In addition to providing a less stressful and more visible lane for bicycle commuters on Folsom, the redesign should help tame motor traffic and shorten the distances pedestrians must cross in front of moving motor vehicles on one of SoMa's notoriously dangerous one-way, high-speed motorways.
"This is great news for the huge number of people who bike, walk and live along Folsom Street, one of SoMa's busiest thoroughfares," the SF Bicycle Coalition wrote in a blog post today, noting that Folsom is the sixth-busiest bicycle route in the city. "For far too long, these huge numbers of people biking have had to pedal next to fast moving traffic, with no buffer. We are proud that our advocacy has resulted in a quick plan to mitigate this."
"The buffered bicycle lane in this pilot will create a safer, less intimidating street," said Mayor Ed Lee in a statement, "while giving us an opportunity to study how measures like these can be implemented in dense and rapidly growing areas of San Francisco to make our city streets safer for everyone."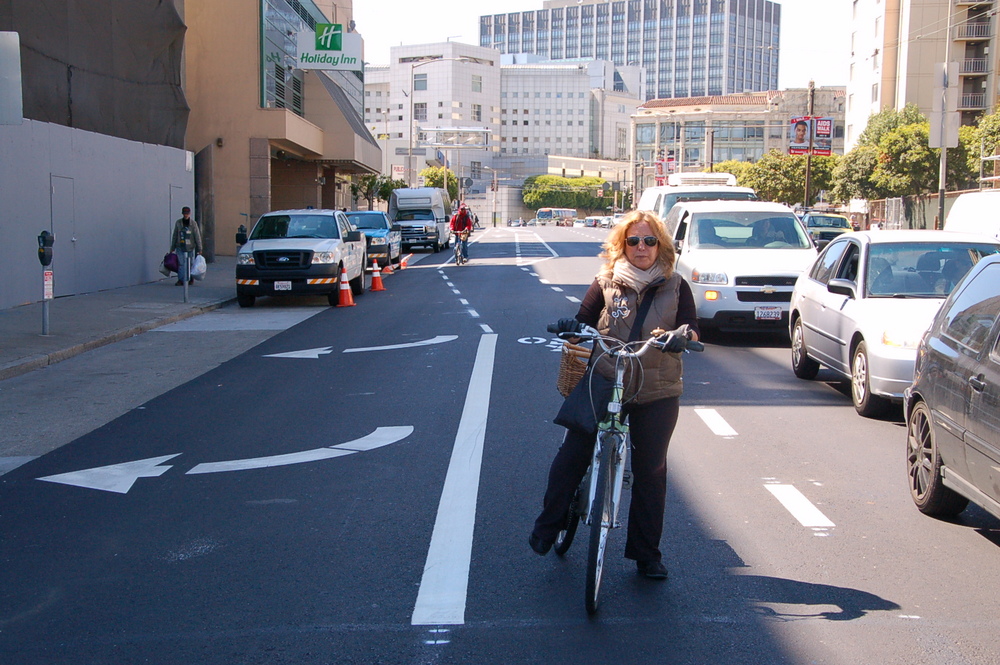 As we've reported, a two-way protected bike lane on Folsom is called for in the Eastern Neighborhoods Transportation Implementation Planning Study (EN TRIPS) and the Central Corridor Plan, but it's undergoing environmental review, which is expected to be completed in June 2015. The protected bikeway wouldn't be implemented until some time after that.
The SFMTA said in its news release that the pilot project will help the agency "measure the change in travel volumes along the corridor, diversion of traffic, and right turns on adjacent parallel and cross streets," which will help inform the Central Corridor environmental impact report.
"As complex complete street projects take time to design, environmentally clear and build, this pilot project on Folsom Street will make the road safer in the interim while also presenting the opportunity for further analysis," the agency said. The SFMTA expects to schedule a community meeting as part of its upcoming outreach on the pilot.
As development in SoMa ramps up, said D6 Supervisor Jane Kim, "We must respond with strategic investments in transit infrastructure and traffic calming."
"SoMa has the highest number of traffic collisions in the city," she said. "Folsom Street is a key corridor unifying the SoMa neighborhood, connecting our residents from the Mission to downtown. This pilot project is critical to boosting safety and travel for both cyclists and pedestrians."
This project takes the important step of reallocating street space from motor traffic to bike traffic -- enough space for a protected bike lane. Claiming that space now should make it easier to convert this design into a protected bike lane in the future. But by the same token, it's frustrating that the space will be set aside so soon, but San Franciscans will have to wait years for a truly safe bikeway design where motor vehicles can't intrude.
Aaron was the editor of Streetsblog San Francisco from January 2012 until October 2015. He joined Streetsblog in 2010 after studying rhetoric and political communication at SF State University and spending a semester in Denmark.
Read More:
Stay in touch
Sign up for our free newsletter