Pedestrian Safety
Supes, SFPD, SFMTA Stand With Crash Victims and Advocates at City Hall
4:19 PM PST on February 13, 2014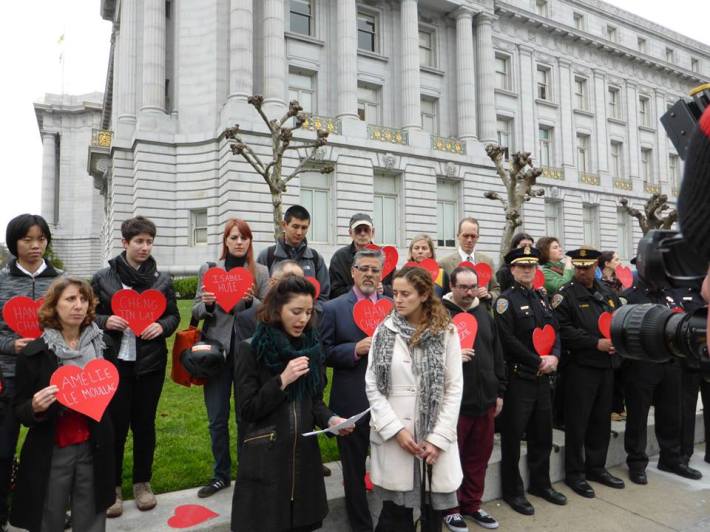 SFPD officials, transportation department heads, and three supervisors stood outside City Hall this morning alongside safe streets advocates and people whose lives have been affected by traffic violence. The press conference served as a call to action and a memorial for victims of traffic violence in the past year, with participants holding Valentines featuring names of the deceased.
Walk SF, which organized the event, was joined by Supervisors Jane Kim, Norman Yee, and John Avalos, the sponsors of the "Vision Zero" resolution introduced at the board. Also in attendance were SF Bicycle Coalition Executive Director Leah Shahum and top brass from the SFMTA and the SFPD Traffic Company, including Commander Mikail Ali and  SFMTA Director Ed Reiskin, as well as SF County Transportation Authority Executive Director Tilly Chang. Mayor Ed Lee was absent.
"The violence has to end," said Walk SF Executive Director Nicole Schneider, who pointed out that since December, 11 pedestrians have been killed by drivers, four of them this year. Introducing a segment about the event today, an ABC 7 news anchor Cheryl Jennings said it "feels like open season on pedestrians."
"We've acknowledged that this is a crisis," said Schneider, "and now we're calling on city leaders to fund the [SFMTA's] Pedestrian Strategy and implement Vision Zero -- zero traffic fatalities in 10 years."
"It's a tragedy that it is becoming a common occurrence for children, parents, spouses, relatives and friends to lose a loved one in San Francisco because of recklessness on the roads," Supervisor Yee, who has been hit by a driver, said in a statement. "Let's slow down, be alert, and be respectful. It will take our whole community to make Vision Zero a reality."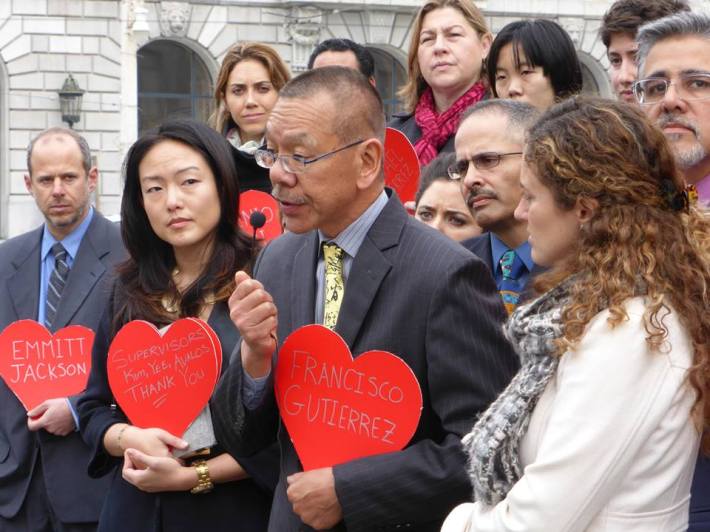 Also in attendance were several crash survivors, including UC Berkeley neuroscience researcher Monique Porsandeh, who was run down by a reckless driver in the Marina a year ago. Porsandeh has since recovered fully enough to visit SF from Southern California for the event. "I've come a really long way," she told ABC 7. "I've gone through many phases, but I'm able to walk again, and I'm able to wake up each day."
The event was held outside of City Hall at the corner of Van Ness and Grove Streets, where two people have been killed by drivers this year. One of those victims was a man who reportedly ran across Van Ness outside of the crosswalk in the midst of an argument, and the other was killed in the crosswalk by an SUV driver who fled the scene and evaded police. As SFPD data shows, the vast majority of pedestrian crashes are attributable to driver actions and occur on streets designed to facilitate dangerous driving speeds.
Funding remains uncertain for the SFMTA's Pedestrian Strategy, the plan in development that aims to target safety improvements on the most dangerous streets. As we've reported, the SFMTA and Mayor Ed Lee are holding out for funding from three proposed ballot measures this November, but no other major funding boosts for safer streets are on the horizon.
SFPD's Ali, who has pledged policy reforms to hold drivers accountable for injuring or killing pedestrians, told ABC that police increased traffic enforcement by 43 percent last month. "More is coming, but we'd rather that not be the answer," he said. "We'd rather the answer be people changing their behaviors."
Aaron was the editor of Streetsblog San Francisco from January 2012 until October 2015. He joined Streetsblog in 2010 after studying rhetoric and political communication at SF State University and spending a semester in Denmark.
Stay in touch
Sign up for our free newsletter