Eyes on the Street: Polk Contra-Flow Bike Lane Nearly Ready to Ride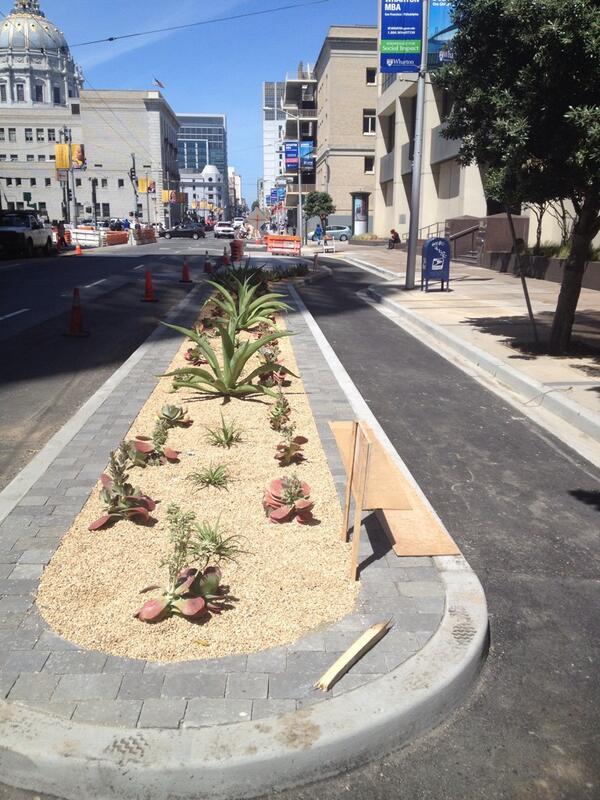 Here's a little change of pace from the bad news this week. The Polk Street contra-flow protected bike lane, connecting Market Street northbound to Grove Street and City Hall, appears almost ready to go. A Department of Public Works spokesperson said the agency is shooting for a tentative opening date of May 2 or 5 and plans to hold a ribbon-cutting ceremony.
Officials at the SFMTA and DPW seem proud of the project — and rightly so. Photos of the bikeway and median planted with native succulents were tweeted by DPW Director Mohammed Nuru and Tim Papandreou, the SFMTA's director of strategic planning and policy. DPW surprisingly jumpstarted construction on the bike lane in late January after years of delay, promising completion by Bike to Work Day on May 8.
The project also comes with a couple of bonuses. DPW is installing bulb-outs at the wide intersection of Grove and Polk, and completed one at the northwest corner last week. The pedestrian island and "bike chute" on the north side of Market at Polk were also reconfigured for more practical maneuvering for southbound bike riders. See photos after the break.