Bicycle Safety
Belmont Council Calls Car-Centric Ralston Corridor Study "Balanced"
2:09 PM PDT on April 18, 2014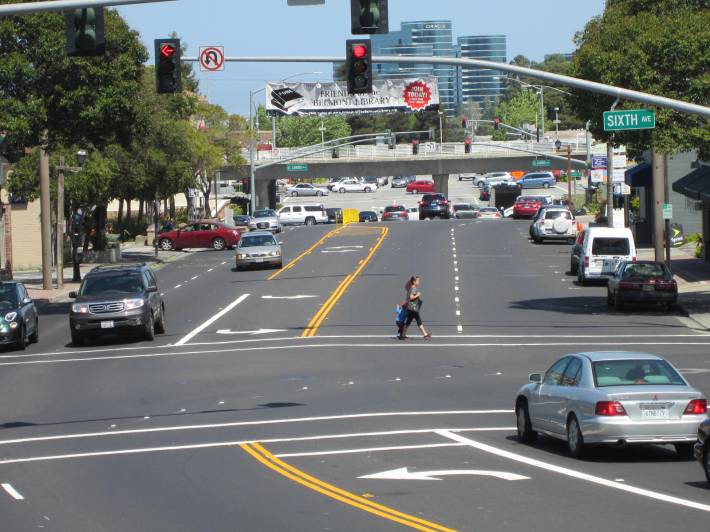 A study of Ralston Avenue in Belmont recommends easing the way for cut-through car traffic while shunting cyclists onto indirect routes -- and the City Council seems to think that's just fine.
The Belmont City Council decided last Tuesday that more public input on the draft Ralston Corridor Study is needed before the plan is finalized, citing feedback they've received that many residents aren't familiar with the study's recommendations. The draft study wasn't available for public review until April 4, as part of the council's April 8 meeting agenda, and still hasn't been posted on the project's website.
One more community meeting will be held sometime "in the next month or so," according to Public Works Director Afshin Oskou. In general, council members approved of the draft plan, calling it "balanced" and not directing the consulting team to make any major changes to it.
"I think this is about as good a balanced plan as you're going to get," said City Council Member Eric Reed, referring to trade-offs between driving time and safety in the consultants' recommendations.
Fellow Council Member Charles Stone agreed: "I think this is in general a very good plan, it does a great job of balancing things," he said. "I think it's important that people understand that there is continued work on improving signage and safe mechanisms for both bikes and pedestrians... that are not part of this study. It's important that the bike community understands that this is happening."
But the City Council did not address the concerns of residents who say the plan prioritizes car traffic on Ralston Avenue over safety for people walking and biking.
"The current plan is far from balanced," wrote Michael Swire, whose online petition calling for lower speed limits and continuous bike lanes on all of Ralston Avenue has gathered over 700 signatures. "The major biking recommendation is: Don't bike on Ralston - bike elsewhere," he said, referring to the $148,600 bike route proposed to detour cyclists onto a longer and slower route on Masonic Way, El Camino Real, Emmett Avenue, and Twin Pines Lane, which would include unsignalized crossings of both Ralston Avenue and El Camino Real.
"What problem are we trying to solve? We are NOT trying to make it easier to use Ralston as an alternate to Hwy 92 for commuters going from 101 to 280," commented resident Daniel Pierce on a Daily Journal article. "Yet that seems to be the main impact of the current plan."
New traffic signals at South Road and at Tahoe Drive ($350,000 each), a roundabout at Notre Dame de Namur University ($2 million), and lane modifications at Cipriani Blvd and Ralston Middle School are recommended to "improve overall intersection operations under existing traffic volumes." Translation: to reduce travel times for drivers. The study also notes that traffic signals at 6th Avenue, El Camino Real, Old County Road, and Hiller Street will all be coordinated as part of San Mateo County's $35 million Smart Corridors Project "to better accommodate the influx of traffic that diverts off of US 101 onto the local arterials during times of recurring and non-recurring congestion on US 101."
Ralston Avenue is already a time-saving cut-through between Highways 280 and 101, typically saving drivers heading from Highway 280 to the large office developments in Redwood Shores east of Highway 101 one to two minutes compared with using Highways 92 and 101, according to real-time traffic data from Google Maps.
"Workers cannot reach their places of employment safely and in reasonable time," exclaimed a 1963 advertisement in The Post supporting a $35 million roadway expansion bond that included widening Ralston to a four-lane boulevard west of Alameda de las Pulgas and east of South Road.
Ralston's reconstruction as an arterial route for rush-hour commuters between Highways 280 and 101 in the 1960s was successful in bringing cut-through commuter traffic to Belmont. W-Trans estimated that 7 to 9 percent of rush hour traffic on Ralston Avenue are cut-through drivers passing between Highway 280 and 101 without stopping in Belmont. Decreasing travel times for drivers will simply increase this cut-through traffic, attracting more commuters currently using Highway 92 instead.
"This will not make Belmont a better, safer community where kids can walk to school, people can cross the streets, and bicycling is a pleasant experience," wrote Daniel Pierce. "We need slower speed limits and continuous bike lanes."
Neither are recommended by the study. W-Trans says speed limits can't be lowered due to state regulations, that bike lanes would cause traffic jams on Ralston west of Alameda de las Pulgas (in 2035), and that replacing on-street car parking with bike lanes in downtown Belmont would negatively affect merchants.
"We heard from a lot of people: 'don't remove the parking,'" said W-Trans Principal Mark Spencer. "There are businesses that rely on that parking frontage and they don't want to lose that."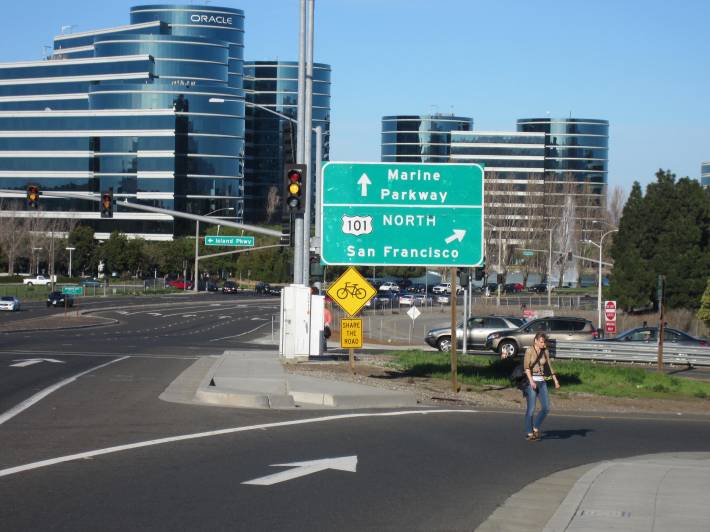 While the study does recommend adding missing sidewalks, crosswalks, and signs to create a continuous path for walking along Ralston Avenue, some obvious safety hazards are simply ignored.
With retail shops and car parking located on both sides of Ralston Avenue between 6th Avenue and El Camino Real in downtown Belmont, people walking are encouraged to cross mid-block because the block is long, as is the wait required at the traffic signals. Drivers don't know where to expect pedestrians, because without a crosswalk here, people are walking across Ralston Avenue in many different places. Ralston's most recent pedestrian victim, 71-year-old Lourdes Gallegos, was struck and killed by a car driver while walking across the street here in December 2011.
There are also no improvements recommended to make crossing Highway 101 safer for people walking. Many commuters use Ralston Avenue to walk between the Belmont Caltrain Station and office parks in Redwood Shores, since using the bike/ped bridge that spans the highway north of the street is a half-mile detour, a delay of ten minutes at an average walking pace.
The dates for the final community meeting and City Council review of the Ralston Corridor Study have not yet been scheduled.
Andrew Boone covers the Livable Streets Movements for Streetsblog in San Mateo and Santa Clara counties. Andrew's claim to fame is once having bicycled more than 12,000 miles of smiles in one year. nauboone@gmail.com
Stay in touch
Sign up for our free newsletter