Bicycle Safety
Why Sharrows Don't Cut it: Even SF Bike Safety Instructor Bert Hill Got Hit
5:08 PM PDT on June 11, 2014
When a driver rear-ended Bert Hill, he was using all of the safe bicycling techniques in the book -- after all, he's one of the most heavily-consulted bike safety instructors in San Francisco. Hill even had a major role in the SFMTA's new video for Muni drivers on how to share the streets with people on bikes.
Nonetheless, a driver rammed Hill from behind on May 31 around noon as he was pedaling west on Bosworth Street in Glen Park, which has no bicycle infrastructure except for sharrow markings. Hill suspects that the driver was distracted -- how else could a motorist unintentionally ram straight into a bicyclist from behind?
"There's no reason why it could be anything else," Hill told KTVU in a report this week. Hill says police also told him the driver didn't have a license.
"I got out of it with a lump over my right eye, a sprained wrist, bruises, some road rash, sore shoulder and something going on inside my hip," Hill, the chair of the SF Bicycle Advisory Committee, told Streetsblog. "I'm happy to say that I am very fortunate, and that other than a slight limp, am doing quite well. I can't say as much for my trusty Univega" bike.
Hill's crash flies in the face of assertions from vehicular cycling advocates that bicycling is perfectly safe on streets designed for cars first, and without any protected bike lanes, as long as people on bikes do their best to "drive" their bike like they would a car -- and in particular, always riding in the center of a lane that's too narrow to be shared. It's a philosophy that could only make sense among the few people, mostly adult men, who are adamant bike riders and feel comfortable keeping pace and mixing it up with cars.
Meanwhile, a growing body of research shows that protected bike lanes in North American cities not only increase bicycling rates by an average of 75 percent in their first year alone, drawing from the many "interested but concerned" bicyclists. Protected lanes also reduce the risk of injury by up to 90 percent.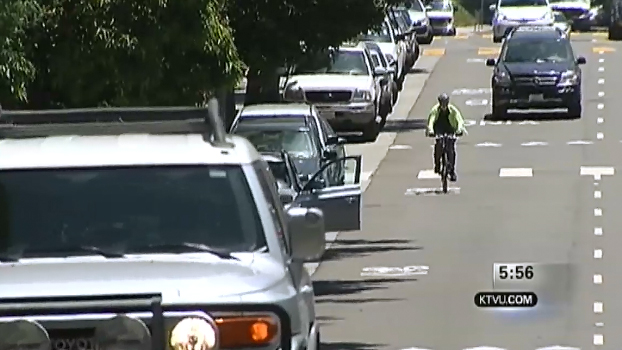 A Portland State University study released last week found that 80 percent of 2,301 respondents who live near eight protected bike lanes in five cities around the country said the lanes increased the safety of biking on the street -- whether they bike or not.
Take it from Mickey Sullivan, the woman on the street who told KTVU, "It's terrible in the city, yeah, with the bikes. Unless there's a lane."
As a study released in May from the League of American Bicyclists showed, 40 percent of 628 Americans killed on bikes were rear-ended by drivers, the most common type of fatal bike crash by far.
While cracking down on distracted driving is certainly one key, enforcement can only go so far. Cases like Hill's should signal the urgent need to build the kind of bike infrastructure that's proven to save lives. In the end, people not in cars should not always be at the mercy of those who are.
"Whatever the distraction can be, it can end up changing everyone's lives, ruining someone's life," Hill told KTVU.
Police told Hill that the offending driver will "most likely will be charged with 'unsafe speed,' because no one witnessed direct evidence of distraction."
While on the ground after the crash, Hill said the driver sat in his car, as Hill called 911 and read the license plate number. Hill says he suspects the driver hadn't left his car because he was considering fleeing the scene, until he saw Hill using his phone.
Coincidentally, he said, a police officer was driving by and stopped at the scene. "I do have to comment that the SFPD officers were very supportive and helpful," he noted.
Hill said he'll be "back in the saddle this week."
Aaron was the editor of Streetsblog San Francisco from January 2012 until October 2015. He joined Streetsblog in 2010 after studying rhetoric and political communication at SF State University and spending a semester in Denmark.
Stay in touch
Sign up for our free newsletter