Eric Mar
Supervisor Mar Wants to Study How Lower Speed Limits Could Improve SF
6:29 PM PDT on July 1, 2014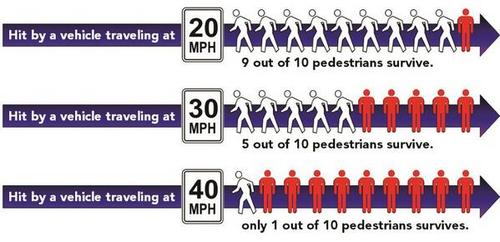 Supervisor Eric Mar requested a city study last week about how lower speed limits could benefit San Francisco. Although lowering speed limits without implementing physical traffic calming measures isn't a panacea for safer streets, the measure does hold promise as a first step toward saving lives and implementing Vision Zero. San Francisco would follow in the footsteps of New York City, Paris, and the United Kingdom in looking at major speed limit reductions.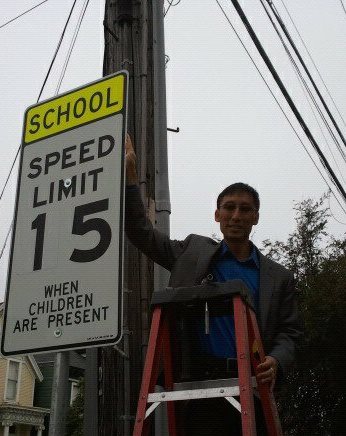 "We must do all that we can do to make sure that our streets are safer for our residents, and a speed limit reduction may have a significant impact on achieving this," said Mar.
The study requested by Mar would add to a growing body of research showing how lower speed limits would reduce fatal crashes and save money. The UK Department of Transportation, which instituted a "20's Plenty" campaign that set 20 mph speed limits as the default for residential streets, found that the chances of survival for a person hit by a car at 40 mph are half that of being hit at 30. Fatalities increase six-fold from 20 to 30 mph.
"Getting hit at 20 mph is like falling off a one-story building, but getting hit by a car at 40 mph is like falling off the fifth-floor," said Walk SF Executive Director Nicole Schneider, who called major speed limit reductions "one of the most important next steps we can take in achieving Vision Zero."
"We need to look towards our partner cities that have done this successfully, and model our efforts on the best practices," she said.
Last month, New York City Mayor Bill de Blasio signed legislation requiring the installation of 20 mph "Slow Zones." The New York State Legislature also passed a bill to lower New York City's default speed limit from 30 to 25 mph. The default speed limit for city streets in California, unless signed otherwise, is already set at 25 mph.
Paris' recently-inaugurated mayor, Anne Hidalgo, also implemented a 30 kilometer per hour limit (about 19 mph) on all but a few streets.
How effective are speed limits in getting drivers to slow down? In the UK, 20 mph zones were associated with a 41.9 percent reduction in road fatalities, according to an in-depth study in the British Medical Journal. According to Mar, Switzerland has saved as much as $130 million from major speed limit reductions.
There's some research closer to home, too. As Streetsblog New York City reported last month, a study examined the potential benefits of a proposed reduction in the default speed limit across Massachusetts from 30 mph to 25 mph:
Even without additional traffic calming measures, a lower speed limit on its own would prevent 2,200 crashes, 1,200 injuries, and 18 fatalities in the state of 6.6 million, according to an analysis of a 25 mph bill considered by the Massachusetts legislature last year...

By lowering speed limits on local roads to prevent deaths and injuries, Massachusetts workers and employers would save $210 million annually in avoided medical payments and missed work, according to a first-of-its-kind health impact assessment from the Metropolitan Area Planning Council.

Traffic analysts found that lower speed limits would add $148 million in annual costs, based mainly on the assumption that drivers would seek out longer routes that may not be as direct but would yield higher speed limits. Even with the added driving, the extra pollution would not result in any deaths, and the reduction in injuries and fatalities outweighed the additional costs.

If anything, the study undercounted the potential benefits of lower speed limits. "The health cost savings are done very, very conservatively," said MAPC public health manager Barry Keppard. For example, the study did not measure the impact of calmer streets on property values, or whether lower speeds would encourage more people to walk or bike.
The legal hurdles toward implementing a program like 20 mph Slow Zones in San Francsico are unclear. We do know that California has a "speed trap" law requiring that speed limits be set reflect the "85th percentile" speed, which means that 85 percent of drivers must obey them. If they don't, physical design measures must be taken to slow drivers down.
San Francisco has already led the way in California by implementing 15-mph school zones at 181 school zones, though findings on that effort's impacts haven't been reported. Will SF continue to pioneer safer city streets in the country's most populous state?
"When we're in an urban context, we need to be operating" accordingly, said Schneider. "The time has come for changing the landscape in terms of being in San Francisco."
Aaron was the editor of Streetsblog San Francisco from January 2012 until October 2015. He joined Streetsblog in 2010 after studying rhetoric and political communication at SF State University and spending a semester in Denmark.
Stay in touch
Sign up for our free newsletter