Bike Lanes
Embarcadero Bikeway Hugely Popular, But Deliveries May Pose a Challenge
5:42 PM PDT on July 25, 2014

At its first community meeting, a proposed protected bikeway on the Embarcadero seemed popular with just about everyone, though accommodating port deliveries could pose a challenge for its design.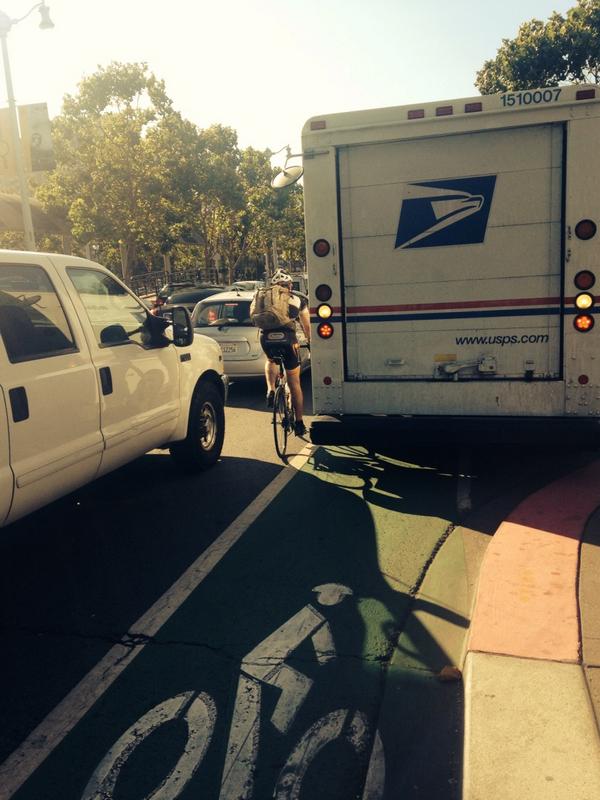 "The reception has been overwhelmingly positive," said SFMTA project manager Patrick Golier. "We've had a number of conversations with a variety of stakeholders, all with different interests in the Embarcadero, and everyone seems to feel the same way: The Embarcadero's oversubscribed, it's an incredibly popular and iconic place, and there are ways to make it safer and more comfortable for everyone."
Under the status quo, the conventional bike lanes -- striped between parked cars and moving cars -- are often blocked by cars. Meanwhile, the wide north sidewalk along the waterfront, shared between bicyclists and pedestrians, has become increasingly crowded. The proposal to upgrade the street with a physically protected bikeway seems to have enthusiastic support from the Port of San Francisco, which shares jurisdiction with the SFMTA over the street.
The north sidewalk's mixed traffic "is a historical characteristic of the waterfront -- where horse-and-buggies and trucks and people and trains all shared the promenade edge. We never changed that when the promenade was created" after the fall of the Embarcadero Freeway, said Port Planning Director Diane Oshima. "It's really been within the last couple of years that the volumes of people have grown, to an extent where we recognize that we need to be planning for a refreshed way to accommodate bicyclists in a safer way."
But Oshima did say that delivery vehicles still need direct access to the piers, and that the street should be designed to accommodate both loading zones and occasional truck traffic that would safely cross the bikeway and promenade.
"The Embarcadero is a constrained right-of-way, and every single mode has a right to be there," said Oshima. "Shutting down the curbside edge, or not allowing traffic to cross the promenade to get into the piers, is not a workable arrangement for thriving port and waterfront businesses. You need to be able to find a predictable way to find a way to manage that into the mix."
With planning for any protected two-way bikeway or separated bike lanes in its infancy, planners have yet to propose any removal of car parking or traffic lanes -- usually the main point of contention for such projects among car-centric merchants. So any such opposition may not have appeared yet.
There does seem to be an exceptional amount of excitement for the project, though. SF Bicycle Coalition Communications Director Kristin Smith said it could be partly attributed to the growing prevalence of successful protected bike lane models to point to, such as the contra-flow bike lane on the south end of Polk Street, and attractive bikeways on waterfronts in cities like Chicago and New York.
"Anybody who's looking out these windows right now can see that the way that it is not working," Smith said at the public open house, held in a building on Pier 1. The Polk contra-flow bike lane, which was designed with loading zones separated by a curb, "has been a boon for projects like this," she said. Until now, "We haven't had a project in our own city to point to and say, 'this is what a truly [age] 8-to-80 bikeway, that's also beautiful and inviting, looks like.'"
Oshima agreed that other best practices for bikeways should be considered in the Embarcadero design. "It's not like these are completely unique situations, and I'm hoping that we can really take advantage of successes elsewhere. But you don't have that many cases where there literally isn't a back door to be able to get into these piers."
Aaron was the editor of Streetsblog San Francisco from January 2012 until October 2015. He joined Streetsblog in 2010 after studying rhetoric and political communication at SF State University and spending a semester in Denmark.
Read More:
Stay in touch
Sign up for our free newsletter