Mayor Ed Lee
Mayor-Funded BeyondChron Attacks Wiener's Transit Funding Measure
6:19 PM PDT on July 31, 2014
BeyondChron editor Randy Shaw, who gets funding from the Mayor Ed Lee's office for projects like the Tenderloin Housing Clinic, penned a predictable defense of Lee's recent attack on Supervisor Scott Wiener's transit funding ballot measure today. Shaw backed Lee's decision to drop support for the vehicle license fee increase, and argued that Muni's share of the city's general fund has increased enough in recent years, compared to other city services.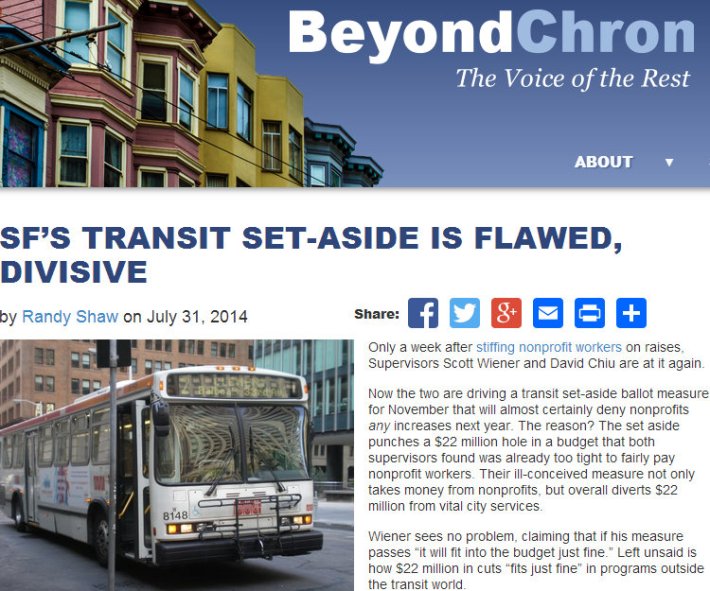 Much like Shaw's January article lauding the mayor's call for free Sunday parking -- which ignored the SFMTA's report on its impacts -- his latest piece just mimics Lee's position. Mayor Lee said on Monday that Wiener's measure is "disturbing," that it "can be very damaging" to the city budget, and that he "has to hold the supervisors [that voted for it] accountable."
Shaw argued that, by mandating a set-aside for Muni and safer streets, Wiener's ballot measure would "reduce the ability of elected officials to set budget priorities" such as the Children's Fund and increased wages for non-profit worker contracts. Shaw targeted his arguments towards Wiener, Board of Supervisors President David Chiu (one of the five other supervisors who supported the measure), and Streetsblog:
Wiener, Chiu and many transit advocates like to depict Mayor Lee as Scrooge when it comes to transit funding. They continually point to the mayor's "abandoning" the Vehicular License Fee for the November ballot, despite this being "recommended by his own task force."

Mayor Lee only "abandoned" the VLF for this November because polls showed voters strongly opposed it. As the SF Chronicle's Matier & Ross reported on May 7, "a poll of 500 likely San Francisco voters – conducted for Lee by EMC Research from March 21-27 – found just 24 percent supported the fee increase. That is far short of the simple majority required for passage. Sixty-nine percent were opposed, and the remaining 7 percent were undecided.

Curiously, Aaron Bialick of StreetsblogSF cited the Matier & Ross story in reporting that the poll found 44% approval for the VLF. Bialick has repeatedly bashed Lee for not moving forward on the VLF, yet even with his misreading of the poll results—and 24% v 44% is a big difference—you can't go forward with ballot measure when your support is under 50% before the opposition campaign kicks in.
The cherry-picking there is blatant. The Matier and Ross article Shaw refers to says, "When pollsters told survey respondents about the improvements the money would provide for Muni, road repairs and the like, support climbed to 44 percent -- still below the majority threshold." It would raise $1 billion over 15 years for pedestrian safety projects, bike infrastructure, transit improvements and vehicle purchases, and road re-paving -- just by restoring the VLF to the rate that it was at statewide for over 50 years.
Sure, 44 percent is below the 50 percent threshold. But it's a margin that could be closed if Mayor Lee wanted to show leadership and throw his support behind a campaign for the VLF -- as he's doing for the bond measure -- or at least acknowledged the importance of getting it passed.
"The VLF is winnable -- if you've run a good campaign for it, if you've got strong commitment from elected leaders and civic leaders," said Wiener.
But Mayor Lee has never gotten behind the VLF, and initially abandoned it indefinitely. As the SF Transit riders Union said at the time, "In a time when we should be rising to meet the demand for transit today, and the increasing demand for transit in the city's future, Ed Lee refuses to prioritize Muni at every turn." Wiener said it took a lot of convincing just to get the mayor to agree to support the VLF in 2016.
Continuing on, Shaw pointed out that Muni has seen its share of the general fund grow from the abysmal levels of 2005:
What Wiener does not publicize is that over the past decade, MTA spending has increased at nearly ten times the rate of the city's population. The city is already going far beyond the goals that Wiener claims only a set-aside can deliver!

Everyone agrees that MUNI could use more money. But so can a wide array of city services. Nearly all are making do with budgets that have not increased at ten times the level of population increase over the past decade.
In response, Wiener told Streetsblog:
The budgets of the Police Department and Department of Public Health have increased by more than the MTA. Are we going to argue that therefore that we shouldn't fund more police academy classes by adding money into the PD budget, or fund more HIV or mental health services by putting more money into DPH's budget? Of course not.

We know that Muni has $2.2 billion in deferred maintenance. So whatever we're spending on transit, we're not investing enough.
The Mayor's Transportation 2030 Task Force identified $10.1 billion in transportation needs by that year, including a $3.1 billion backlog for Muni vehicle and infrastructure maintenance. The SFMTA's Pedestrian Strategy -- which Mayor Lee said he would "not let sit on the shelf" -- calls for $363 million by 2021 to implement safety upgrades on priority streets, which could reduce injuries by 50 percent. The Bicycle Strategy would require $200 million over six years just to reach its middle-level "Strategic Plan" goal, putting eight to nine percent of trips by bike by 2018.
If all three of the task force's recommended funding measures are passed -- the mayor's touted $500 million bond measure, the VLF, and a half-cent sales tax increase planned for the ballot in 2016 -- they would provide $316 million for both the Bicycle and Pedestrian Strategies from 2015 to 2030. City officials say they hope to fund the remainder through state and federal grants.
So the two proposed $500 million General Obligation bonds proposed in the next ten years would only realize part of an already-partial funding plan laid out by the mayor's task force. And GO bonds, said Wiener, legally can't be used to fund transit vehicle maintenance and rehabilitation, while the VLF can.
"The bond is for one-time capital expenses," said Wiener. "The need goes well beyond the bond."
As Shaw mentioned, Muni isn't known for spending its money in the most efficient way, as evidenced by city audits. But Muni riders have paid heavily in past budget squabbles, both at the city and state level. Case in point: In 2004, Governor Arnold Schwarzenegger raided state transit funds to slash the statewide VLF, from 2 percent to 0.65 percent.
"Senator Mark Leno spent ten years, and two gubernatorial vetoes, to give us the power to go to the voters with the local VLF," Wiener said, referring to state legislation passed in 2012. "We need to move forward with this."
Increasing transportation's share of the general fund certainly would make a statement about the city's spending priorities. Yet Lee has staked out an inconsistent position: He also backs a general obligation bond for transportation, even though repaying that bond will reduce revenues going into the general fund.
Unfortunately for SF, Mayor Lee's transportation priorities have appeared perplexingly out of touch with the city's needs. His most firm move yet has been to repeal Sunday parking meters -- subsidizing free parking for drivers, at great cost to the city and businesses. But such moves start to make more sense as we learn about the priorities of his campaign backers.
Likewise, to make sense of Randy Shaw's editorials, just follow the money back to the mayor's office.
Aaron was the editor of Streetsblog San Francisco from January 2012 until October 2015. He joined Streetsblog in 2010 after studying rhetoric and political communication at SF State University and spending a semester in Denmark.
Stay in touch
Sign up for our free newsletter