Bicycling
SFMTA Proposes New Car Restrictions, Extended Bus Lanes on Lower Market
6:34 PM PDT on October 10, 2014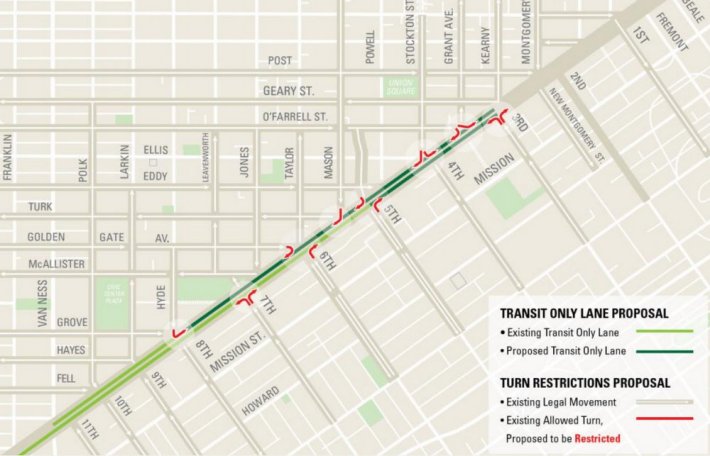 Last week, the SFMTA presented its proposal to ban private auto drivers from turning onto Market Street, between Third and Eighth Streets. The move would be complemented with extended transit-only lanes, plus a new system of wayfinding signs aimed at keeping drivers off of Market.
The new plans, named "Safer Market Street," would be implemented over nearly a year, beginning next spring, and would represent a major step towards a car-free lower Market -- a longtime goal of many livable streets advocates, and some city officials.
"These improvements have been long desired by people traveling regularly on Market Street," said SF Bicycle Coalition Executive Director Leah Shahum. "It's clear that tens of thousands of people's commutes, shopping trips, and any other kind of travel will be significantly improved when the most commonly used travel modes are actually prioritized on Market Street -- walking, bicycling and taking transit. This will be a real example of SF leaders living up to their commitments, both to Transit First and Vision Zero."
As we've reported, city studies have shown that lower Market already sees relatively little car traffic, and most drivers only travel on the street for an average of two blocks. Many of them seem to be either searching for parking (which doesn't exist on the street) or simply lost. Since the implementation of requirements for eastbound drivers to turn off of Market at Sixth and Tenth Streets, Muni speeds have increased, even if some drivers still ignore the signs.
Although SFMTA board member Malcolm Heinicke and other proponents have pushed for a full ban on cars on Market, rather than a step-by-step approach, the proposed turn restrictions would leave only a few places where drivers could turn onto Market east of Tenth. The street would still be open to taxis, commercial vehicles, and people walking, biking, and on transit. The restrictions are seen as a precursor to the Better Market Street makeover, which could make most of the thoroughfare car-free once it begins construction in 2017.
SFMTA officials have long held off on proposing additional car restrictions, citing traffic flow complications created by the construction of the Central Subway. The agency is apparently now ready to move forward.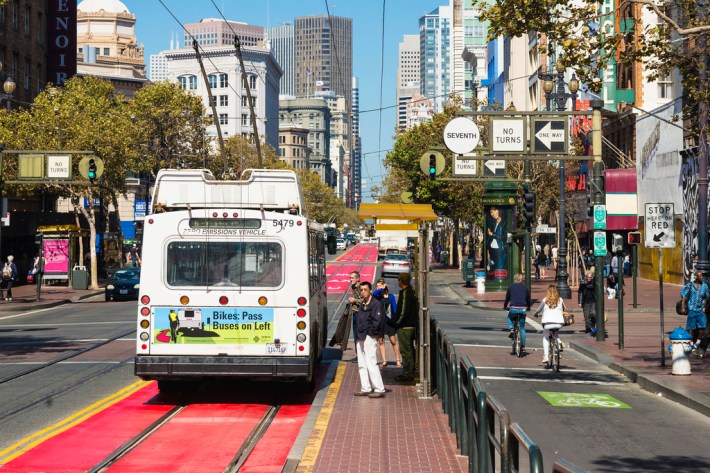 Walk SF Executive Director Nicole Schneider said the organization "is looking forward to seeing the short term safety improvements proposed [go] in the ground quickly."
"This street has notoriously been one of the most dangerous streets in the city -- with wide, confusing intersections -- but it's also the heart of our city, and should be a place where people can walk and bike safely," said Schneider, noting that "unsafe turns [are] one of the most common causes of pedestrian injuries in San Francisco."
She continued, "Please install these improvements as quickly as possible!"
The SFMTA has also proposed extending Market's transit-only lanes for buses and streetcars. Extending the lanes is expected to help speed up Muni and "prevent vehicles from unsafely weaving between lanes," according to the SFMTA's presentation materials [PDF].
The transit lanes would be extended in both directions east to Third Street. The westbound-transit only lane currently runs for a short stretch between Eighth and 11th streets, and the eastbound lane runs from 12th to Fifth streets.
The SFMTA is currently painting Market's existing transit lanes red to keep drivers out of them. Extending them could have the effect of further reducing driver confusion stemming from the currently inconsistent pattern of transit-only designations on Market's center lanes.
The center lanes will still be open to cars east of Third, where drivers headed to SoMa and the Bay Bridge are often seen blocking Muni vehicles.
The plans are expected to be presented at another community meeting in November, followed by a hearing in January, and then final approval from the SFMTA Board of Directors in March. Implementation would follow over the rest of the year.
The SFMTA website has more details, including graphics showing traffic volumes and retail expenditures along Market parsed out by transport mode [PDF], and proposed designs for the wayfinding signs [PDF].
Aaron was the editor of Streetsblog San Francisco from January 2012 until October 2015. He joined Streetsblog in 2010 after studying rhetoric and political communication at SF State University and spending a semester in Denmark.
Read More:
Stay in touch
Sign up for our free newsletter