Pedestrian Safety
Tomorrow: Rally for Vision Zero Action After Spate of Traffic Violence
5:03 PM PST on November 6, 2014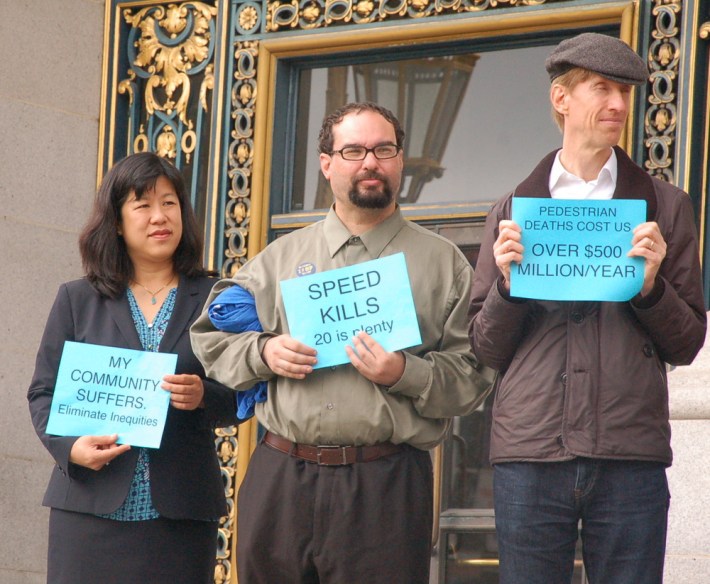 A coalition of street safety advocates will hold a rally on the steps of City Hall tomorrow morning at 10 a.m., calling upon city leaders and agencies to step up the action on Vision Zero. The event will also serve as a memorial to victims of traffic violence.
Just in the last two weeks, six people have been killed in traffic crashes in SF and more have been injured, according to Walk SF. The latest death came this morning at about 6:15 a.m., when a 51-year-old woman was killed by a Golden Gate Transit bus driver while jogging in a crosswalk at Lombard Street and Van Ness Avenue. The driver was making a left turn -- one of the most common factors causing deadly pedestrian crashes along one of the city's most dangerous streets.
In total, 26 people have been killed in traffic crashes in SF this year, according to Walk SF.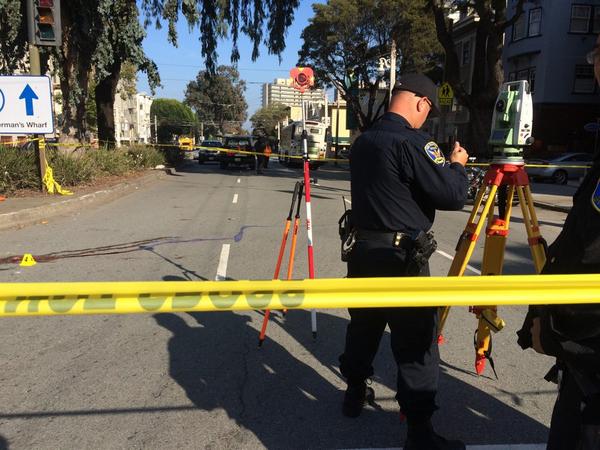 "Enough is enough!," the organization wrote in a message to its members today. "San Franciscans spoke loud and clear at the polls to make safety a priority for our streets, voting Yes to Prop A and B, and No to Prop L. Now, the City must not delay efforts to make Vision Zero -- the goal to end ALL traffic-related deaths in ten years -- a reality."
The propositions Walk SF referred to were Props A and B, two transportation funding measures, and Prop L, the rejected cars-first measure which attacked pedestrian safety improvements. With all three votes, a majority of San Franciscans indicated that they want quicker action on safer streets.
The coalition gathering at tomorrow's rally will include the South of Market Community Action Network, the Senior and Disability Action Network, Chinatown Community Development Center, the Central City SRO Collaborative, the SF Bicycle Coalition, Walk SF, and other community groups.
Eighteen people have been killed by drivers while walking in SF this year, 14 of whom were walking on the city's most dangerous streets -- the six percent of streets that account for 60 percent of serious and fatal injuries, Walk SF noted.
In addition to the woman killed on Van Ness today, 21-year-old Arman Lester was killed by an SUV driver while skateboarding at Third Street and Cargo Way in Bayview last Saturday night. On October 23, 67-year-old Priscila Moreto was killed by a tour trolley driver in the crosswalk at City Hall's doorstep, just after a pedestrian safety ceremony was held nearby. On October 20, 87-year-old Louis Van Velzen was killed by a driver on deadly Sloat Boulevard at 43rd Avenue. Tuesday night, 35-year-old Henok Ayele was killed after falling off of a tanker truck he was clinging to on Mason near Turk Street.
Another man recently died from injuries incurred when he was intentionally run over by a driver on Monday. The driver fled after running down Joseph Jeffrey after an argument at Eddy and Larkin Streets, and Jeffrey has since died, according to Walk SF. The fugitive driver is reportedly wanted for felony hit-and-run.

There has also been a recent string of pedestrian injuries, including a driver who injured a pedestrian at Columbus and Green Streets last night. One driver injured an off-duty police officer at Ellis and Leavenworth Streets last Friday, then fled police and crashed. Last Wednesday, a driver left a woman with serious injuries after backing into her while parking at 16th Street and Pond Streets, and was later cited.
In March, Mayor Ed Lee presented a WalkFirst plan for safety fixes at 170 priority intersections over five years. On Walk to Work Day in April, the SFMTA released a list of 24 Vision Zero projects to be implemented over 24 months, though most of the projects were already planned. The SFMTA had completed eight of the projects as of September 23, according to an SFMTA progress report [PDF].
The intersection of Van Ness and Lombard, where today's death occurred, is not on that priority list of improvements. Deadly Van Ness is set to be made safer when it's redesigned for Bus Rapid Transit, set to be completed in 2018.
"Fixing these streets requires money, which the city now has with Prop A and B, but it also requires political willpower -- the willpower to stand up and put saving lives first!," Walk SF wrote.
Aaron was the editor of Streetsblog San Francisco from January 2012 until October 2015. He joined Streetsblog in 2010 after studying rhetoric and political communication at SF State University and spending a semester in Denmark.
Read More:
Stay in touch
Sign up for our free newsletter