Muni
SFMTA Looks to Boost Muni's 28-19th Ave With Bus Bulbs, Fewer Stops
6:56 PM PST on November 11, 2014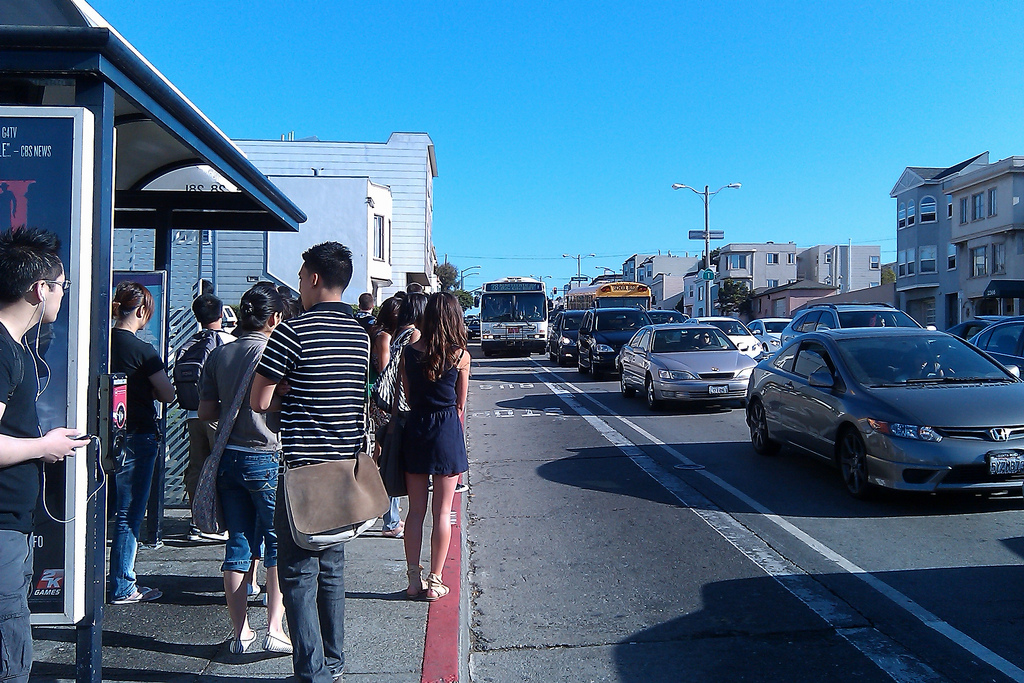 The SFMTA has an online survey available where you can weigh in on the proposed improvements for Muni's 28-19th Avenue.
Take a ride on Muni's crowded 28-19th Avenue from the Golden Gate Bridge to SF State University, and you may notice the that bus gets a lot slower south of Golden Gate Park.
That's because once the bus gets to 19th Avenue in the Sunset, the street's design robs Muni riders of two major benefits that speed up their ride on Park Presidio Boulevard in the Richmond. On that stretch, the stops are two blocks apart, and buses can stop directly in the traffic lane to load passengers.
But once the bus reaches 19th, the 28 inexplicably stops at every block in the Sunset. If buses pull out of the traffic lane to reach the curb, the bus can only continue moving once private automobiles have passed by. It takes 25 minutes, on average, to traverse 19th from Lincoln Way to Junipero Serra Boulevard, according to Muni.
But 19th Avenue may finally get up to speed -- and become safer -- thanks to bus bulb-outs and stop consolidation, both planned under the SFMTA's Muni Forward program (previously known as the Transit Effectiveness Project). The SFMTA held a community meeting on the plans last week, and they seemed to be fairly well-received.
Bulb-outs are scheduled to be constructed in fall 2016, in conjunction with Caltrans' plans to re-pave the entire stretch of Highway 1 within SF's city limits, according to Muni Forward program manager Sean Kennedy. Other changes that don't require concrete work, like stop consolidation, could occur sooner.
Overall, Kennedy said the improvements would speed up the 28's travel time on 19th by about 20 percent. For the 28 local service, that means a savings of more than four minutes in each direction on that stretch. The 28-Limited would save 1.5 minutes on its run, would see its hours extended from 6 a.m. to 8 p.m. (instead of just school rush hours), and would be extended to Balboa Park BART.
Eight of 19 stops on 19th would be removed, making the distance between stops consistent with the two-block spacing on Park Presidio. Muni's unusually close stops have long been an obstacle to speeding up the system, with 70 percent of citywide stops too close for Muni's own guidelines.
Even though a 2010 SFMTA survey found that 61 percent of riders said they would consider walking farther if it made their overall trip faster and more reliable, each stop has its own constituency and removing them has been politically challenging. Protests come most frequently from elderly and disabled riders.
The SFMTA released a "bus stop consolidation plan" in 2010 during the agency's financial crisis, but it was put on the back burner. At the time, the proposal to remove stops on several lines, including the 28, was unfortunately framed as a cost-cutting measure rather than as one piece of a larger vision for faster and more reliable Muni service, as Muni Forward has been presented.
But even George Wooding supports the 28's stop consolidation now. Wooding, a senior who uses a wheelchair, was recently president of the West of Twin Peaks Central Council, and is currently the vice president of the Coalition for San Francisco Neighborhoods. Both groups are typically conservative on transportation issues.
"Speaking personally, I believe it's a good thing," said Wooding. "I'm sure many of the groups I represent will not."
Wooding did say he doesn't like that sidewalk bulb-outs will remove a few parking spaces apiece -- even though they've been proven to make pedestrian crossings safer and ease boardings at transit stops, especially for wheelchair users. He also echoed the SF Fire Department's belief that they will slow down response times for trucks.
Nonetheless, "I do think it's a fairly well thought-out plan," said Wooding.
All 22 intersections on the project's stretch of 19th are set to get a bulb-out as a pedestrian safety measure, whether or not there's a bus stop there. They're badly needed on the six-lane highway, which has historically been one of SF's most dangerous streets.
Kennedy pointed out that, by extending curbs to meet the traffic lane, the street design would simply legitimize a common practice and make it safer, while removing side-to-side swaying for Muni riders. Muni drivers are known to not pull their bus all the way to the curb -- a tactic that allows them to pull back into the traffic lane without having to wait for cars to pass.
"Right now, a lot of our buses pull in at an angle, and they're essentially taking up the lane anyway because the butt's sticking out," he said. "This will just kind of reinforce the fact that the bus is owning the lane."
At eight intersections, bus stops would be moved across the street, from the near side to the far side to reduce unnecessary stops at red lights. Traffic signals would get transit priority, meaning they would stay green when they detect a bus approaching.
Howard Strassner, a senior and chair of the local Sierra Club chapter's transportation committee, made a strong case for wider stop spacing at an SFMTA board meeting in August of last year. In a discussion about plans to speed up Muni's 5-Fulton, he urged the SFMTA to take out even more stops citywide, pointing to Park Presidio as an example.
"I think I'm old enough to have that right," he said, noting that riders on the 28 line do just fine using the stops along Park Presidio, which are 1,400 feet apart. "If you can do it on Park Presidio, you can do it on most of the city."
Take a look back at our 2010 Streetfilm explaining the need for wider stop spacing:
Aaron was the editor of Streetsblog San Francisco from January 2012 until October 2015. He joined Streetsblog in 2010 after studying rhetoric and political communication at SF State University and spending a semester in Denmark.
Read More:
Stay in touch
Sign up for our free newsletter