Pedestrian Safety
"Box Blocking" Enforcement is Overdue, But SF's Traffic Woes Run Deeper
7:00 PM PST on November 14, 2014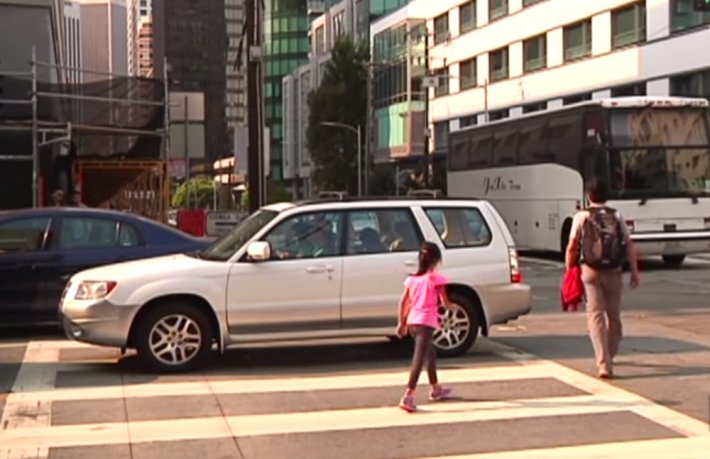 For a mystifying exhibit of irrational and antisocial behavior, just watch the rush-hour race to nowhere as drivers attempt to beat one another through a gridlocked San Francisco intersection.
The question, "Do I have room to make it across?," apparently does not factor into the decision of many drivers who accede to the beckoning green light -- only to end up sitting astride a crosswalk, in the path of a Muni bus packed with 70 people, or dozens of other commuters trying to bike or drive through on the cross-street.
This needlessly disruptive traffic dysfunction can perhaps be chalked up to the wishful thinking of impatient automobile drivers. Sitting on one side of the intersection, instead of the other, doesn't tend to afford a lot of actual progress -- but maybe it helps "box blockers" feel like they're getting somewhere.
Often, the space trampled under their wheels is part of the crosswalk -- the scarce designated place where people can cross on foot, theoretically free of cars. Instead, pedestrian crossings are dangerous and downright undignified.
"It's scary," said Jamie Whitaker, who lives near the Bay Bridge in SoMa, where drivers trying to cram on to the on-ramps "predictably" block crosswalks and compete with one another to get through. "You just don't know if someone is gonna shove down their gas to speed up and get around other cars, and not realize someone's in the crosswalk."
"I fear for my life every time I leave work," Christine Queen told ABC 7 at car-clogged Second and Bryant Streets in a report earlier this month. "Seriously, I'll tell you, it's like no one's even walking."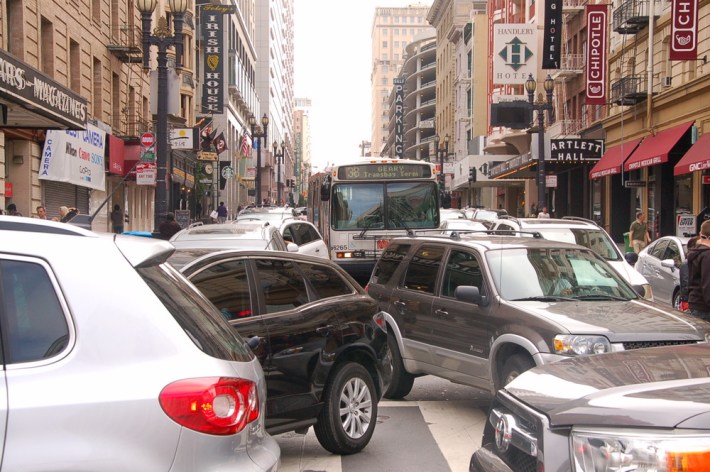 Jason Henderson, author of Street Fight, said he regularly sees "box blocking" on streets that lead to Octavia Boulevard and the Central Freeway. He thinks drivers just don't feel the same pressure to avoid blocking pedestrians, such as a mother with a stroller, as they do mothers in automobiles.
"Drivers get that they don't want to block each other, and they also honk at each other and get aggressive," he said. "When they get in the crosswalk, they're not faced with the same hostility. Most pedestrians just go around and the drivers just shrug... I'd say it's often [drivers] who know what they're doing -- they can see that they can get into that platoon [of traffic] before the light changes downstream."
It's a mystery as to why the SFMTA and SFPD don't routinely ticket drivers for blocking intersections, but the SFMTA is at last looking to launch an targeted enforcement campaign next month.
The SFMTA recently completed a three-month enforcement pilot at two of the worst intersections in SoMa: Harrison and Main Streets, and Second and Bryant. The study confirmed what was basically already known: When there's enforcement, drivers tend to behave. At a supervisors hearing earlier this month, the agency said intersection blocking went down by as much as 82 percent at Main and Harrison in the presence of parking control officers. Drivers stopped in an intersection can be cited for a $103 parking violation, or $110 if turning was involved.

"If people think that the worst thing that's going to happen is someone's going to tell them to move along, that's not a disincentive," said Supervisor Scott Wiener at the hearing. "We have to have consistent and focused enforcement on blocking the box and double parking."
In the late 1980s, the now-defunct Department of Parking and Traffic launched a similar campaign, but as the SF Chronicle wrote in September, "It's not easy to find any public record, or memory, of when or why the campaign ended." Like that campaign, the SFMTA plans to stripe "cross-hatch" markings and post "Don't Block the Box" signs at chronically-blocked intersections like Market and Third Streets.
At the supervisors hearing, about a dozen SoMa residents spoke in support for the campaign's revival. Jan Duffy said she "can't schedule appointments after about 3:00" at her business in Rincon Hill, because the blockages make arrivals difficult regardless of the mode of transport.
Cameron Samii, the SFMTA's enforcement manger, said the six PCOs he plans to devote to box-blocking would take from enforcement resources in other areas, but he feels confident about being able to balance it out.
D6 Supervisor Jane Kim said she'd like to see the SFMTA's PCO staff devote "the same level of responsiveness around this important issue" as they do to for expired parking meter violations. "I think it's really hard for a lot of our residents to accept the fact that this is a real capacity issue," she said. "I imagine PCO operators will be so much more popular if they're giving out these tickets, versus the other ones."
But Henderson and city planners emphasized that SF's car congestion woes go far deeper than a lack of box-blocking enforcement, and that broader efforts are needed (and underway) to reduce the amount of driving in the city. Recent traffic counts have indicated that these efforts may be working: traffic has dropped in the downtown area. (Henderson has personal doubts that traffic has dropped near the Central Freeway).
"They're trying to stop the bleeding, but long-term, after they've stitched that wound back up," broader measures are needed, said Henderson. He suggested using synchronized signal timing to stop car traffic further upstream from the bottlenecks, and that electronic traffic signs planned under SFGo should be used to tell drivers on "arterials" to take alternate routes. He said those measures are used in Zurich, and that Caltrans already uses the same concept on freeways that have ramp meters.
"If you let too many cars in, it just jams up," said Henderson.
Liz Brisson, a transportation planner at the SF County Transportation Authority, said at the hearing that efforts to encourage walking, biking, and transit are needed to reduce car traffic, and that local and regional plans are underway to address SoMa's gridlock. Peter Albert of the SFMTA emphasized the need to expand Transportation Demand Management programs, including employer incentives that encourage workers to commute by modes other than driving. Down the line, congestion pricing could be one piece of the puzzle agencies are considering.
"I don't think there's any silver bullet," said Brisson. "I think we need to work at all of these."
In the meantime, Whitaker pointed out to Streetsblog, the enforcement campaign will help everyone -- even drivers, "because it'll create a more fair flow of traffic." The impact of reducing blockages also "echoes out on other streets."
"It is a service to car drivers," said Henderson. "They're also frustrated."
Aaron was the editor of Streetsblog San Francisco from January 2012 until October 2015. He joined Streetsblog in 2010 after studying rhetoric and political communication at SF State University and spending a semester in Denmark.
Stay in touch
Sign up for our free newsletter