Bicycling
Coming to Caltrain: Longer Trains With More Room for Bikes
3:26 PM PST on January 12, 2015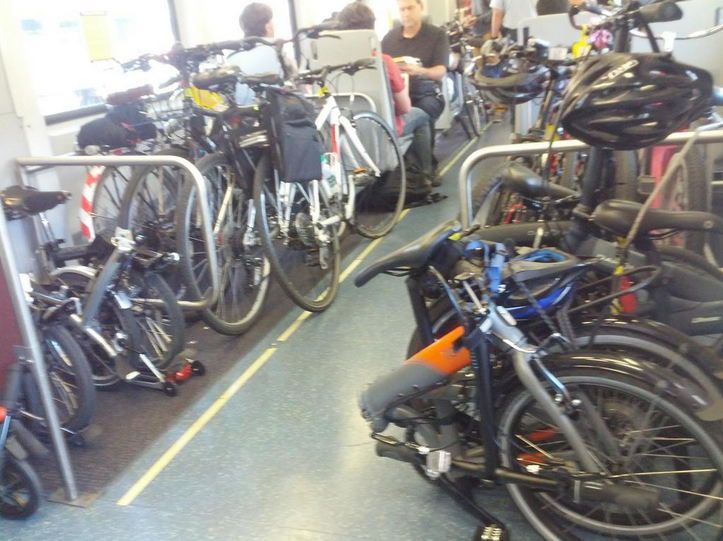 Caltrain will add a third bike car to all six of its Bombardier trains, Executive Director Michael Scanlon announced at the transit agency's monthly board of directors meeting last week. With the new cars, bike capacity will increase from 48 to 72 on each of the Bombardier trains. But it could take up to one year to place the six-car trains into service.
The new bike cars are part of a larger $15 million project to acquire and refurbish 16 used rail cars from Los Angeles Metrolink, adding about 2,000 seats across Caltrain's fleet. The agency's 15 older gallery-style trains already carry 80 bikes each, since seats are not placed in the center of the two bike cars on those trains, and will not receive more bike capacity.
Crowding on Caltrain is becoming increasingly severe during the morning and evening rush. A record 61,670 passengers packed into the agency's five-car trains on an average weekday in October 2014, and "standing room only" is now the norm during peak hours. With ridership growing more than 10 percent each year since 2009, the trend shows no sign of stopping. New office space and housing construction in San Francisco, along El Camino Real in San Mateo and Santa Clara counties, and within walking distance of Caltrain stations are also quickly filling up any remaining passenger capacity even on trains running outside the traditional commute times.
The number of passengers bringing bicycles on Caltrain has grown four times faster than overall ridership since 2008. Strong growth in the Bay Area's tech and finance economies continues to bring thousands more workers every year to suburban office developments located far from any practical rail or bus services -- making train-plus-bike the only feasible alternative to commuting by car.
Caltrain officials were initially leaning toward adding refurbished rail cars to the Bombardier fleet with total seating for about 650 passengers but no spaces for bikes. That would have actually cut the share of passengers who can bring a bike on board compared to the status quo, even as bike-plus-train trips continue to outpace overall Caltrain ridership growth.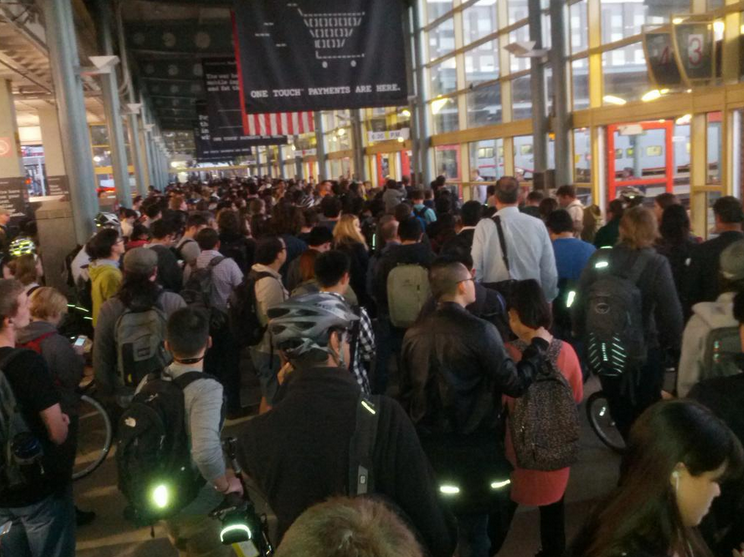 "Only 20 seats must be replaced with bike racks to configure a Bombardier car as a bike car, leaving over 110 seats in the rest of the car," wrote Shirley Johnson to The Daily Journal in December. Johnson coordinated the BIKES ONboard campaign with the San Francisco Bicycle Coalition and other bike groups to convince Caltrain officials that adding space for bikes has a number of important indirect benefits, including "reducing traffic congestion, freeing costly parking spaces, freeing seats on publicly subsidized buses and shuttles, reducing our dependence on fossil fuels, reducing air pollution and improving public health."
When new electric trains are operating in 2021, the BIKES ONboard coalition aims for Caltrain to have enough capacity to allow 20 percent of passengers to bring bicycles on board.
Caltrain finalized the purchase of 16 used rail cars for $5.6 million in early December after negotiations with the Southern California Regional Rail Authority, which operates Metrolink and has phased out its use of Bombardier rail cars. The cars Caltrain acquired are similar to the rolling stock that currently comprises five of the agency's 20 trains.
Refurbishing the Metrolink rail cars and modifying some Caltrain platforms to accommodate the longer six-car trains will cost another $9.4 million. The improvements will be financed using a 2015 farebox revenue bond.
Caltrain hopes to modify both its Bombardier trains and gallery-style trains to run an all six-car fleet, which would alleviate some of the worst rush hour crowding, although demand for train travel isn't expected to stop growing anytime soon.
Andrew Boone covers the Livable Streets Movements for Streetsblog in San Mateo and Santa Clara counties. Andrew's claim to fame is once having bicycled more than 12,000 miles of smiles in one year. nauboone@gmail.com
Stay in touch
Sign up for our free newsletter