Pedestrian Infrastructure
When Streets Are Torn Up, SF Agencies Are Failing to Build Them Back Safer
5:40 PM PST on January 14, 2015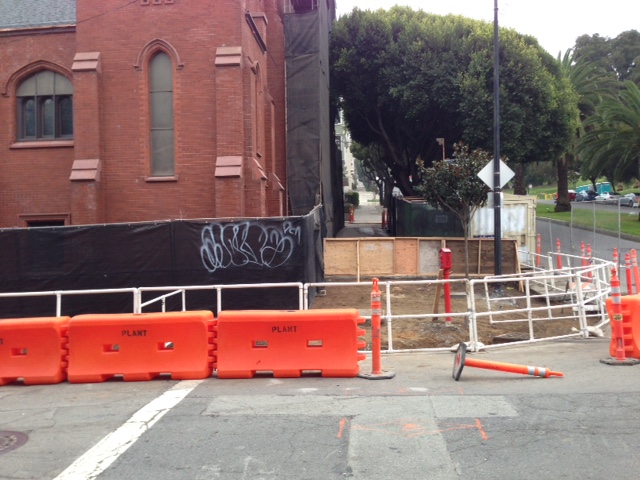 Opportunities to expand sidewalks and make streets safer go to waste too often when the pavement is torn up in SF. A year ago, the city announced efforts to improve coordination between agencies so that when a street undergoes repairs, safety measures are added, saving time and money in addition to saving lives.
But agencies still haven't got the hang of it. Even longstanding safety proposals for at least two streets in the Mission have sat on the shelf while sidewalks are torn out.
Livable City Director Tom Radulovich pointed out an especially egregious case this week at 19th and Dolores Streets, a major entrance point to Dolores Park, where plans for sidewalk extensions to make it safer to cross the intersection were adopted in the Planning Department's 2010 Mission Streetscape Plan. The sidewalk on the southeast corner was recently re-done for the conversion of a church into an elementary school, but the refurbished corner doesn't have the curb extensions called for in city plans.
Radulovich brought up the wasted opportunity in an email to several city department heads:
I noticed that the curbs, gutters, and sidewalk had been completely removed.

Mostly I knew better, but some part of me hoped that my City might have seized the opportunity reconstruct an important street corner to the Better Streets standards and in so doing implement one of its own plans, and that we might see a long planned and hoped-for pedestrian safety improvement at this heavily-traveled intersection. Alas no; this morning, a new curb had been laid in the exact same location as the old one, without the bulbouts or any other improvements called for in the Mission Streetscape Plan.

This is all incredibly disappointing.
Radulovich referred to the citywide Better Streets Plan, also adopted in 2010, which calls for sidewalk bulb-outs to be standard at most intersections whenever the opportunity arises to install them.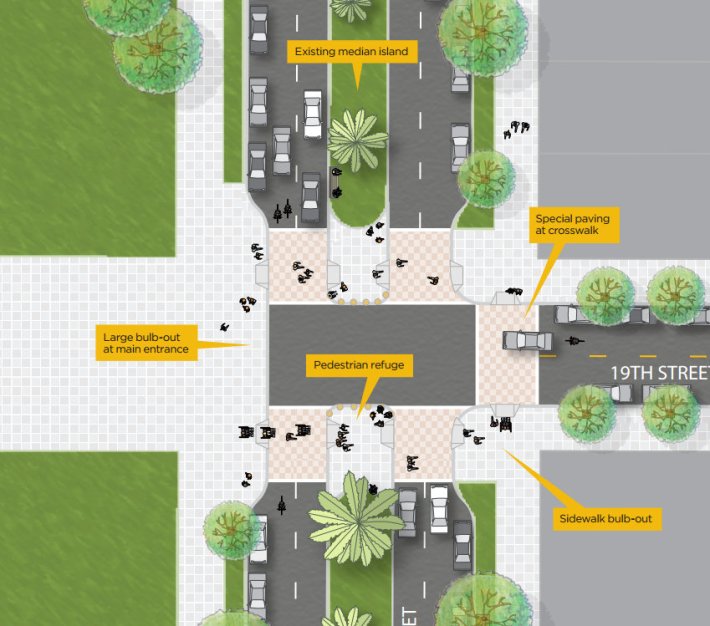 The 19th and Dolores case is far from the largest such missed opportunity. One block away, "deadly and high-speed Guerrero Street was resurfaced and its street corners removed and rebuilt, but no bulb-outs or other pedestrian safety or traffic calming improvements were installed," Radulovich wrote.
The Department of Public Works is currently undertaking a massive street re-paving effort, thanks to the 2011 Prop B bond measure, but few of those streets have curb extensions when they're completed.
As far back as 2005, the city adopted the Complete Streets Ordinance, which mandated the coordination of safety improvements with other street work. In recent years, Supervisor Scott Wiener has pushed the SFMTA, DPW, and the SF Public Ulitiies Commission -- the primary agencies responsible for implementing sidewalk extensions -- to do a better job of adhering to such mandates. But progress thus far has mostly amounted to lip service.
There have been some cases of better coordination for larger projects initiated by the SFPUC, on routes like the Wiggle, where streetscape redesigns have been rolled into plans to overhaul utilities.
A 2010 City Controller's Audit [PDF] specifically recommended that city agencies "consolidate meaningful streetscape planning and delivery resources to guide private developers and community partners." That may help ensure that projects like the church conversion come with planned sidewalk upgrades.
Neither DPW Director Mohammed Nuru, SFMTA Director Ed Reiskin, nor other city officials who received Radulovich's email have responded to it.
"If it was never the city's intention to implement the Mission Streetscape Plan," Radulovich wrote, "then it's just another cruelly broken promise to this community by the city. If it is the City's intention to implement this plan, then this is a huge missed opportunity, and a vast waste of money, time, and the earth's resources."
Aaron was the editor of Streetsblog San Francisco from January 2012 until October 2015. He joined Streetsblog in 2010 after studying rhetoric and political communication at SF State University and spending a semester in Denmark.
Read More:
Stay in touch
Sign up for our free newsletter