Bicycling
Coming to 13th Street: SF's First Downtown Parking-Protected Bike Lane
5:55 PM PST on January 29, 2015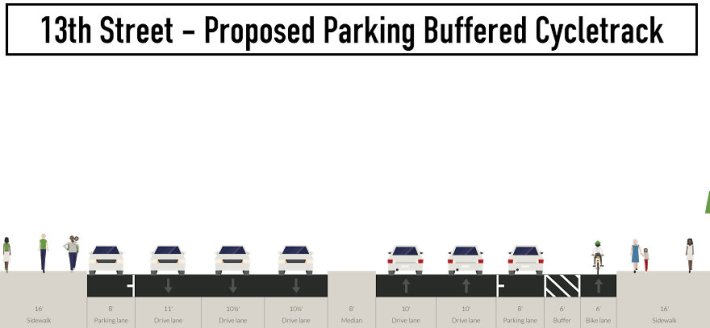 San Francisco may get its first downtown parking-protected bike lane on 13th Street this spring. The SFMTA will be taking comments on the plans at a hearing tomorrow morning.
The bike lane would be installed only in the westbound direction of 13th underneath the Central Freeway, from Bryant to Folsom Streets. It would complement the existing eastbound bike lane on 14th Street, providing a safer route on a "key east-west corridor for people biking to destinations like the Caltrain Station, the Mission District, AT&T Ballpark, and the South Beach area in general," said SFMTA Livable Streets spokesperson Ben Jose.
It would be the city's first parking-protected bike lane other than the one on John F. Kennedy Drive in Golden Gate Park. Like the JFK bike lane, the 13th Street redesign is a big change to the geometry of the street that doesn't require much in the way of construction. All it takes is painting a curbside bike lane with a buffer zone between parked cars.
Although there are plans underway for similar designs on other streets, including Second Street, the 13th Street project is apparently on a fast track to be implemented first.
Jose said a four-block bike parking-protected bike lane on Bay Street along Marina Middle School, which was originally scheduled to be installed last fall, may be implemented around the same time as the 13th Street one.
The 13th Street project would set a real precedent, demonstrating how SoMa's wide, car-dominated streets can be tamed with protected bike lanes. A general traffic lane will be removed to create the bike lane, calming motor traffic.
"This project helps connect two important bike routes and addresses a serious safety gap on a street that has had two fatalities in as many years," said Chema Hernández Gil, community organizer for the SF Bicycle Coalition. "We're glad to see the SFMTA take action to make people safer, and hope similar improvements can happen on the other side of Division to improve safety for people biking in either direction."
Jose said an eastbound bike lane on 13th has not been proposed yet because it would apparently require a longer planning process, and "we are trying to expedite the safety improvements in this current proposal."
Along the corridor of 13th, which turns into Division, Jose said there were 106 traffic crashes from 2007 to 2012 between Folsom and the traffic circle at 8th, Townsend, and Division Streets. In October 2013, 78-year-old Cheng Jin Lai was killed on his bike by a Muni bus driver at the intersection of Bryant, Division, and 11th.
Division was targeted for safety improvements in the SFMTA's list of 24 Vision Zero projects to be installed in 24 months. Jose said the project would also include pedestrian and bike safety improvements at several of the notoriously dangerous intersections along the corridor.
The 11th Street intersection would get pedestrian safety upgrades, and 9th and Division would get a new sidewalk, painted bulbouts, and new stop signs. The one-way block of 9th Street, north of Division, would become two-way. In addition, the traffic circle at 8th, Townsend, and Division would get "improved [bike] channelization and sharrows," and the existing bike lanes on Division between the traffic circle and 9th would be "enhanced" with "more separation including a parking-protected design."
These design measures represent some solid first steps toward the comprehensive redesigns that advocates have called for along 13th and Division. The timeline also shows how quickly the SFMTA can implement safety measures, which usually take years to reach fruition instead of months.
The project will be on the agenda for a hearing tomorrow at 10 a.m. at City Hall, Room 416, after which it's expected to go to the SFMTA Board of Directors for approval in February. You can weigh in on this project, as well as the Polk Street redesign, by speaking in person or emailing sustainable.streets@sfmta.com.
Aaron was the editor of Streetsblog San Francisco from January 2012 until October 2015. He joined Streetsblog in 2010 after studying rhetoric and political communication at SF State University and spending a semester in Denmark.
Stay in touch
Sign up for our free newsletter