Oakland
New Oakland Mayor Libby Schaaf: "Time to Re-Envision Our Roads"
5:03 PM PST on January 30, 2015
New Oakland Mayor Libby Schaaf showed promise as an executive with a smart vision for her city's streets at the annual kick-off party for Young Professionals in Transportation's SF Bay chapter this week.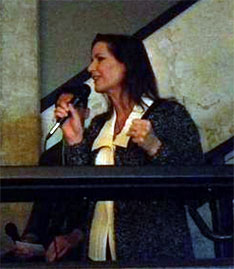 In an interview at the event with Sam Greenspan of the podcast 99% Invisible, Schaaf said "it's time we re-envision how we use roads" and that "we need to create a physical environment that encourages active transportation."
An Oakland native and former council member, Schaaf was endorsed by Transport Oakland, a group formed last year to advocate for safer streets and better options to get around the city.
Here are some highlights from Schaaf's appearance this week:
"I think it's time we re-envision how we use roads. It's their public right-of-way. We've got a great story to tell at Lake Merritt... There used to be a freakin' freeway on either end of the lake, and we removed multiple lanes of traffic, we put in a public plaza on one end, where there are free Salsa dance lessons -- I mean, it is a party going on every weekend where there used to be roads... Nobody misses those lanes of traffic at all. Our roads were built to accommodate more cars than they need."
Schaaf intends to hire Oakland's first mayoral transportation advisor, whom she "plans to announce soon."
When asked about how she sees Vision Zero, she said "twenty is plenty" (referring to the UK-based campaign for 20 mph speed limits), and noted two recent pedestrian fatalities within the past week. "I don't think anybody supports traffic fatalities," she said.
"Oakland is multi-modal... we need to create a physical environment that encourages active transportation. It's good for our health, for our social interactions, for our humaneness."
When asked about expanding Oakland's bike network, Schaaf pointed to the city's first protected bike lane going in on Telegraph Avenue this year. She also emphasized the need to re-pave the city's roads since potholes "can be deadly" for people on bikes, and because the costs of road maintenance increase dramatically when neglected for too long.
Schaaf plans to campaign for a transportation bond measure in 2016 to add to Measure BB, the half-cent sales tax increase approved by Alameda County voters in November that will raise $7.8 billion in transportation funding over 30 years.
On the proposals for streetcars on Broadway and San Pablo Avenue, and the contrast with bus rapid transit improvements, she said "that's going to be a big hot debate -- one (bus transit) is more of a transportation solution, and the other is more of an economic development solution."
"The issue about bus vs. rail is part of the gentrification and equity conversation... it's incredibly important to educate our elected officials not to always just look at the shiny, pretty thing, because buses are what we need to actually get people to their jobs." (No comment specifically on the Oakland Airport Connector, though it sounds like her take could apply to that project.)
Schaaf noted the blight caused by freeway underpasses, and suggested turning them into a "tunnel of wow" possibly with decorative features, shops, and amenities to make them feel safer and more attractive. "What about those freeways?" she asked, stopping short of mentioning freeway removal.
On the proposed second Transbay BART tube through Alameda and Mission Bay: "It will not be cheap... I think it will really reduce congestion. I hella love Oakland, but we do need to think regionally, and it would make a lot of sense for the region."
Aaron was the editor of Streetsblog San Francisco from January 2012 until October 2015. He joined Streetsblog in 2010 after studying rhetoric and political communication at SF State University and spending a semester in Denmark.
Read More:
Stay in touch
Sign up for our free newsletter