Bicycling
One Year Into Vision Zero, Advocates Call for Bolder Action From City Hall
6:34 PM PST on February 11, 2015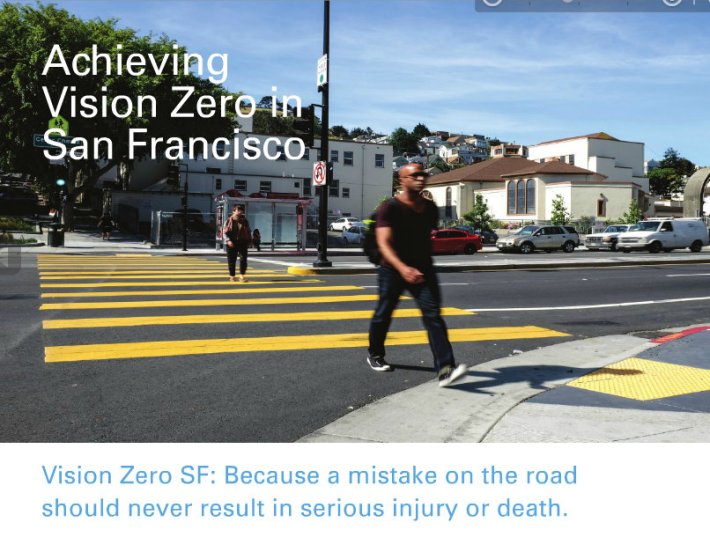 A year after City Hall officials first pledged to embrace Vision Zero, safe streets advocates have released a report [PDF] reviewing the state of efforts to end traffic fatalities by 2024. City officials simultaneously released a "Vision Zero Strategy" [PDF] for the next two years. Both documents were released in conjunction with a new program requiring video training for city truck drivers on safe urban driving, announced at a press conference yesterday.
The progress report from the Vision Zero Coalition, a group of nearly 40 community organizations led by Walk SF and the SF Bicycle Coalition, says City Hall has "made important progress" with nine agencies endorsing the goal. Extensive research has also been done in recent years through the WalkFirst program to identify which streets see the highest rates of pedestrian injuries.
But to ensure that City Hall's embrace of Vision Zero turns into life-saving action, advocates say efforts need to ramp up in 2015 to slow driving speeds and curb the most dangerous driving behaviors. Physical street design measures, data-driven traffic enforcement, and education campaigns are key to creating a safer driving culture.
Expectations this year "are definitely going to be high," said Walk SF Executive Director Nicole Schneider.
"There's huge public support for Vision Zero. Now Mayor Lee and his city team need to turn this into action," said a statement from Noah Budnick, the new executive director of the SF Bicycle Coalition, who previously campaigned for Vision Zero in New York City. "The SFMTA must get proven safety improvements onto our streets as fast as they can, and the SFPD must crack down on reckless drivers who put San Franciscans at risk. There's no time to waste to save lives."
The Vision Zero Coalition's report calls for three goals to be met this year, including a city-led campaign already underway to change state law to allow enforcement through speed cameras. The Coalition also want SFPD to increase the share of "Focus on the Five" citations to 37 percent of all traffic citations in 2015 and to meet the department's official 50 percent minimum by 2016. So far, all SFPD stations except one have yet to come close to that goal, and the new Traffic Company Commander, Ann Mannix, has not promised to meet it.
The report also calls on agencies like the SFMTA and Department of Public Works to expedite physical safety measures on 18 miles of high-injury corridors annually. The city's two-year Vision Zero Strategy, which is an update to the Pedestrian Strategy and the WalkFirst plan, sets the annual bar at 13 miles.
"One of the most important things we can do is get those projects on the ground, make sure that every street that we touch becomes a safe street, not just a safer street," said Schneider. "Vision Zero is about creating a system where human error does not result in death or serious injury."
Schneider said the language used in the city's strategy mostly indicates that its authors "get" the concept of Vision Zero. But it includes few measurable benchmarks, aside from already-established goals like the 13 miles of street improvements, and SFPD's "Focus on the Five" goal.
SFMTA Director Ed Reiskin said the pace of street improvements should ramp up this year, after city voters in November approved funding boosts for transportation improvements through Propositions A and B. Voters also rejected Proposition L, which was aimed at preventing change to the streets.
"We've been doing some of the design work in anticipation of the voter approval of Prop A, so we do have projects that are ready to go," said Reiskin, noting that many of the improvements, such as sidewalk extensions, will "dovetail" with transit upgrades planned under the Muni Forward program.
Reiskin said safe streets advocates "have been at the tip of the spear to rally community groups, neighborhood and business associations, in support of Vision Zero to help increase awareness across the city, but also to hold our feet to the fire, to hold us accountable, and push us to do as much as we can possibly do... to achieve this goal."
While driving any vehicle at high speeds on city streets poses risks for people walking and biking, drivers of large trucks have the greatest propensity to kill.
Reiskin pointed out that "in a five-year period, large vehicles represented only four percent of all collisions, but accounted for 17 percent of all bicycle and pedestrian deaths." All four people who died while bicycling in SF in 2013 were killed by truckers, including 24-year-old Amelie Le Moullac, whose family was awarded $4 million in a civil lawsuit last month after the driver was found to be negligent.
Truckers who work for or contract with the city will be required to undergo a new video-based program on safe city driving. SFMTA officials say it's the first such program in the country that they know of.
"The goal ultimately is that anyone who's coming into the city with a large vehicle understands how to move around the city," said Reiskin, "because it's a different environment than a lot of them see as they're criss-crossing the country, with our density and high volumes of pedestrians and cyclists."
Mayor Ed Lee told SFBay, "As you're turning corners, as you're going down our corridors, as you're coming out of construction sites and into them or you're at the store delivering and picking up, each and every one of these situations has the ability to hurt someone and we want everyone to be that much more aware."
SFMTA planner John Knox White told Bay City News that the training video should help clear up deadly confusion among drivers about how to legally make a right turn across a bike lane, which has resulted in "right-hook" crashes like the one that killed Le Moullac in SoMa.
Other safety features can be added to trucks like sideguards that prevent bicyclists from falling underneath the wheels. On Monday, for instance, New York City Mayor Bill de Blasio announced that sideguards would be installed on 240 city trucks, the first phase in what could be a much bigger initiative.
Ultimately, Vision Zero is about "changing part of our society that has become so ingrained in what we are today," said Schneider, "a society that sees a collision as an accident, that sees these things as unavoidable. We're changing that so we can actually be on our streets, have community on our streets, rather than fear on our streets."
Aaron was the editor of Streetsblog San Francisco from January 2012 until October 2015. He joined Streetsblog in 2010 after studying rhetoric and political communication at SF State University and spending a semester in Denmark.
Read More:
Stay in touch
Sign up for our free newsletter