Caltrain
Atherton Joins HSR Opponents to Sue Caltrain; Menlo Park Drops Its Suit
3:23 PM PST on February 17, 2015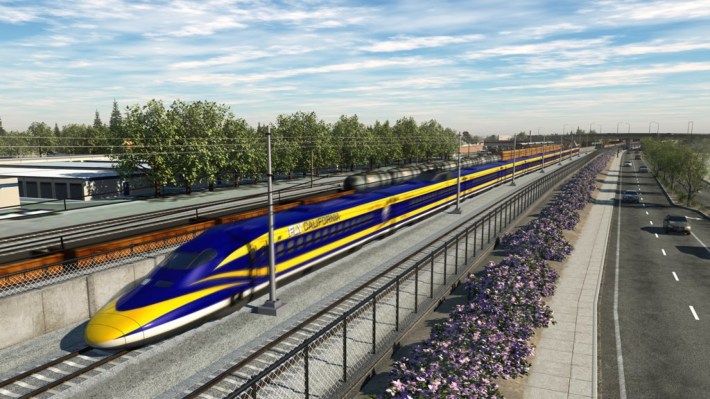 Last week, the Town of Atherton teamed up with opponents of California High-Speed Rail to file a lawsuit against Caltrain [PDF]. The City of Menlo Park, meanwhile, dropped threats to file a similar lawsuit, one week after listing five issues that the city wants Caltrain to resolve.
Caltrain must complete its electrification project before it starts sharing track, in what's known as the blended system, with high-speed trains, which are scheduled to start running in 2029. The lawsuit from Atherton and two groups opposed to CAHSR asserts that Caltrain violated the California Environmental Quality Act (CEQA) by conducting environmental impact reports of electrification and the blended system separately, rather than a single project.
"If the project is truly a stand-alone project -- independent of serving as a precursor to the blended system – it is hard to understand why providing electrical infrastructure compatible with the blended system should be a major project purpose," states the lawsuit.
The suit argues that the impacts of several changes for the blended track system weren't disclosed in the electrification EIR: The reconstruction of curved sections of track for 110 mph trains, the cumulative traffic impacts on at-grade crossings when high-speed trains overtake Caltrain trains, and how high-speed trains sharing the tracks could limit the expansion of Caltrain service in the future.
Caltrain officials said that because the electrification and CAHSR each have "independent utility," the California Environmental Quality Act (CEQA) allows them to be analyzed in separate environmental documents.
"Caltrain electrification is planned to be in operation starting in 2020, and can then immediately start to provide project benefits in terms of improved service, lower fuel costs, improved air quality, reduced greenhouse gas emissions, and lower operational subsidy for Caltrain compared with that of a diesel system," Caltrain officials wrote in response to Atherton's comments on the draft EIR.
Atherton argues that even when viewed as a stand-alone project,  the Caltrain electrification EIR is inadequate, and that specific impacts and mitigation measures were ignored.
"The significant safety impact of expanding service through grade crossings, such as that at Watkins Avenue in Atherton, which are already unsafe and whose safety will be significantly and adversely affected by the increase in service," states the lawsuit.
Caltrain turned down Atherton's January 21 request that the agency partially pay to install "quad gates" at Watkins Avenue, arguing that the electrified trains' advanced signal system will make them safer than today's trains, even if trains are more frequent. Quad gates block access to the tracks when trains are passing by, lowering gate arms from both sides of the street, and would allow Atherton to establish a "quiet zone" restricting Caltrain from blowing its horn in the vicinity.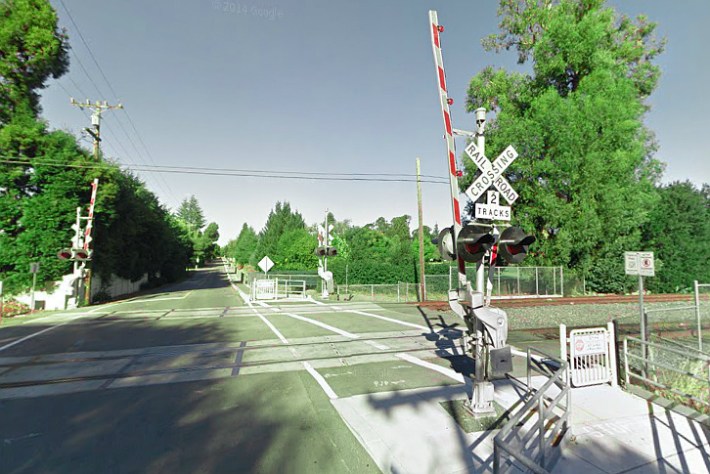 Atheron's lawsuit also claims that the EIR didn't analyze the impacts of tree removal pruning required for side-mounted electric poles, urging alternatives like center-mounted poles or "selective track movement." Caltrain officials have not committed to any specific design but said they'll propose an electric pole placement "that most effectively minimizes removal of trees along the corridor."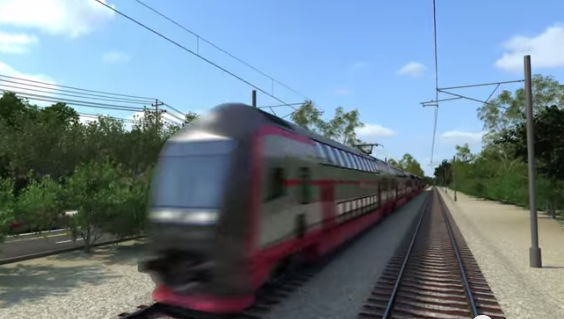 "What is not part of the electrification project are local interests in grade separations or quad gates," Caltrain Modernization Program Executive Officer Marian Lee said at a February 5 board meeting. "We're poised, we're ready, we have a solid environmental document, and we will continue to work with all of the cities, regardless of legal action or not."
The City of Menlo Park decided, however, that filing a lawsuit would not be productive. Earlier this month, Public Works Director Jesse Quirion wrote to Caltrain that the city is satisfied with the agency's responses "regarding tree replacement, traffic, service, and support for future grade separations" [PDF].
Without any delays, construction on Caltrain electrification is set to begin in 2016, and electric trains could run by 2021.
Andrew Boone covers the Livable Streets Movements for Streetsblog in San Mateo and Santa Clara counties. Andrew's claim to fame is once having bicycled more than 12,000 miles of smiles in one year. nauboone@gmail.com
Stay in touch
Sign up for our free newsletter