Muni
Halted By Noise Complaints, N-Judah Tunnel Upgrades Expected to Resume
5:34 PM PST on February 25, 2015
The SFMTA is expected to resume work to upgrade the Sunset Tunnel for the N-Judah after construction was halted by a permit appeal from neighbors who complained about noise. Crews have skipped four weekends of work, adding unknown costs and at least a month of delay to the project.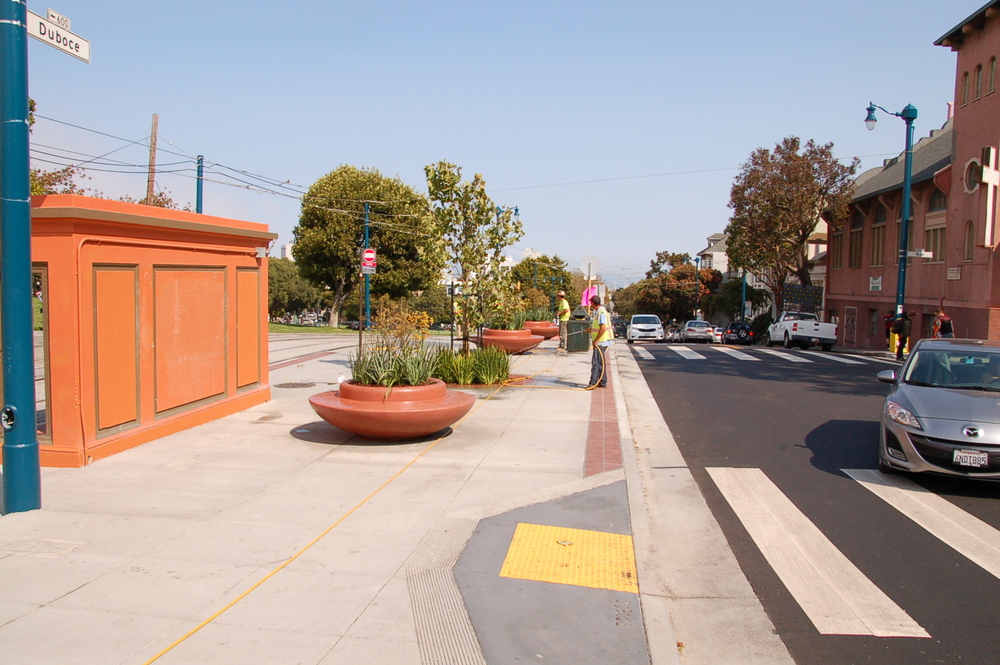 The appellants complained that the noise, particularly from backup alarms used on construction vehicles, deprived them of sleep during overnight work. The SFMTA says the work can only be done on weekends, including nights, so as to keep trains moving on weekdays, when ridership on Muni's busiest line is at its highest.
The issue is expected to be officially resolved at a Board of Appeals hearing today, after which "there will be a ten-day waiting period," said SFMTA spokesperson Paul Rose. "During that time we will be able to develop a schedule to move forward with the work."
Bud Offermann, who filed the appeal, said neighbors near the Sunset Tunnel's East Portal at Duboce Park have agreed to the use of a new "broadband" backup alarm, which is quieter for neighbors but still satisfies the safety requirements of the Occupational Safety and Health Administration.
"I think we're 100 percent," said Offermann, though he still wants some "work practice changes" to be approved. He said he would have already withdrawn the appeal and cancelled the hearing, but the SFMTA "pissed off so many people, there are a few individuals who want to have their say."
Originally, the appellants wanted much more than a different alarm sound, including paid-for hotel accommodations or the use of a signal person to substitute for the alarms. The contractor, ProVen, said a signal person would add $25,000 in costs per weekend, according to appeal documents [PDF].
ProVen challenged many of Offermann's claims. Offermann said he had submitted a petition with 55 signatures from neighbors, but ProVen pointed out that there were actually 45, and that "20 percent of the signatures are from residents that are far outside of the construction zone." ProVen also said the noise measurements submitted by Offermann took place in "an alcove that will magnify noise readings," and that his assertion that the noise warranted all workers to wear ear protection "has no validity."
Offermann said neighbors were satisfied by a demonstration of the new alarms, but that the SFMTA will still consider the first weekend a trial period and could halt work again if appellants aren't satisfied.
"I think they will be acceptable," said Offermann. "We all know it's an important project -- it needs to be done. It just need to be done a little quieter."
The project will replace the worn-out tracks in the Sunset Tunnel, which is expected to allow the N to travel through it faster. Crews will also replace the overhead wires and make seismic and fire safety upgrades to the tunnel.
The tunnel work, done in conjunction with the installation of transit-priority traffic signals at nine intersections along the N's route, requires 11 weekends of tunnel closures, during which buses are run on the streets as a substitute. In total, the construction requires 15 weekends and was scheduled to wrap in June before work was halted.
The SFMTA hasn't responded to a request for figures on the expected costs or delays added to the project.
Offermann said the SFMTA had suggested neighbors wear earplugs, which "infuriated a bunch of people."
"Some people find them uncomfortable, which would be me, and you don't hear things in your house which might be important -- someone breaking in, water overflowing, alarms."
Aaron was the editor of Streetsblog San Francisco from January 2012 until October 2015. He joined Streetsblog in 2010 after studying rhetoric and political communication at SF State University and spending a semester in Denmark.
Stay in touch
Sign up for our free newsletter