Scott Wiener
Wiener to SFMTA: Don't Warn Double-Parkers, Cite Them
5:15 PM PDT on March 13, 2015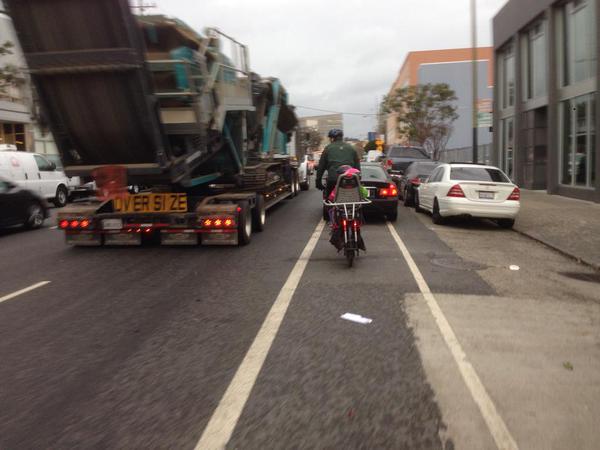 Typo correction: The SFMTA says commercial vehicles are only allowed to double park when there is no legal parking space nearby.
At a hearing this week on the prevalence of double-parking in SF, Supervisor Scott Wiener said parking control officers shouldn't give double-parked drivers a chance to move before receiving a citation.
"If the worst thing that's going to happen to you is you're going to be asked to move, how is that in any way a disincentive to double parking?" Wiener asked SFMTA Parking Enforcement Director Cameron Samii.
Samii said that such warnings are only given to delivery drivers, and only when there is no legal nearby parking space and they are not blocking a Muni line or "creating a hazard." He said an exemption in state law allows commercial drivers to double park while loading under those conditions.
However, private auto drivers have long been known to get off with warnings, and there is no clear evidence that practice has changed. And for people on bikes, any double-parked vehicle creates a hazard.
Double-parking tickets have recently been on the upswing, however, with monthly citations rising from 1,808 in September to 2,947 in January, though they dropped again slightly in February to 2,495 [PDF]. Compared to all double-parking tickets, bike lane violations increased at a faster rate, from 110 in September to 285 in January.
The SF Bicycle Coalition recently conducted a social media campaign called #ParkingDirtySF, asking the public to tweet photos of drivers parked in bike lanes and blocking intersections. With more than 500 responses, the SFBC listed the 15 worst locations and the most common types of violators.
Samii did acknowledge that being asked to move "is not a disincentive," though even when commercial drivers receive citations, they accept it as "the cost of doing business."
Wiener first held a hearing about the lack of enforcement to deter double-parking in September 2013, but citations dropped 9 percent in 2014 compared to the previous year, which Samii blamed on staffing attrition. Parking control officers are regularly subjected to intimidation and violence from drivers, and keeping them on board is a challenge.
But lax enforcement is also ingrained at the SFMTA and SFPD.
At the 2013 hearing, Lea Millitello, a former SFPD lieutenant who was then the SFMTA's director of security, investigations, and enforcement, said that "in many instances, a citation is kind of a last resort." She also promised the SFMTA would not start to ticket double-parking by churchgoers on Sundays, calling the exemption "part of San Francisco's history." Church parking wasn't discussed at this week's hearing.
Despite the drop in total double-parking tickets from 2013 to 2014, Samii said citations for parking in bike lanes increased from 1,213 to 1,424.
Double-parking tickets dropped steeply on busy Muni corridors such Geary Boulevard and Third Street, though transit-only sections on both corridors have received the red paint treatments, and Muni has been installing enforcement cameras on all buses, which allow tickets to be mailed to transit lane violators. It's possible those measures could have reduced double-parking, though Samii didn't mention if they did.
Mission Street, a notoriously-clogged transit corridor, saw the most double-parking tickets by far over the last three years. Tickets spiked from 1,500 in 2012 to 2,200 in 2013, but dropped to less than 1,600 in 2014.
Samii noted that the SFMTA is also struggling to enforce other violations, including a new campaign against box-blocking and the new shuttle regulation pilot program, which requires PCOs to ticket commuter shuttles that use Muni stops without a permit.
When Wiener asked what needs to be done for the SFMTA to increase its PCO staff, Samii said the agency is working with consultants to develop "an optimization tool" that "will give us some sense of what the right level" of staffing is. "It doesn't make sense to me to say I need more people on double parking without an understanding of what I have to give up for it," said Samii. He promised to report back to the supervisors in about two months on those efforts.
Supervisor Malia Cohen said there seems to be a surging number of drivers for ride-hail apps like Uber and Lyft "completely disregarding traffic rules," as they stop to pick up and drop off passengers. She asked if there is a way to increase fines for those drivers in particular, but Samii said that may require state legislation.
Wiener said he doesn't think increasing fines will help, and that the problem is that "there appears to be very little double-parking enforcement, period."
Double-parking is "a pretty equal opportunity endeavor" which drivers of all types tend to do, he said. "I really don't care" if it's a taxi, ride-hail driver, delivery driver, or a private auto driver. "It doesn't matter. They're blocking traffic."
Aaron was the editor of Streetsblog San Francisco from January 2012 until October 2015. He joined Streetsblog in 2010 after studying rhetoric and political communication at SF State University and spending a semester in Denmark.
Read More:
Stay in touch
Sign up for our free newsletter