David Chiu
Chiu Bill Would Let Muni Cameras Ticket Drivers Cruising in Transit Lanes
5:31 PM PDT on March 30, 2015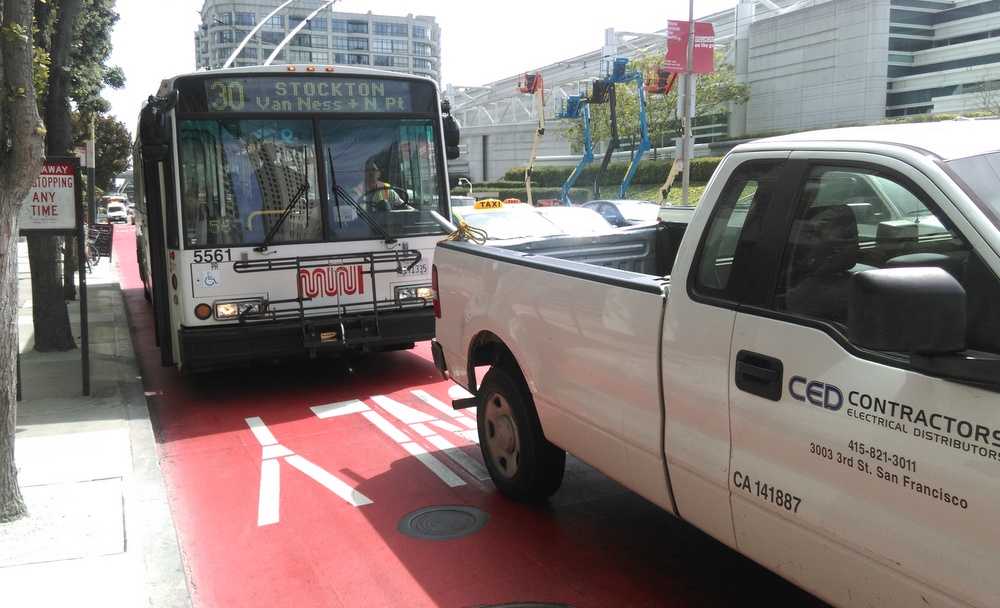 Assemblymember David Chiu has proposed a bill to give Muni greater authority to keep transit-only lanes and bus stops clear of cars using the enforcement cameras that are now on every bus.
AB 1287 would allow Muni to issue citations to drivers who delay transit riders by cruising down transit-only lanes, parking in bus stops, and blocking intersections. It would also make the camera enforcement program permanent, as it's currently a pilot program due to expire at the end of the year.
It's the first transportation bill at the state level from Chiu, who was elected to the State Assembly in November after serving as District 3 Supervisor.
Camera enforcement "is about making dedicated space for buses work as well as possible," Chiu said at a press conference today. "We all know that Muni is simply too slow, with an average speed of 8 mph. Transit-only lanes are critical to letting Muni do more than just crawl through our congested streets. For bus-only lanes to work, they can't have cars double-parked or driving in them."
Currently, Muni can only use cameras to ticket drivers who park in transit lanes, as spelled out by the bill that established the pilot program in 2007. Moving violations must be enforced by the SFPD, and drivers who park in bus stops and transit lanes, or block intersections, can only be cited by police or parking control officers on the scene.
Chiu's bill would allow the SFMTA to send out tickets for moving violations captured on camera. Drivers caught cruising in a bus lane would get a $110 parking citation -- which costs less than a moving violation.
Chiu said Muni is the first known major transit agency to install cameras on every bus and, if his bill is passed, would be the first to be authorized to ticket all transit lane violators.
While Chiu said he has yet to secure co-sponsors in the legislature yet, he's confident the bill will pass. "This was a significant discussion a number of years ago" when the pilot program was re-authorized in 2011, "and there was good support at the legislature for that."
The bill is backed by Mayor Ed Lee, who didn't attend the press conference, but issued this statement:
San Francisco continues to experience unprecedented growth, and as a result, has an increased demand on our streets. AB 1287 will reauthorize our City's transit-only lane enforcement to help make Muni, taxis, shuttles, bikes, and cars move around the City more smoothly and predictably, and can make the streets safer for everyone, particularly pedestrians.
SFMTA chief Ed Reiskin emphasized that expanding camera enforcement is not about generating revenue but about "compliance, to keep people out of where they shouldn't be."
Violators are "inconveniencing thousands of people and creating an unsafe situation," said Reiskin. The SFMTA is expanding transit-only lanes, he said, and "we can't make those effective without this program."
Supervisor Scott Wiener, who has led the charge at City Hall for more double-parking enforcement, said the message should be, "If you stop your car in a transit-only lane, you are going to get a ticket, period. I can tell you that people will very quickly realize that and stop doing it."
SF Transit Riders Union Chair Thea Selby, a Lower Haight resident, said her commute has been "halved" by the contra-flow transit lane on eastern Haight Street, which eliminated a detour for riders on two bus lines and lets them bypass a queue of highway traffic. Those kinds of improvements, she said, move Muni closer to SFTRU's vision of an "awesome" system for riders.
According to Chiu's office, camera enforcement has helped speed up Muni trips on 26 miles of transit lanes, with a 15 percent improvement on downtown Sutter Street.
Under Chiu's bill, drivers caught blocking intersections where bus cameras are in use could also receive tickets in the mail, which would aid the SFMTA's recent efforts to step up enforcement against "box blocking" at chronically-plagued intersections in SoMa. That could help move Muni riders and keep crosswalks free of stopped vehicles.
Reiskin said camera-based enforcement is targeted toward the streets with the most problematic violations, and that the SFMTA doesn't review every second of bus camera footage.
At the press conference, Walk SF Executive Director Nicole Ferrara (formerly Schneider) praised the expansion of camera enforcement. "Transit is the middle leg of a walking trip," she said. "Everyone that takes transit is a pedestrian."
Chiu stopped short of saying he'd like to see bus camera enforcement authorized statewide if SF's program continues to prove successful, but would wait for other jurisdictions to consider adopting the program as they see the results. "It's a pilot that we think has worked in recent years, and we want to... be able to someday point to it as a model of how we keep our streets less congested."
Aaron was the editor of Streetsblog San Francisco from January 2012 until October 2015. He joined Streetsblog in 2010 after studying rhetoric and political communication at SF State University and spending a semester in Denmark.
Stay in touch
Sign up for our free newsletter