Parking
Menlo Park's Plan to Ruin Downtown With Parking Garages
4:26 PM PDT on April 20, 2015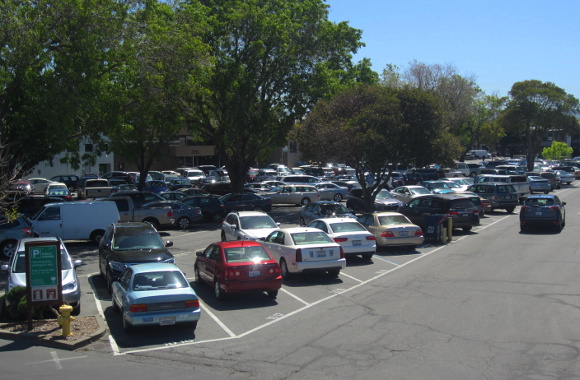 Building new parking garages in downtown Menlo Park will cost tens of millions of dollars while clogging streets with more traffic. But that's what municipal leaders are seriously considering in an attempt to boost business, apparently oblivious to modern parking policies that have paid off for other Peninsula cities.
Last month, the Menlo Park City Council voiced support for building a new five-level parking garage on top of one of the city's surface parking lots, called "parking plazas." The project is estimated to cost between $29,000 and $43,000 per parking space -- adding up to several million dollars. The council is also considering extending time limits for downtown parking spaces, having concluded that the current time limits on free parking discourage shoppers from visiting businesses on Santa Cruz Avenue.
Menlo Park maintains 1,595 free parking spaces in its downtown core (the area bounded by El Camino Real, University Drive, Oak Grove Avenue, and Menlo Avenue). The current time limits, set in 2011, are 15 minutes, one hour, or two hours, depending on location. In some spaces, drivers can exceed the two-hour limit by paying $1 per hour after it expires. Also available are $10 daily permits and $592 annual permits.
The council proposed doubling the time limits on the 15-minute and one-hour spaces and extending the two-hour spaces to a three hour limit, with the intention of giving customers arriving by car more time to spend at Santa Cruz Avenue businesses.
"We have the foot traffic, and then we take a stick and chase [customers] away as soon as they finish lunch," said Mayor Catherine Carlton of the current time limits.
"I just want to make it as easy as possible for families and our seniors to patronize our local business and our restaurants downtown," said Council Member Ray Mueller, who described the current time limits as outdated, based on parking data collected in 2009 during an economic recession.
But what's really outdated is the idea that giving away more free parking will be good for downtown. Time limits are a blunt and ineffective means to ration access to parking. For years, UCLA professor Donald Shoup, the nation's leading expert on parking policy, has counseled cities to instead manage parking by pricing it properly, so that some spaces are always available.
By extending time limits, Menlo Park will only make it harder for driving shoppers to find a parking space during peak hours, causing them to spend more time cruising for spots and clogging downtown streets. Anticipating this problem, the city is now considering building a new parking garage.
"We really ought to try and figure out a way to get one of the parking structures scoped out and built," said Council Member Peter Ohtaki, "so that it will alleviate some of the stress on the plazas that then can be prioritized for customer parking."
Menlo Park's 2012 El Camino Real & Downtown Specific Plan proposed building five five-level parking garages on the city's parking plazas over the next 20 years. At the time, the estimated construction costs ranged from $11 million for a 250-space garage to $21 million for 650-space garages.
But the same plan also advised a number of lower-cost measures to manage existing parking spaces so that "the number of new parking spaces needed may be reduced and the timing for constructing a parking garage may be postponed."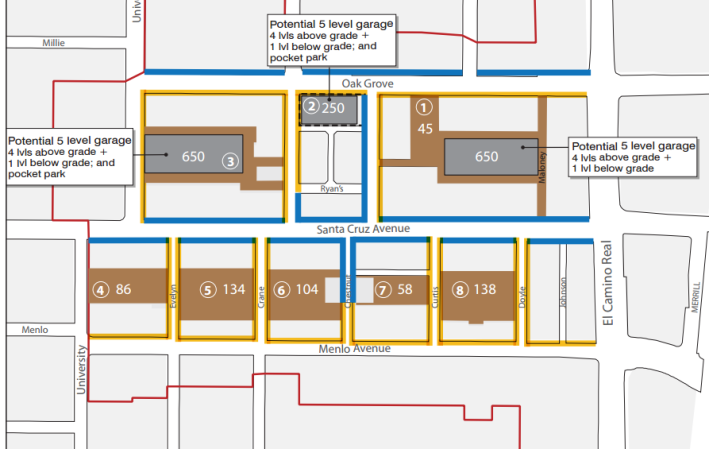 Those recommendations include setting hourly prices for downtown parking spaces to keep a certain number of spaces free, while removing time restrictions entirely. Neighboring Redwood City has used this strategy since 2005 to manage 2,774 on-street and off-street parking spaces in its downtown, with rates currently set at $1 per hour in the city's downtown core. Menlo Park has not yet studied this option in detail.
New revenues from metered parking in downtown Menlo Park could be used to fund alternatives to driving, such as free or reduced-price transit passes for downtown employees or infrastructure improvements, including wider sidewalks and better bicycle parking. Other programs to reduce demand for car parking could be funded through a Transportation Management Association (TMA) of downtown businesses, similar to those now established in San Mateo and Palo Alto.
The next step of the downtown parking garage project is a $200,000 feasibility study, recommended by the city's Planning Commission in January to be included in its 2015-2020 Capital Improvement Plan [PDF], scheduled for City Council review in May and June.
Andrew Boone covers the Livable Streets Movements for Streetsblog in San Mateo and Santa Clara counties. Andrew's claim to fame is once having bicycled more than 12,000 miles of smiles in one year. nauboone@gmail.com
Stay in touch
Sign up for our free newsletter