Bicycling
SFMTA Says It's Just Getting Started on Protected Bike Lanes
5:39 PM PDT on May 14, 2015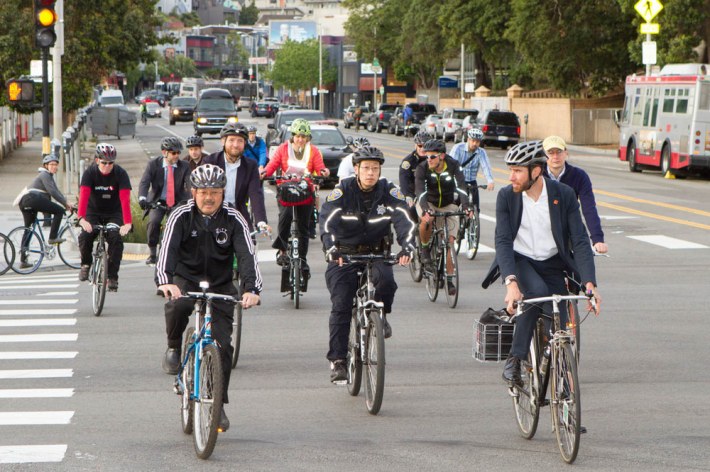 City officials gathered for another Bike to Work Day rally at City Hall today to cheer for bicycling, celebrating a 206 percent jump in ridership since 2006, according to a new annual bike count released by the SFMTA today. There was the usual citation of bike traffic on eastbound Market Street at Van Ness Avenue: 76 percent of all vehicles between 8:30 and 9:30 a.m. were bikes.
So, was it another feel-good event in lieu of action? Maybe not...
After significant wins at the ballot box in November, these Bike to Work Day festivities felt a little different. There was legitimate cause to believe the city will accelerate its progress on bike infrastructure.
In 2015, the SFMTA expects to implement or start construction on an unprecedented 23 miles of bikeway upgrades, Sustainable Streets Director Tom Maguire told Streetsblog. Then the real boom in bike infrastructure is expected to start in 2016, when "we're going to look back and say, that was nothing."
"We're definitely going to be seeing more, better, and faster," said Maguire. "That's where we want go with the Bike Strategy." As someone who helped deliver improvements at a rapid clip in New York City, Maguire's word carries weight.
At the rally, Mayor Ed Lee touted the planned ten-fold expansion of Bay Area Bike Share and noted the need for "more sustainable ways to get around" as development and population increase.
"We are making it easier and safer to bike around our city with improved bike infrastructure and bike-share opportunities," Lee said in a statement. "Biking isn't just fun, practical and healthy; it also helps cut down on congestion. Every person on a bike is one less person in your traffic jam or fighting for a parking spot."
A fine speech, but one that the mayor has given before without making the necessary decisions to back it up. It was only two months ago that Lee refused to say that protected bike lanes, which encourage bicycling and save lives, are more important than car parking.
Here's the roster of officials who biked to City Hall this year along with Mayor Lee: SFPD Chief Greg Suhr, Department of Public Works Director Mohammed Nuru, SFMTA Director Ed Reiskin, and Supervisors Eric Mar, Mark Farrell, Julie Christensen, Katy Tang, Jane Kim, and Malia Cohen. Absent were Supervisors Scott Wiener, David Campos, Norman Yee, John Avalos, and London Breed.
What's different this year is that voters sent some clear signals at the polls. "Every neighborhood in San Francisco is asking for safer streets," said Maguire. "What the design looks like on every block is going to be different, but there were victories for Prop A and Prop B, [voters] defeated Prop L -- it was proven at the ballot box. That's the kind of momentum we want to go by." Proposition L, a cars-first advisory measure, was funded last year by Lee backer Sean Parker.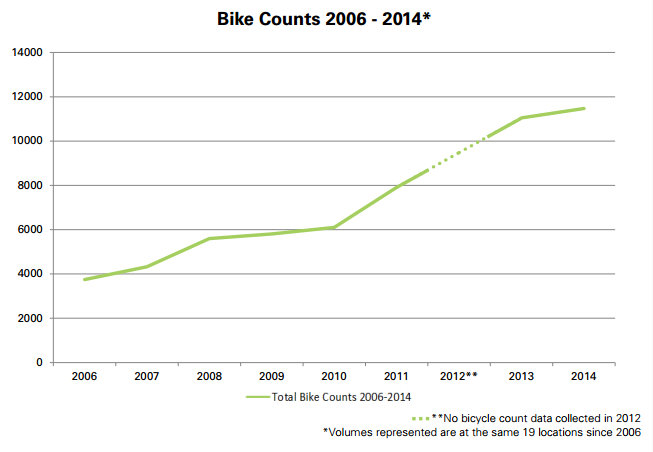 The new citywide bike counts released by the SFMTA show a steep rise in bicycling starting in 2010, after the bicycle injunction was lifted and the city began to roll out the bike infrastructure crafted in the 2009 SF Bike Plan. By now, only a handful of major, capital-intensive projects in that plan have yet to be built. But the bicycling increase has tapered off recently, with just a 1 percent increase from 2013 to 2014.
The 23 miles of bike route upgrades in store for this year, listed in a post from the SF Bicycle Coalition, vary in importance. The projects include the first raised bike lanes in SF, though they're not very long, with each running for one block, in one direction only. One will be on eastbound Market Street between Gough and 12th Streets, and the other will be on the southern end of Valencia Street at Mission Street (pictured at top).
The first downtown parking-protected bike lane is also coming to two blocks of westbound 13th Street. A similar design for four blocks of Bay Street in the Marina, originally expected last fall, is also promised this year.
The list also includes initial improvements on Polk and Second Streets, which are set for protected bike lane redesigns that were delayed by a year, with construction to start in 2016. Other upgrades include green paint and wider buffer zones for existing bike lane segments on streets like Howard, the Embarcadero, and Webster. Bike lanes will be widened on western Sloat Boulevard and extended on Folsom Street in the Mission. On Treasure Island, 1.8 miles of "sharrows and/or bike lanes" will be added on two street segments.
Two of the SFMTA's biggest projects included in the 2015 mileage count will break ground this year and wrap up in 2016: the redesigns of Masonic and Potrero Avenues. The SFMTA counts Masonic for 1.3 miles and Potrero for 2.8.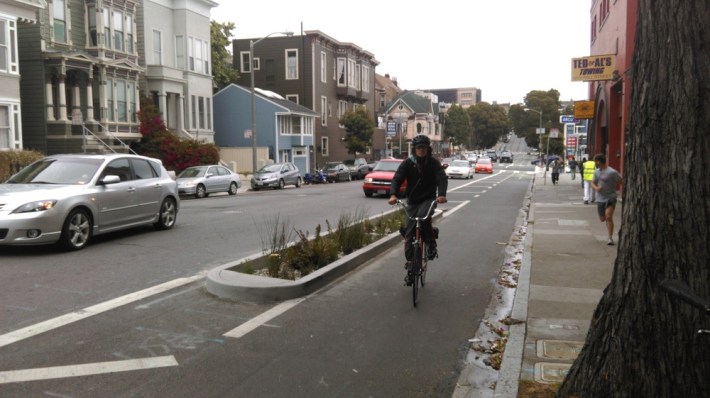 Also included in the mileage are the planted traffic islands recently installed along the Fell and Oak Street bike lanes. The Fell and Oak bike lanes, six blocks of mileage originally promised in 2012, epitomize the frustrating and often inexplicably slow roll-out of safety upgrades that Maguire promises to expedite.
As for what's coming in 2016, the SFMTA has yet to unveil its next wave of street transformations, but the agency's Bicycle Strategy identified priority streets in 2013.
Can SF make faster progress on creating a true network of bike-friendly streets? In the city's favor, Maguire pointed to the recent funding boosts from Propositions A and B, the state's reform of environmental review under the CA Environmental Quality Act, and a "new focus on project delivery within the MTA, looking for any possible way to cut the timeline down to get projects on the street faster."
"The political environment will get a little easier with CEQA," said Maguire. Still, "it's really important that folks at the Bicycle Coalition and us all work together to build support for these projects."
Aaron was the editor of Streetsblog San Francisco from January 2012 until October 2015. He joined Streetsblog in 2010 after studying rhetoric and political communication at SF State University and spending a semester in Denmark.
Stay in touch
Sign up for our free newsletter