Highway Expansion
Looking to Curb Traffic, Palo Alto Rebuffs County's Plans for Wider Roads
3:18 PM PDT on July 6, 2015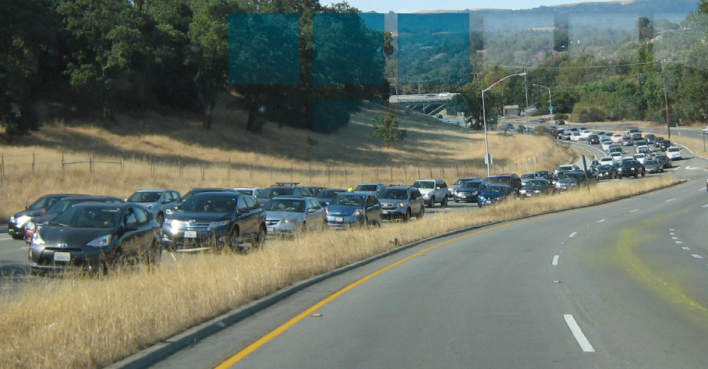 Santa Clara County's plans to widen expressways are out of step with cities like Palo Alto that are striving to curb traffic by reducing car commuting. Last week, Palo Alto City Council members balked at the county's $98 million plan to expand Page Mill Road near Highway 280, which would only encourage more driving. If any expansion of the road should be studied, the council said, it should only be to add carpool lanes.
Last year, Palo Alto created a Transportation Management Association (TMA) aimed at reducing solo driving by 30 percent in three years through commuter benefits like free Caltrain passes or employee shuttles, which would be provided by employers. Such programs, including one at Stanford University, have proven effective at alleviating traffic and are far cheaper than building more roads and parking.
But when crafting the $3 billion Expressway Plan 2040, Santa Clara County didn't account for local transportation demand management programs like Palo Alto's because the county doesn't fund or operate those services, county planner Dawn Cameron recently told the Palo Alto Planning and Transportation Commission.
"The county's responsibility is to operate the expressways," said Cameron. "The kind of TDM programs that you're discussing are typically implemented locally, by employers... We can't require them to operate shuttles, or to provide passes to their employees."
But the county's prescription for wider roads will only result in more driving, Council Member Greg Schmid noted. "With your improvements, the [traffic] numbers actually go up."
The county's $98 million project includes a $20 million reconstruction of the Page Mill at the Highway 280 interchange, a $17 million widening of Page Mill from four to six lanes from Highway 280 to the Foothill Expressway, a $50 million grade separation at the Foothill intersection, and $5 million in "lane modifications" on Page Mill at Hanover Street and at El Camino Real. It also includes $200,000 for "interim" green bike lanes through the Page Mill and Highway 280 interchange.
Transportation demand management programs should take precedence over road expansions, Palo Alto council members Pat Burt, Cory Wolbach, Greg Scharff, and Marc Berman told staff from the county's Roads and Airports Department, which prepared the Page Mill study [PDF]. Still, the City Council passed a resolution directing county planners to only study an expansion of Page Mill to add carpool lanes.
"The question isn't how do we fit more cars," said Wolbach. "The question is how do we get more people to work."
The city's Planning and Transportation Commission agreed, and urged county planners to explore transit improvements and transportation demand management programs first. Specific programs include more funding for employers to provide Caltrain GO Passes, commuter bus services on Highway 280, carpool lanes on Highway 280 up the Peninsula, and a formalized effort to reduce car commuting to Stanford Research Park.
Across the South Bay, Santa Clara County wants over $900 million for "high-priority" road expansions to be included in Envision Silicon Valley, the spending plan for a transportation sales tax measure that could be on the November 2016 ballot.
Palo Alto's City Council will review the proposed Page Mill Road projects again on August 17. The council could recommend whether to include any of the county's road expansions, or other transportation projects, in the sales tax spending plan.
Andrew Boone covers the Livable Streets Movements for Streetsblog in San Mateo and Santa Clara counties. Andrew's claim to fame is once having bicycled more than 12,000 miles of smiles in one year. nauboone@gmail.com
Stay in touch
Sign up for our free newsletter